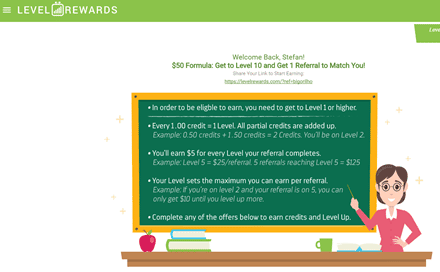 Level Rewards is somewhat different from other GPT (get paid to) sites I have reviewed so far. The company promises to pay at least $5 per referral, which looks significantly more profitable. BUT, you are probably wondering: is Level Rewards a Scam or legit?
In this review, I decided to explain in detail how Level Rewards works and give you my honest opinion about it.
By the way, if you want to work remotely to achieve time and location freedom, don't forget to check out my #1 recommendation.
Level Rewards Review
---
Product Name: Level Rewards
Website: www.levelrewards.com
Price: Free to join
Overall Rating: 3.4/5
What is Level Rewards?
---
Level Rewards is a website that promotes incentivized offers in exchange for affiliate commissions from advertisers.
An incentivized offer is a marketing strategy whereby advertisers attract potential customers (you) to sign up for a trial of their products by giving some kind of reward.
Level Rewards is different from sites like 20Cogs and Croggles in that you won't get paid simply for trying products and services. You also must invite other people to the platform, who in turn, must complete the offers too.
As you can see, it's way more difficult because your job is to promote the platform and encourage people to do the same. Note that members will only complete the offer IF they are willing to promote Level Rewards to qualify for the commissions. On the other hand, the income potential is much higher!
Is Level Rewards a Scam?
---
Some people may think this is a pyramid scheme of some sort, but no. Level Rewards is a legitimate business because their primary source of income is based on referral commissions. 
You won't have to buy anything, sell anything, nor pay any monthly fee.

This reward platform is going viral! Cash out via PayPal, Visa, Gift Cards, and in-game currencies - Click here to find out how to generate an extra $10+ per day! 
Level Rewards has a Facebook group called Level Rewards – Proof Pic Group, where members are encouraged to post income proof.
The amount of income proof is impressive! Here is one:

The only thing I am concerned is the fact that the website doesn't have an "About" page. So, there is no information about the company.
How Does it Work? 
---
Most companies have what we call a referral program, which rewards other companies or individuals who bring potential customers (leads) to them.
It's an intelligent and cheaper alternative compared to TV commercials and other traditional advertising.
Join and Complete Offers
The registration is 100% free. Once you log in, you will see a list of offers with different credit values. Every 1 credit is equivalent to 1 level, and all partial credits are added up.
This is important. You must get to level 1 or higher to be eligible for commissions.

I advise you to be very careful with the different offers available. Read the terms and conditions carefully and keep track of each one to avoid wasting money.
There are free offers available, but many of them ask you to provide your credit card and subscribe to a 7 or 14-day trial. In this case, you should wait over 90% of the trial period before canceling your subscription to make sure you get the credits.

There are also offers that require payment for the service. Here is one example: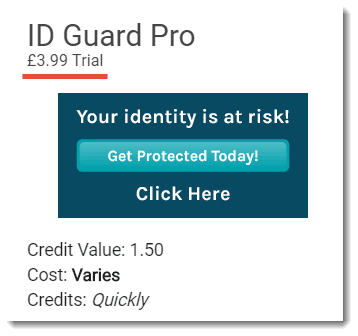 Refer Other People and Earn Commissions
As I said, You can only earn commissions when you refer others, and they must complete offers too.
The rules are as follows:
You will earn $5 for every level your referral completes.
 Your own level determines the maximum you can earn per referral. For example, if you are on level 1 and your referral is on 3, you can only make $5 until you level up. You will earn $15 only if you are on level 3 by the time your referral levels up.
The maximum number of levels is 10, which means you can earn up to $50 per referral.
In order to get referrals, you will have to promote (share) your affiliate link via social media, blogging, classified ad sites, among other methods.
It's not an easy task, and therefore, Level Rewards has put up an online marketing training to help you out. However, it's too basic, so you will certainly need much more information and experience to make significant profits.

Cashing Out
---
As soon as you earn your first $5 from a referral leveling up, you can submit an order for payment. The money will be credited to your Paypal account within 24 hours, and you will get this message: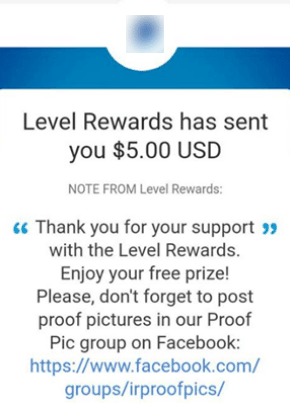 Pros and Cons
---
Pros
Higher income-potential compared to other reward websites.
Free to Join.
User-friendly.
FAQ section will answer most of your questions. But you can also send a support ticket.
There is a comprehensive guide and a basic online marketing training to get started.
Cons
Only available for UK, Canada, US and Australia residents.
You need to be extra careful while completing offers.
If you want to reach higher levels, you will be forced to complete offers that require payment.
There is no information about the company.
Final Thoughts + My Recommendation
---
Level Rewards is not a scam, but making money with it is way more challenging compared to more traditional GPT sites.
For those who know how to get traffic (visitors) to their affiliate links, it can be much more profitable though.
In my opinion, the best strategy to get traffic is to have a blog or a Youtube channel. You could, for example, write a Level Rewards review as I am doing right now and insert your affiliate link somewhere within your article.
The thing is when you have a blog, you can promote more profitable affiliate programs, not only Level Rewards!
For example, I promote one digital product on my blog that sometimes earns me $175 for one single sale. You can create multiple sources of income by promoting different affiliate programs in various articles.

The potential is huge! More and more people are taking advantage of blogging and vlogging to earn a job-replacing income online.
I started my blog two years ago with the help of an incredible training platform called Wealthy Affiliate. I highly recommend it for those who want to learn internet marketing the proper way and achieve time and location freedom. 
If you want to learn more about it, click the link below and read my full WA review.
So, what do you think of Level Rewards? Leave your thoughts or questions in the comment box below.
Thanks for reading, and I'll see you next time! 🙂