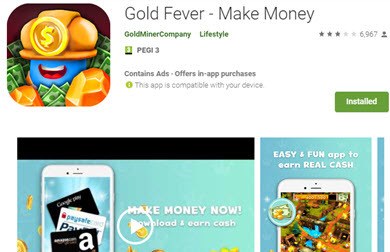 Welcome to my Gold Fever app review!
I was browsing the Google Play store when I found this popular money-making application called Gold Fever.
The company claims that users can easily make money by watching videos and completing fun offers.
I lost count of how many disappointing apps I reviewed on my blog.
Most of them just make people waste their precious time with exhaustive ads and missing points.
In this review, we are going to take a close look at Gold Fever and see if it's a legit or a scam application.
In the end, I am also going to show you a proven strategy that I use to generate $1,300/mo from my laptop.
If you want, you can skip this review and check out my #1 recommendation for more details.
Gold Fever App Review
---
Name: Gold Fever
Company: GoldMinerCompany
Income Potential: Very low
Payment methods: PayPal, gift cards
Membership Eligibility: Worldwide
Overall Rating:

1.5/5
What is The Gold Fever App?
---
Gold Fever app is a mobile application where you can collect coins by
Completing offers from partners.
Taking online surveys.
Downloading apps and playing games on your phone.
Watching videos.
Inviting friends.
You can use those coins to hire miners, who will speed up the mining activity.
As they keep mining, you will collect gold nuggets that you can redeem for PayPal cash and Amazon gift cards.
Gold Fever is very similar to many apps that I reviewed on my blog such as App Flame, CashPirate, and Bituro.
The cover is different, but the story is the same!
How Does Gold Fever App Work?
---
Gold Fever is funded by different companies that advertise their products and services through the app.
Once you download Gold Fever on the Google play store, you can start collecting coins by completing offers, taking surveys, and watching videos.
As I already mentioned, you will use these coins to hire miners so that you can harvest gold faster.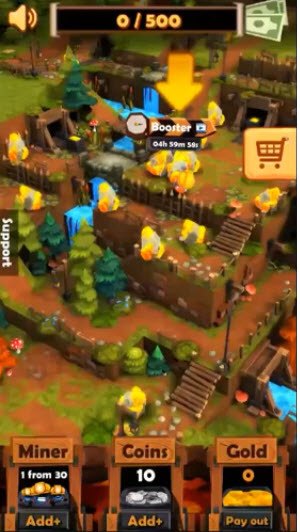 You will have to pay 10 coins per miner.
It's possible to speed up the mining process by watching sponsored videos.
If you don't collect coins, you can't pay your miners and therefore, they will strike.
Once you earn enough gold nuggets, you can cash out via PayPal and various Gift cards.
Currently, you need a minimum of 500 gold to redeem 5 Euros.

The best way to collect coins with Gold Fever is to complete free offers and download apps.
Keep in mind that you will only get rewarded if you complete an offer or download an app for the first time.
Another way to collect coins is to invite your friends to install Gold Fever through your referral link.
How Much Money Can You Make?
---
Most free offers will give you less than 200 coins, whereas each video will give you 10 coins or less.
As for surveys, you can expect to earn anywhere from 50 to 200 coins.
However, the amount of money that you will make doesn't depend only on the number of coins but also on how many miners you have.
So, you have complete surveys and offers to get coins, hire miners, and make real money!
The downside is that you have to wait for these miners to harvest gold.
In my opinion, this is a big problem since you never know how much money you will make after completing tasks.
Unfortunately, Gold Fever will always control the speed at which you will earn Gold regardless of how many miners you have.
According to a user of the Beermoney Forum, a miner usually takes 4 – 5 hours to mine one ore.
Yes. The more miners you have, the faster you will harvest gold.
But we don't know the exact speed at which we will get gold. Do miners get sluggish over time?

I believe so! Otherwise, after completing lots of offers, one could make a substantial amount of money without even touching the app.
Besides, one user also reported that he earned fewer coins for watching videos.

User Reviews – Complaints
---
Most people have rated Gold Fever app 1 star. After reading lots of reviews, I understand why many people are so frustrated with it.
Aside from the frequent ads, many people complain about missing coins, technical problems, and low pay.

This reward platform is going viral! Cash out via PayPal, Visa, Gift Cards, and in-game currencies - Click here to find out how to generate an extra $10+ per day! 
From what I have seen, it seems like a very ineffective way to earn money.
If you don't receive coins after completing an offer or survey, they advise you to contact the third-party provider.

But what if the company doesn't respond to your emails or says that they are not responsible? Who will be held responsible?
Now let's break down the pros and cons of the Gold Fever app.
Pros and Cons
---
Pros
Easy tasks.
It offers many opportunities to collect coins.
Cash out through PayPal and gift cards.
Cons
It's difficult to know in advance how much money you will earn.
Terrible rates of pay.
The minimum payout threshold is 5 Euros, but it can take "forever" to cash out.
Users report technical problems that prevent them from earning Gold.
Many users report missing points and payments.
Conclusion – Is Gold Fever App a Scam?
---
I wouldn't call it a scam. No!
However, many unhappy users probably will never receive the payment.
There are many people who say positive things about the Gold Fever app, so you may get paid with no issues.
However, there is always the risk of wasting your precious time while trying to earn a few pennies.
I am warning you because I know how it feels like completing online tasks for free. It's disheartening to see many people struggling to earn a few bucks with Gold Fever and other similar apps.
How to Make a Full-Time Income from Home
---
If you are tired of frequent survey disqualifications, missing points, and blocked accounts, I advise you to build your own online business.
In 2015, I was making less than £60 per month answering boring online surveys.
This amount of money would not make a significant difference in my life anyway…
So, after a bit of research, I found a great business model called Affiliate Marketing.
Thanks to this excellent step-by-step program, I set up my own WordPress site and learned a proven strategy to earn affiliate commissions.
I am not saying it will be easy, but these guys will show you the path to achieving $1000+ per month and guide you along the way.
If you stick to it, you can grow a profitable affiliate site and eventually quit your day job.
Start your 10 free lessons right now and take your first steps today!
Final Words
Thanks for taking the time to read my Gold Fever app review. If you have questions, just let me know in the comment section below!
I wish you all the best!
Stefan