Welcome to my Giantplay review!
I was browsing the Play Store for a decent reward application when Giantplay caught my attention.
Its premise? Get paid simply for playing games, completing online surveys, and completing other simple offers.
As you delve deeper into its offerings, you're greeted with various tasks from advertisers urging you to collect coins.
This virtual currency translates to real rewards: PayPal cash, gift cards, and even cryptocurrency.
The Play Store is rife with similar apps promising easy cash rewards.
In this blog, I have reviewed many of them, such as Rewarded Play, Freecash, and Testerup.
But with a staggering 500k+ installations and a 3.5-star rating, a burning question emerges:
Is Giantplay the real deal or just another scam run by unscrupulous developers?
Join me as we venture deeper to find out the truth.
Before you leave, click here and discover the step-by-step program that helped me build an internet business and generate over $2,000+ monthly. No special skills are required! 
Giantplay Review
Name: Giantplay
Developer: Gaintplay LLC
Payout threshold: $1
Price: Free
Overall Rating: 2 stars
What is GiantPlay?
GiantPlay is a mobile application where users can get paid for completing simple tasks and offers.
The company boasts that GiantPlay is the best platform for earning money online!
After completing tasks, you can exchange coins for cash, Bitcoin, or gift cards. According to Giantplay, users have collectively earned over $100,000, a remarkable achievement.
However, it's important to note that with over 500k users, that breaks down to an average earning of just $0.20 per user or even less.
This is common among reward platforms, as most users are not very active.
Some users work hard, while others try it out a bit. This brings down the average money everyone earns.
How Does GiantPlay Work? 
GiantPlay is readily available on the Play Store, accessible to users worldwide.
However, it's important to note that the availability of offers can vary by country, with the United States and the United Kingdom boasting the most opportunities.

You must accept the Terms of Service and Privacy Policy upon launching the app.
Reading these documents is crucial, as they outline the rules, guidelines, and privacy practices that govern your app use.
To begin your journey on GiantPlay, you must sign up using your email address or Google account.
After registering, you can personalize your profile by choosing an avatar, and you're now ready to start accumulating coins.
Earning Coins
GiantPlay has partnered with various platforms, which fall into three primary categories:
Offerwalls
An Offerwall is a collection of various tasks and offers that allow users to earn rewards.
These tasks can range from downloading and reaching a specific level in a game to signing up for a service or making a purchase.
GiantPlay offers 14 different Offerwalls, including TapJoy, Offertoro, Adgem, and Adgate Media.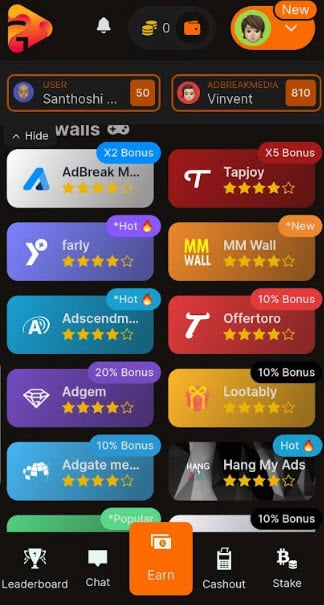 Each task comes with specific instructions and coin rewards.
For instance, downloading a game and reaching level 5 within three days may earn you a specific number of coins. Let's say 3000 coins!
GiantPlay recommends featured offers at the top of the Earn page, as they are usually simpler and have been completed successfully by many users.

Surveys
In the survey section, users get paid for sharing their opinions with marketing research companies.
GiantPlay has partnered with survey providers such as InBrain, Bitlabs, TheoremReach, and Precise Sample.
While surveys offer a straightforward way to earn coins, they come with both pros and cons.
You may face frequent disqualifications, which can be very frustrating!
Here are some of the most common reasons people get screened out:

This reward platform is going viral! Cash out via PayPal, Visa, Gift Cards, and in-game currencies - Click here to find out how to generate an extra $10+ per day! 
Demographic Mismatch: Surveys target specific age, gender, location, etc. If you don't fit, you're out.
Quota Fulfillment: The system will disqualify additional participants once a study has reached its quota.
Inconsistent Answers: Contradictory responses can trigger disqualifications.
Speedy Responses: Finishing surveys too quickly may appear as a lack of attention.
Technical Issues: Sometimes, platform glitches are the culprit.
Quality Checks: Some surveys use 'trap' questions to ensure honesty.
However, successfully completed surveys can yield a decent cash reward, which increases over time.

Videos
In the video category, users earn coins for simply watching videos.
The "high-coin" option offers 20 Vcoins for each commercial, translating to only 2 GiantPlay coins.
Additionally, you can watch videos from third-party providers like Hideout.tv and Loot.tv.
It's important to note that the earning potential from watching videos is significantly low!
Stakes and Referral Commissions
The section called "Stake" encourages you to deposit GiantPlay coins or crypto to earn interest on your deposits.
While the exact interest rates aren't provided, it's an option worth exploring for potential earnings.
Furthermore, GiantPlay offers an exciting referral program.
You can invite friends and earn referral commissions based on your tier within the program.
Starting at the Bronze tier, you can earn 5% of the coins your referrals generate.
As you accumulate referral earnings, you can advance through 7 tiers and earn up to 30% in commissions. 
Leaderboard – Win Prizes
Those who reach the top 50 earners will receive coin prizes ranging from 500 coins to an impressive 15,000 coins.
It's an added incentive to maximize your earnings.
Cashing Out Your Coins
GiantPlay operates on a simple conversion system: 1000 coins equal $1.
Users can cash out their coins for various rewards, including PayPal, Visa cards, Bitcoin, Litecoin, and Amazon gift cards.
Each payment option has a minimum payout threshold, with Bitcoin being the lowest at 1000 coins for a $1 withdrawal.
As for PayPal, the minimum is $5, but it comes with a 4% or $0.25 fee, whichever is higher.
Why Are Your Coins Pending? 
Coins may be held as pending to prevent chargebacks from advertisers.
If you've completed offers legitimately, simply wait for the pending time to pass.
However, it's crucial to know that GiantPlay reserves the right to hold or freeze your account if they detect suspicious activity.
Unfortunately, this is a common practice among reward platforms
Many reward platforms use this excuse to take hold of your earnings and avoid paying users.

Users can be labeled "suspicious" even when they've done nothing wrong.
User Experiences and Common Issues
It's essential to consider user reviews when evaluating apps like GiantPlay.
Reviews on the Play Store offer valuable insights into the app's functionality, reliability, and user satisfaction.
Many users have reported successful cashouts on GiantPlay.
They've accumulated enough coins and meet the minimum payout threshold to receive their rewards.
On the flip side, many users are frustrated over missing coins and payments.
Complaints about missing payments are not unique to GiantPlay but extend to many other reward apps.
One common issue is that it fails to track completed tasks and award the correct number of coins.
When an app partners with multiple platforms, it can be difficult to identify the source of technical issues.
I completed two surveys and was able to withdraw $1 via Coinbase. But it's important to note that user experiences can vary widely.
Conclusion 
Giantplay undeniably offers legitimate opportunities for users to earn money online. It's not a scam! 
Many have indeed navigated its features successfully, cashing out their hard-earned rewards!
However, the sheer volume of complaints surrounding the app raises red flags.
Therefore, I won't recommend GiantPlay for now. 
There are alternative apps available on the Play Store that garner more positive reviews.
A notable mention is "freecash," which stands out due to its low payout threshold and a 4.5-star rating on the Play Store.
Check out my Freecash review here and discover why it's my favorite reward app!
Earn a Full-Time Income Online
Are you tired of the limited income potential offered by reward apps?
So you crave the freedom to work from your laptop and earn a full-time income online?

Achieving a "laptop lifestyle" is within reach and has become a reality for many through online entrepreneurship.
I can personally vouch for this transformation.
Thanks to this excellent step-by-step program, I now earn a full-time income with my online business.
It all started in 2015 when I joined this platform that helped me rank on Google and build a massive online audience.
You can also embark on this journey and benefit from the digital economy.
Final Words
Thanks for checking out my Alpha review! Your time and interest are highly appreciated.
Got any thoughts or questions about the app? Let me know in the comments
Peace!