Welcome to my Lucky Quiz review!
Who needs school, exams, and all that hard work when you can embark on a journey of fortune from the comfort of your smartphone?
With Lucky Quiz, you can supposedly win a jaw-dropping minimum of $500 daily – all without risking your hard-earned cash.
The developer promises riches beyond your wildest dreams, with simple two-choice questions that even toddlers could answer. 2 + 3 =? Bam!
You just earned yourself coins worth $2 to $5!
It all sounds so unrealistic that you can't help but wonder: Is Lucky Quiz legit, or is it just another fake money game?
Does it actually transfer those digital riches from your virtual cash balance into your pockets?
Is this mobile game the shortcut to living the good life? Let's find out!
Before leaving this post, don't forget to check the step-by-step program that helped me generate over $2,000 per month and quit my job in 2019. Free membership is available here! 
Lucky Quiz Review
Full Name: Lucky Quiz
Company: Health Expedite
Eligibility: Worldwide
Payout threshold: $300
Price: Free
Overall Rating: 0
No more falling for fake money games! Learn how to spot them here! 
What is Lucky Quiz?
Lucky Quiz is a trivia game where you can answer questions to win money.
There are over 1,000 questions on different topics, making it a fun way to test your knowledge and earn at the same time.
For every correct answer, you'll accumulate coins that can be converted into real cash.
To put it in perspective, 10,000 coins are equivalent to $1.
According to the developer, by answering just 20 questions correctly, you can earn a handsome $50.
Over 500,000 people have installed Lucky Quiz hoping to cash in on the promised rewards.
Now, let's find out if it lives up to the hype by exploring how it works!
How Does Lucky Quiz Work? 
Lucky Quiz is available worldwide exclusively for Android users.
The game offers a tempting trivia experience that's entirely free to play.

However, before you jump in, there's a significant caveat: this app lacks data encryption.
That means your personal data, such as your name, email, or even financial details, could be at risk of theft.
Identity theft, where someone pretends to be you, becomes a genuine concern.
Why? Because this can eventually lead to financial loss and damage to your online reputation!
Once you launch Lucky Quiz, you're greeted with an astonishing welcome bonus of $100!
Strikingly, Lucky Quiz doesn't require registration!
Theoretically, you could uninstall and reinstall the app to claim the bonus repeatedly.
It's important to know that legit reward apps would never allow this to happen!
Once inside the game, it encourages you to tap on coin icons promising generous cash rewards.
However, there's a catch – you have to watch video advertisements before collecting your coins.
As you answer questions, you earn coins valued at around $2 for each correct answer.
They are so easy! But with only two answer choices, even those unfamiliar with the topic have a 50% chance of success.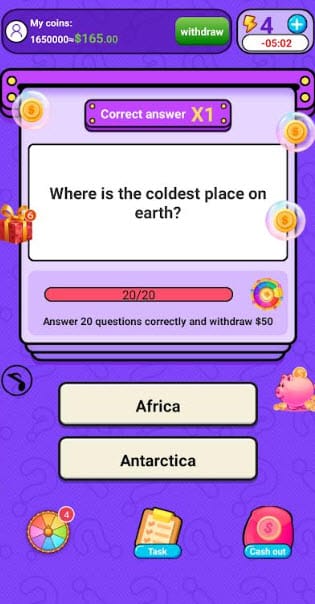 Mistakes, however, cost energy. One wrong answer consumes an energy point.

Once depleted, the only way to regain three energy points is by enduring another advertisement.
Additionally, you can spin a 'lucky wheel' to collect more coins.
How to cash out
To cash out in Lucky Quiz, you'll need to accumulate at least 3 million coins, which equates to $300.
The game does offer higher withdrawal options, potentially up to $2000, but it doesn't specify the payment methods available for cashing out.

This reward platform is going viral! Cash out via PayPal, Visa, Gift Cards, and in-game currencies - Click here to find out how to generate an extra $10+ per day! 
Is Lucky Quiz Legit? Does it Pay? 
Lucky Quiz might seem like a promising way to earn money, but the harsh reality tells a different tale.

Does it actually pay out? The answer is a resounding 'No!'
Regrettably, countless players invest hours answering questions and enduring misleading advertisements, hoping to cash out.
This cycle is precisely what the developers bank on!
In essence, players are merely pawns in their profit game, devoting time and effort with no real cash rewards.
Every advertisement viewed fills the developers' coffers, while players remain hopeful for a payout that's nothing more than a mirage.
The task of accumulating the required 3 million coins to withdraw $300 is daunting to begin with.
To make matters worse, as players advance, the rewards diminish, making the journey even more arduous.
But even if you persevere and eventually hit that target, no money will be transferred to your PayPal or Bank account!
The developers may create additional requirements to squeeze even more profits from your precious time.
Ultimately, Lucky Quiz is just a facade crafted to exploit unsuspecting players.
Conclusion 
Lucky Quiz might sound like a fun opportunity to make money, but it's nothing more than a cruel joke on thousands of players.
The developers are the true winners here, as they cleverly exploit your time and energy.
The more you watch those adverts, the richer they become, while you are left chasing fake rewards.
But, dear reader, hope isn't lost!
Instead of installing fake cash games, focus on authentic online strategies.
Take it from someone who's done it: establish a profitable online business and run it from anywhere.
With the right training and dedication, this is an attainable reality for anyone.
It's not rocket science, but it does require commitment. And trust me, that's a game worth playing!
Back in 2015, I stumbled upon a step-by-step program that was a complete game-changer.
While I was initially skeptical (who wouldn't be with all the online scams?), this program proved to be excellent!
It wasn't just about quick fixes or shallow tactics. It was a comprehensive guide that paved the path for building this very site you're on right now.
It took me a few months to start earning commissions, but by my second year, I was already making a three-figure income.
Ready to embrace the laptop lifestyle? Start your journey here! 

Final Words
Thank you for visiting my blog and reading my Lucky Quiz review.
Want to stay updated? Bookmark this site! And don't hold back – share your own reviews and ask questions in the comments.
Your voice counts here!
Peace!