Welcome to my Pop Bubble Winner review!
I found another game where you can supposedly win hundreds of dollars just by popping bubbles.
Pop Bubble Winner is a bubble-shooting game that follows a familiar formula.
Tap to shoot the bubbles and collect cash rewards when you level up.
But here's the problem: Millions are falling prey to fake cash games.
They keep playing and watching a ton of advertisements that are only lining the developer's pockets.
And Pop Bubble Winner is similar to many games I have exposed in this blog. Forest Pop is a prime example! 
So, is it a legitimate opportunity to pocket some extra cash, or is it just another misleading app?
Stick around as we delve deeper into this another suspicious cash game and reveal the truth.
Before leaving this post, don't forget to check the step-by-step program that helped me generate over $2,000 per month and quit my job in 2019. Free membership is available here! 
Pop Bubble Winner Review
Full Name: Pop Bubble Winner
Company: Magicox Gaming
Eligibility: Worldwide
Payout threshold: $300
Price: Free
Overall Rating: 0
Enough with deceptive money games! Click here to learn how to recognize them! 
What is Pop Bubble Winner? 
Pop Bubble Winner is a free Android game that offers a straightforward and enticing concept.
This game features a field of colorful bubbles, and the objective is to eliminate them by matching identical bubbles.
As you progress through various levels, the challenge intensifies.
But the real attraction is not the game itself but the opportunity to win real money.
Players are told they can accumulate virtual dollars and withdraw them once their balance reaches $100.
However, you should know some concerning factors about Pop Bubble Winner.
Firstly, the app's description on the Play Store does not explicitly state that players can earn real cash rewards.
Another red flag is that despite being installed over 500,000 times, Pop Bubble Winner remains in "Early Access."
This status prevents players from leaving reviews and warning others about the app's true intentions.

How Does Pop Bubble Winner Work?
Pop Bubble Winner has attracted the attention of many due to its simple play style and the promise of cash rewards.
The game is accessible worldwide, it's free to play and conveniently doesn't require any registration.
Before diving into the mechanics, let's discuss an important aspect you should be aware of.
Learn how to report fake cash games! 
Data Encryption Concerns
One of the most alarming features of Pop Bubble Winner is that the app doesn't encrypt its data.
For someone unfamiliar with tech jargon, data encryption is like putting a complex lock on your personal information.
Without this 'lock,' cybercriminals have an easier time accessing your personal information, which can have many implications.
The consequences could include identity theft, financial fraud, or other malicious activities. It's scary stuff!
How to Play and Earn
Your goal is to shoot bubbles and eliminate all of them.
Each time you shoot a bubble, it sticks to the others.
Then, if you match at least three bubbles of the same color, they will be eliminated.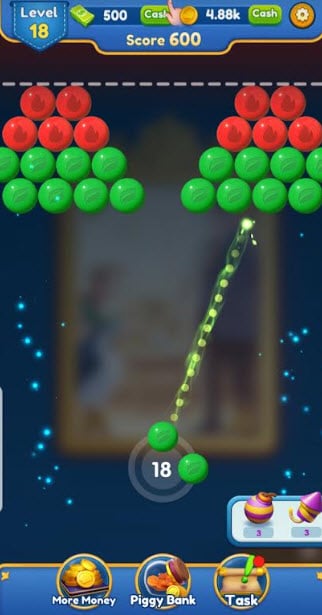 Your objective is to clear all the bubbles in each level to progress, and upon doing so, you earn generous level rewards.
You can always boost your rewards by tapping the "double reward" button, but there's a catch.
Triggering this option will prompt you to watch an advertisement, and you must watch it until the end to claim your prize.
Sometimes, you get bonus rewards when you eliminate a significant number of bubbles.
Additionally, Pop Bubble Winner has a section called "More Money," where you can supposedly earn more rewards.

This reward platform is going viral! Cash out via PayPal, Visa, Gift Cards, and in-game currencies - Click here to find out how to generate an extra $10+ per day! 
However, you must install third-party applications from the Play Store and play to collect more cash.
The app will then track your playtime and reward you for the time you spend playing them.

How to Cash out
You'll need to accumulate a minimum balance of $100 to withdraw your earnings.
However, if you don't live in the US, the required minimum could be set at a different value.
Is Pop Bubble Winner Legit? Does it Pay? 
No, it doesn't! The truth about Pop Bubble Winner is that it doesn't pay a single dime!
The enticing prospect of earning money is an elaborate bait to exploit the player's precious time.
They will expose you to a barrage of advertisements while offering fake rewards.
That's the hook, and it's meant to keep players watching more adverts with a smile on their faces.
The more videos you watch, the more revenue the developers earn from advertisers.
Now, what can you expect from this illusion?
Something sinister unfolds as you inch closer to the $100 cashout threshold.
The rewards become increasingly smaller, forcing you to watch even more videos.
When you finally reach the $100 target and click "withdraw now," something suspicious occurs.
The app claims the withdrawal amount is too large, so they must verify your account first.
They suggest withdrawing gold coins instead, which can be earned by watching more videos or completing additional tasks.
However, the first withdrawal of gold coins is worth only a few cents.
You might receive this small reward, but you will never get decent prizes!
And by decent, I mean $1 or more! 
Instead, the developers may devise more excuses!
They may ask you to watch even more videos or present further obstacles to keep you deluded.
Ultimately, you'll find yourself left with empty pockets and the bitter taste of betrayal.
Conclusion 
Pop Bubble Winner is another in a long line of deceptive cash games.

It lures players in with the prospect of real money but ultimately fails to deliver.
The negative aspects of Pop Bubble Winner are abundantly clear:
Lack of transparency
No data encryption
An exploitative ad-watching system that preys on users' time and patience.
Earn a Full-Time Income Online
For those seeking genuine opportunities to make money online, avoid Pop Bubble Winner at all costs!
Instead, I recommend building an online business and growing an online audience.
I embarked on this journey and achieved the incredible "laptop lifestyle," and you can too.
The benefits are numerous: location freedom, flexibility, passive income, and the list goes on and on.
However, I understand that starting can be overwhelming.
The best way to learn and succeed is by seeking guidance from experienced marketers who have walked the same path.
That's why I highly recommend joining this excellent step-by-step program.
These guys helped me achieve my goals and live my dreams! I am sure they can do the same for you if you take massive action!
Final Words
I appreciate you taking the time to read my Pop Bubble Winner review!
Feel free to share your own thoughts or any questions you may have in the comments section below.
Peace!