Welcome to my Chip Leader's Glory review!
I stumbled upon this game through an advertisement promising unrealistically high cash rewards.
If you are a regular blog reader, you are not surprised!
The advert features a charismatic guy asking the audience, "Do you want to know how I made so much money? Then you must try this game!"
He claims that there's no limit to how much you can withdraw.
Besides, the developer will supposedly deposit your winnings directly into your account in just one minute.
Astonishingly, the advert boasts that you can win a staggering $1800 a day, which sounds too good to be true.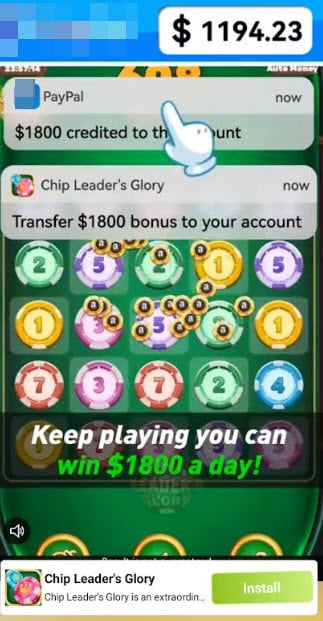 And to add an air of trustworthiness, it even showcases the PayPal logo!
Many people watching this commercial start dreaming of escaping their 9-5 hamster wheel.
What could be more tempting than making lots of money by playing a game?
However, if you're reading this review, you're likely questioning whether Chip Leader's Glory is legit.
You don't want to waste your time chasing fake cash rewards. Does it actually pay out?
These are the crucial questions we'll address in this review. So, keep reading, and let's uncover the truth!
Before leaving this post, don't forget to check the step-by-step program that helped me generate over $2,000 per month and quit my job in 2019. Free membership is available here! 
Chip Leader's Glory Review
Full Name: Chip Leader's Glory
Company: ShouGui Studio
Eligibility: Worldwide
Payout threshold: $500
Price: Free
Overall Rating: 0
Enough is Enough! Learn the ropes of reporting sketchy apps here! 
What is Chip Leader's Glory?
Chip Leader's Glory is an Android game that revolves around chip merging.
The game's mechanics is very straightforward and easily addictive.
Your primary goal is to strategically swap and place at least three chips of the same number next to each other.
When you successfully do this, these chips merge into a single chip with a higher number.
As a result, it sets the stage for an exhilarating cascade of combinations.

Chip Leader's Glory has achieved over 100k installations on the Play Store, and it's no mystery why
The developer offers players the opportunity to earn a substantial amount of money.
You'll accumulate hundreds of dollars as you progress and unlock higher-numbered chips. 
Then, you can supposedly cash out via PayPal or Amazon gift cards!
The allure of potentially earning real money while enjoying a fun game is undoubtedly appealing.
However, the mobile gaming market is saturated with titles using fake rewards to exploit players.
Unfortunately, most of them use misleading advertising to maximize their profits.
Is this the case with Chip Leader's Glory? Let's delve deeper to discover!
How Does Chip Leader's Glory Work? 
Chip Leader's Glory is available on the Play Store worldwide and is 100% free to play.
One notable feature of the app is that it doesn't require registration, making it accessible to anyone with a smartphone.
However, a significant concern is worth highlighting: it doesn't encrypt user data.
Many people don't know that this lack of encryption poses severe risks to individual privacy and security.

As a result, Unscrupulous individuals could intercept and misuse personal information, including names, passwords, and financial details.
This leaves users vulnerable to identity theft, fraud, and other cybersecurity threats.
How to Play and Collect Rewards
Upon launching the game, Chip Leader's Glory immediately offers a sign-in bonus of $50.
The more days you sign in, the greater your bonuses become, culminating in a $150 reward on the seventh day.
You have to tap the "collect" button and watch the first commercial.

This reward platform is going viral! Cash out via PayPal, Visa, Gift Cards, and in-game currencies - Click here to find out how to generate an extra $10+ per day! 
The game's main objective is accumulating virtual cash until you reach $500. This is the minimum amount you need to cash out!
The gameplay features a 5×5 grid with chips of different colors and numbers.

You merge chips by strategically swapping and placing at least three chips of the same number adjacent to each other.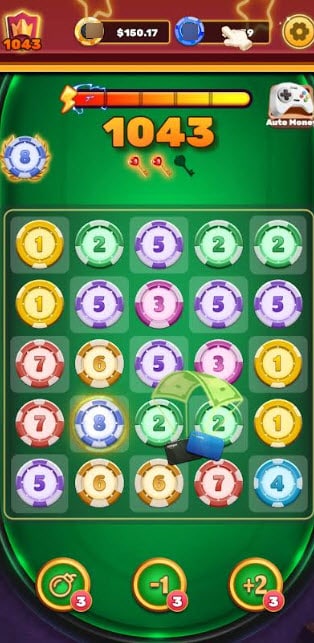 As you merge, you earn scores that don't affect your end goal.
What truly matters is unlocking larger-numbered chips, which randomly reward you with cash.
This "cash" can be added to your virtual PayPal or Amazon balance.
However, there's a caveat. To claim your cash rewards, you must tap the "collect" button and sit through an advertisement.
These videos almost always promote another unrealistic cash game.
This is how the developer generates revenue: they get paid by advertisers while enticing players with the opportunity to cash out.
Unfortunately, there's no guarantee that this virtual money will ever be transferred to your real account.
Auto Money
Furthermore, Chip Leader's Glory offers an "Auto money" feature, which exposes players to more advertising.
In this section, you can play various mini-games within the app to collect more cash.
To collect cash rewards, tap the PayPal icon in the top left corner and watch the sponsored video.
How to Cash Out
To withdraw your earnings from Chip Leader's Glory via PayPal, you'll need to meet two specific conditions:
Reach $500: The first requirement is to accumulate a minimum of $500 in virtual cash within the app. Continue merging chips until you have reached or exceeded this threshold.
Play Games for 5 Minutes: The second condition involves spending at least 5 minutes playing games within the Auto Money section, aka "The Hall."
Additionally, if you want to redeem Amazon gift cards, the minimum requirement is $1000.
Is Chip Leader's Glory Legit? Does it Pay? 
No, it doesn't!
If you're lured into playing "Chip Leader's Glory," hoping to cash out, think twice.
Like many similar apps such as "ChipWin 2248" and "Chip Winner 2048," it creates an illusion of payout that never materializes.
Here's their trick: As you near the enticing $500 target, cash rewards dwindle.
Players then get stuck watching advert after advert, believing the end goal is just around the corner.
It's a clever trap. After half an hour of gameplay to "achieve" the target, they promise payment in 3 days.
But there's a catch: it asks you to watch 100 more videos to claim your reward.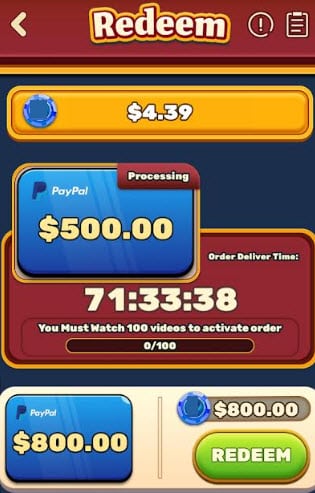 And even if you do, you won't see a dime.
This manipulative tactic is, unfortunately, not new. Many games and apps on the Play Store use the same model.
Their aim? Profit from your time and hope without ever paying out.
In short, don't be fooled by the allure of easy money in these games.
I'd advise against even playing them for fun. With no encryption, it's an unnecessary security risk!
Moreover, supporting such developers only helps them create more misleading fake cash games.
Conclusion 
Chip Leader's Glory is definitely not your ticket to easy riches.
The gameplay is catchy, but the bold claims of big payouts are misleading.
They will make you watch countless adverts that only line the developer's pockets.
On top of that, the app's security issues raise serious concerns for every user.
The good news is that there's a genuine path to online success.
If you're serious about it, I highly recommend you grow an online audience!
I began with no clue, and now, here I am, living that dream laptop lifestyle.
Eager to make real money online? Check out the step-by-step program that showed me the blueprint for affiliate commissions.
Final Words
Thank you for visiting my blog and reading my Chip Leader's Glory review.
If you want to spill the beans about this game, feel free to use the comment box below.
Peace!