Welcome to my Pop Gems review!
Pop Gems is a new casual game about completing levels by clearing blocks.
But entertainment is only something secondary here.
This game boldly claims you can earn rewards by playing games for free. It sounds like a dream come true, right?
The idea of accumulating cash rewards without risking your hard-earned money is undeniably appealing.
No wonder over 50k people have eagerly downloaded Pop Gems without a second thought.
But here's where things get tricky. I've tried out many games that promise simple and instant withdrawals but end up being fake.
And I have to admit, I'm very skeptical of Pop Gems as it looks just like them!
Still, let's not be too quick to judge. Maybe, just maybe, Pop Gems stands apart from the crowd.
This review exposes the app's hidden agenda, empowering you to make informed decisions.
So, if you're curious whether this game is legit or fake, I invite you to read on until the end.
Top recommendation: This step-by-step program helped me achieve 2,000 US Dollars per month and quit my job in 2019. The Free starter membership is available here!
Pop Gems Review
Name: Pop Gems
Developer: micheetech
Availability: Worldwide
Price: Free (no purchase required)
Minimum payout: 1000 USD
Overall Rating: 0/5
What Is Pop Gems?
Pop Gems is a new elimination game for Android devices, offering an unrealistic opportunity to earn real money.
In this game, you aim to clear levels by tapping on groups of adjacent gems of the same color.
After you achieve the target score, you receive a level-up reward.
And I am not talking about points that only appear as useless pixels on your screen.
I am talking about coins that can eventually be traded for thousands of dollars.
Well, at least that's what the developer wants players to believe!
Despite being installed over 50k times on the Play Store, Pop Gems remains an Early Access application.
That means users cannot share their experiences and warn others hooked by the allure of easy money.

Don't be fooled by fake cash games – This post reveals all their sneaky tactics.
How Does Pop Gems Work? 
Pop Gems is available on the Play Store exclusively for Android users and is absolutely free to play.
Also, there are no sign-ups, which makes it so convenient!
3 Steps to Cash Out
Upon launching the game, you're greeted with a page outlining "the 3 steps to get 100% real cash."
Step 1 involves heading to the game center and playing various games.
Step 2 promises cash rewards for your gameplay, while Step 3 allows you to cash out your earnings.
Payment Options
Upon tapping the "Start" button, the game encourages you to aim for $ 1,000 to withdraw your funds.
Pop Gems offers various popular payment platforms like PayPal, Cash App, Amazon, Visa, and more.
You provide your phone number or email linked to your account, along with your name and last name.
However, a crucial issue emerges…

 Data Privacy Concerns
Pop Gems lacks data encryption, which exposes a significant data privacy vulnerability.
When entering personal information to request a payout, the developer gains access to all your data.
And unfortunately, there's no guarantee they will respect your data!
It's plausible that many of these so-called "cash games" are profiting from player's data.
How? They can sell it on the dark web or engage in other activities.

This reward platform is going viral! Cash out via PayPal, Visa, Gift Cards, and in-game currencies - Click here to find out how to generate an extra $10+ per day! 
Therefore, your personal information could be at severe risk while playing Pop Gems.

Gameplay and Rewards
Playing Pop Gems is pretty straightforward.
Your goal is to tap and eliminate all the adjacent gems that share the same color.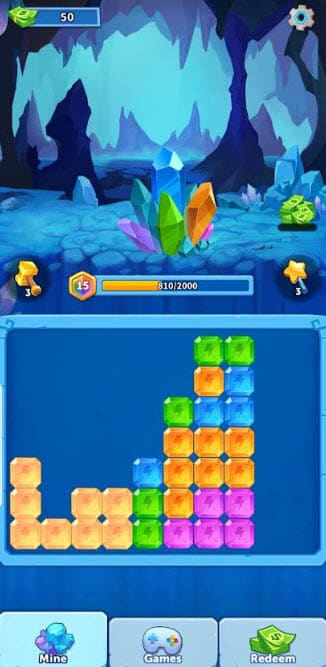 As you successfully clear these groups, you'll earn points.
Each level has a specific target score you need to reach, and once you achieve it, you complete the level and receive cash rewards.
Here's where the game adds an extra layer of temptation.
After completing a level, you're prompted to click the "claim 2x" button.
This button allows you to double your reward if you watch an advert until the end.
You can earn more rewards by tapping the cash icon on the right side of the screen.
How Does the Developer Earn Money? 
It's essential to grasp the app is generating revenue from advertisers each time you watch these videos.
Consequently, the more videos you watch, the more profit they generate.
So, it's in their best interest that you keep playing and watching those videos to maximize THEIR profits.
That's why players are told to reach $1000 to cash out.
This ensures they will remain engaged for long enough to generate decent revenue for the developer.
Is Pop Gems Legit? Does it Pay? 
No, it doesn't! Players who invested substantial time with high hopes of cashing out are met with a bitter truth.
Pop Gems is another casual game enticing individuals with claims of easy money.
But, unfortunately, it's all FAKE!
The game employs a cunning strategy that gradually shrinks rewards as you approach the $ 1,000 payout threshold.
This calculated tactic frustrates players just when they are on the brink of cashing out.
A deliberate shift occurs as the $900 milestone is reached, causing players to earn small amounts, often less than $5.
This maneuver is intended to lure players into clicking the "collect x2" button and watch more advertisements.
After tapping the cash out button, a pop-up says your order has been successfully submitted.

However, they ask you to play games for 30 minutes within 24 hours to activate the order.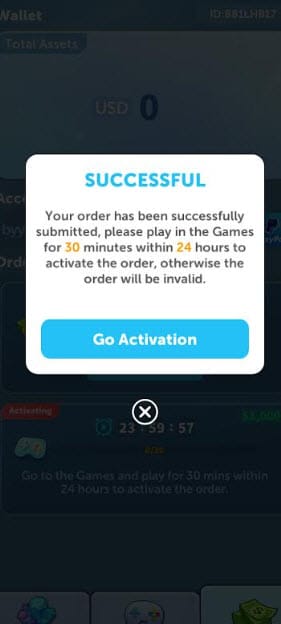 Otherwise, the order will be invalid, and you will lose the money.
But what follows next is a manipulative bait and switch.
They instruct you to play games for 30 minutes within 24 hours to "activate" the order.
Failure to comply renders the order invalid, leading to a loss of your cash balance.
Next, Pop Gems will redirect you to the game section, where you can choose games from an extensive list.
There is no need to download games from the Play Store. The catch is that you will be exposed to more advertisements while playing!
Additional requirements may emerge so the developer makes even more money from unsuspecting and determined players.
Conclusion 
Pop Gems lures players in with virtual cash, only to keep them watching endless adverts and moving the goalposts further away.
On top of this, serious data privacy concerns put player's personal information at risk.
The harsh reality becomes evident: Pop Gems thrives by exploiting the eager hopes of its players.
If something seems too good to be true, especially in the world of reward apps, it probably is. Beware!
Earn a Full-Time Income Online
Dreaming of Making Real Money Online?
I get it; the online world can seem daunting. So many promises, so little trust.
But here's the real deal: Making genuine money online IS possible, and you don't need prior experience to achieve it.
I took the leap and joined an incredible step-by-step program.
Even as a beginner, they guided through every stage of creating a lucrative affiliate site. And guess what?
It worked! Now, I'm making a full-time income every month. But it's not just about the money.
Picture this: a life with no alarms, no rush, and no 9-5 constraints. The dream can be real!
I'm living that life thanks to this platform.

It empowered me to grow a vast online audience and, more importantly, gave me the freedom I always yearned for.
Freedom to work from my laptop whenever and wherever my heart desires.
You can do it, too! Click here to learn more! 
Final Words
Thanks for reading my Pop Gems review. I hope it was enlightening!
If you have any questions or want to share your experiences with this app, please drop a comment below.
We'd love to hear from you!
Peace