Welcome to my FREEMONEY review!
I was browsing the Play Store when this app caught my eye – a catchy name and a cute Chinese lucky cat logo. Who could resist?
It boldly claims that you can make money simply by playing games on your phone. And guess what? You can cash out in only 5 minutes!
Sounds wild, right?
The Free Money App shows you various offers; you only need to install and use the apps they're promoting.
In return, you get rewarded with cash via PayPal and gift cards for Amazon and Google Play.
Since my mission is to expose money-making apps on this blog, I felt compelled to investigate whether this app was genuine.
So, is FREEMONEY legit or fake? Does it actually pay? Let's find out!
Recommendation: Discover the game-changing program that empowered me to generate $2,000+ per month and embrace the digital nomad lifestyle in 2019.
FREEMONEY Review
Name: 

FREEMONEY – Play & Earn Money

Developer:

GameTester

Price:

 Free – no financial risk 

Payout threshold:

 £2

Overall Rating: 2 stars
What is FREEMONEY?
FREEMONEY is an Android app developed by GameTester, the creators behind Game Tester and Money Cash.
The app has gained significant traction since its launch, with over 100,000 installations and an impressive 4.3-star rating.
It works by displaying sponsored games and apps, and as you engage with them, you accumulate coins based on your playtime.
Once you've collected enough coins, you can exchange them for cash and withdraw anywhere between £2 and £50. 
How Does FREEMONEY Work? 
FREEMONEY app, available on the Play Store worldwide and entirely free.
Although no registration is required, you'll need to take a few steps before getting full access to the app.
First, you must agree to the privacy policy, which states that FREEMONEY collects information about your installed apps to recommend games you haven't tried yet.
After providing your gender and age, you'll receive 3600 coins as a welcome gift.
To collect more coins, check out the "new" section for a list of app offers. Remember that if you already have the app installed on your phone, you won't be credited.
So, you must be a new user to get credited because the advertisers are trying to grow their audience.
The app will show how many coins you'll earn per minute.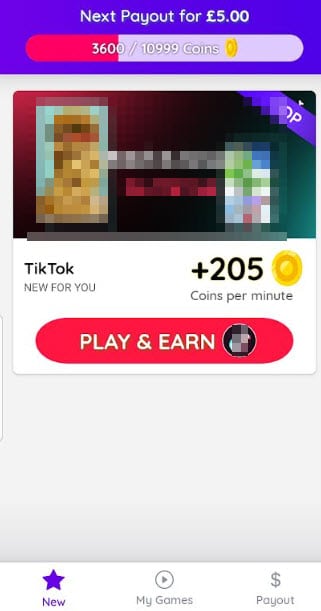 After you tap "Play and Earn," you'll need to grant permission so that FREEMONEY can track your playtime and reward you accordingly.
After downloading the game or app, it's crucial to launch it through the "My games" section within FREEMONEY.
That way, the developers can track how long you play and give you coins. If you don't launch it from there, you won't get any coins, which would be a bummer.
But here's the catch: the number of coins stated doesn't correspond to the amount you'll earn after a certain period. Therefore, you will be encouraged to play longer than expected!
Withdrawing Funds
UK players must accumulate a minimum of 10,999 coins to redeem a £5 Google Play gift card.
Surprisingly, you need 11,999 coins to redeem just £2 via Amazon gift card and 7,999 coins to withdraw £20 via PayPal. Visit the Payout section to see all the available options.
Is FREEMONEY Legit? Does it Pay? 
I did some digging and found many users who reported receiving their money. 
The developer may have bought some of those glowing reviews, but we will never know for sure. 
Many positive reviews look genuine, but it's best to avoid getting too starry-eyed about those success stories.
One person shared that he successfully received an Amazon $5 gift card after playing for two days and got their reward within 10 minutes of cashing out.

However, he also mentioned that he stopped earning credits for the games he was playing and had to find new ones to keep earning. 
And as I mentioned before, the rewards have a sneaky habit of shrinking over time, so it's no surprise that people are frustrated. 
Another person starts off his review excited, saying he found the best money-making app ever.
He's practically throwing a party because they cashed out $10 to PayPal and Amazon and received the money in less than a day. 
But then, plot twist! His dream was cut short when the app suddenly stopped working, and he couldn't earn any more cash.
Considering all these complaints, you might eventually feel disappointed with this app sooner or later. 

This reward platform is going viral! Cash out via PayPal, Visa, Gift Cards, and in-game currencies - Click here to find out how to generate an extra $10+ per day! 
The developer advertises the opportunity to withdraw within 5 minutes of playing.
However, that's far from the truth, as you must play for a few hours to reach the cash-out threshold.

Besides, you may run out of app offers and get stuck before reaching the minimum required to cash out. 
Given this discrepancy and the mixed experiences, it's essential to approach the FREEMONEY app with caution and be prepared for the possibility of not receiving the rewards as promised.
Pros and Cons 
Pros
Easy to use:

 Play games and earn coins.

Multiple payout options:

 PayPal, Amazon, and Google Play.

No registration required:

 Quick access to the app.
Cons
Time-consuming:

 It takes hours to reach the cash-out threshold.

Inconsistent rewards:

 Earnings shrink over time.

Limited game selection:

 Very few options to earn coins. 

Unreliable payouts:

 Some users are missing payments. 
Conclusion
FREEMONEY provides a hit-and-miss opportunity to earn some extra cash.
You might waste countless hours just for the chance to earn a few bucks, and let's be honest, that's not worth the hustle.
It might be better to stick with more reputable and popular options like Mistplay and JustPlay.
But, you know what? Even those apps have their fair share of complaints piling up on the Play Store. 
When it comes to choosing a reward platform, Prizerebel is the clear winner for me.
Unfortunately, earning cash rewards for simple online activities and playing games is becoming increasingly tough! 
It feels like developers are just trying to maximize their profits at the expense of people's precious time.
So, instead of relying on these platforms, I suggest setting up your online business as I did.
I don't regret setting up my website in 2015 and growing an online audience. 
It's allowed me to work remotely and achieve some fantastic things in life, such as traveling non-stop for three years! 
If you want to start your online entrepreneurial journey on the right foot and earn life-changing commissions, check out my #1 recommendation! 
Final Words
Thanks for checking out my FREEMONEY review! I hope it was enlightening and super informative for you.
Feel free to share your thoughts on this app in the comments below. 
Peace!