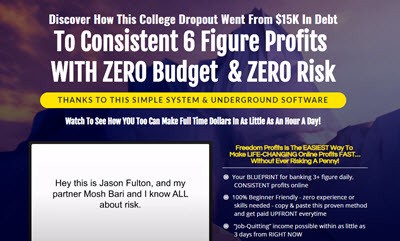 Mosh Bari has just released Freedom Profits, a training that supposedly teaches you how can make a job-replacing income risk-free. 
The problem is that the sales page is not transparent regarding the proposed system, which makes me very sceptical.
So, is Freedom Profits a scam or legit opportunity that can help you make money online?
Let's find out.
If you want to learn step-by-step the same method that earns me over $1,000/mo from my laptop, check out my #1 recommendation! Free and newbie-friendly training available.
Freedom Profits Review
---
Name: Freedom Profits
Price: $12.95
Website: http://www.getfreedomprofits.com/
Strategy: Freelancing
Authors: Mosh Bari, Jason Fulton and Abdullah Ashraf
LEGITIMATE
Overall Rating: 3.5/5
The Sales Page
---
The sales page of Freedom Profits makes a lot of bold claims about the system without exposing it to you. Here are some of them:
"Freedom Profits is the easiest way for ANYONE to make predictable, life-changing income online – COMPLETELY RISK-FREE."
"This System AUTOMATICALLY Scales Your Profits"
"A teenage college dropout with NO SKILLS used this system to earn over $300K in 18 months."
They give little information about the product itself and what type of work is required from you. Instead, they claim you don't need: 
List building.
SEO.
Hosting, domain name, website creation.
Advertising.
What is Freedom Profits?
---
Freedom Profits is a training program that shows you how to how to become a successful Freelancer.
The entire course was developed by 3 internet marketers, Mosh Bari, and Jason Fulton and Abdullah Ashraf.
I have reviewed other products from Mosh and Jason here on my blog such the Insta Minator and Blistering.
You are probably wondering why they didn't tell you upfront that Freedom Profits was all about working as a freelancer.
Well, in my opinion, that is probably because it's easier to sell a program by focusing on its eye-catching claims without giving people the chance to research the method on the internet. Without knowing the process, people can't make pre-judgements.
That is not to say that Freedom Profits is a bad training. Not at all!
The course is well organised and gives you a firm foundation to start your freelancing career, even if you have no previous experience.
Pros and Cons
---
Pros
Easy to follow step-by-step course.
Newbie-friendly.
Risk-free! 
It comes with a handy 

lead generation software.

Affordable.
Freedom Profits has a 30-day money-back guarantee. So, if it's a strategy that doesn't appeal to you, it's easy to get a refund.
Cons
You are still trading time for money.
How Does it Work? 
---
They say the method is different and much easier than anything you have seen before!
But how do they know you have never seen it before?
That statement makes you think Freedom Profits is such a unique method that very few people know about. Perhaps this can give you an advantage over other people and, hence, help you make money faster.
Well, the truth is that there is no secret at all!
People have been working online as a freelancer for decades through platforms like Upwork, Fiverr and People Per Hour.
The key aspect of Freedom Profits is that it focuses on services and platforms that allow you to sell for a high price.

Freelance is indeed a great way to start making money online. There is no doubt about it.
There is a wide variety of services that you can provide, such as graphic design, content writing, copywriting, video production, web design, and many others!
The Training
---
Freedom Profits comprises a case study, showing how a freelancer went from $0 to $10,951 in 60 days, and another 11 step-by-step video lessons.
The lessons explain how to:
Identify your skills.
Sell services that are easier to learn.
Attract customers from the first day, so you can make money while you learn.
How to expose your products to different platforms.
Test your skills.
Expand your portfolio by selling similar services.
Create proposals for potential clients.
And more!
Here is a screenshot of the member's area: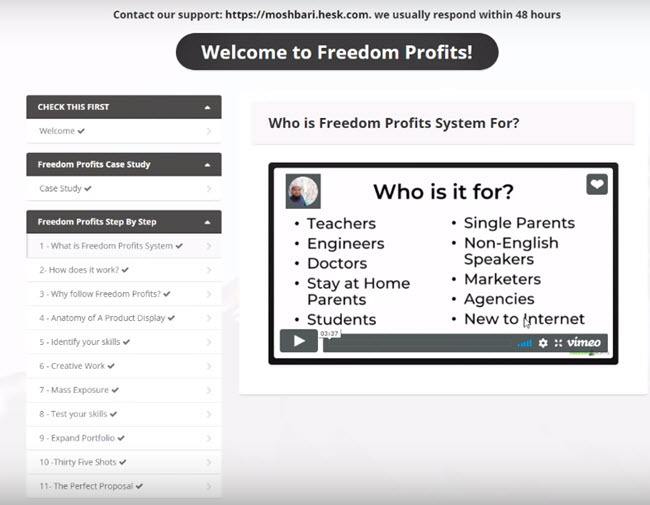 The Software
---
Freedom Profits also comes with a handy lead generation software which automatically collects companies' emails from yellow pages. It allows you to save time when trying to find potential clients.
Conclusion – Is Freedom Profits a Scam? 
---
No. Freedom Profits a legit program that is great for beginners who want to start making money on freelance platforms.
It has everything you need to get started. However, I need to warn you that there is no magic pill to quickly find clients and make money.
For this reason, I think the sales page gives people unrealistic expectations about the freelance world.
As a beginner, you should accept the fact that it usually takes time to find your first client and even more time to make a consistent income.

That is because competition on those platforms is stiff as most clients prefer to buy from top rated, highly trusted freelancers.
Your success depends on your skills and work ethic.
Verdict: Legit
How I Make Money Online
---
I think freelancing is the best method to make money online because it's risk-free and faster than most other methods.
However, nothing compares to the power of having your own website and the possibility of earning passive income.

This reward platform is going viral! Cash out via PayPal, Visa, Gift Cards, and in-game currencies - Click here to find out how to generate an extra $10+ per day! 
My site works for me 24/7 and generates over $1,000+ per month even when I go for holidays. So, different from freelancing, I am not trading my time for money.
A website is an online asset that generates passive income, but it takes a lot of time and effort before you can start earning money on autopilot.

That's why many people work as freelancers while building their own internet businesses.
For in-depth training on how to build niche sites, check out my recommended program, which is the same I personally use to grow my internet business. There is a free membership available!
Final Words
Thanks for reading my Freedom Profits review. If you have questions, please let me know in the comment section below.
All the best!
Stefan