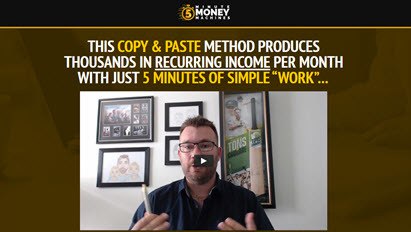 The creator of 5 Minute Money Machines, Mark Berret, is trying to convince you that you can just copy and paste a few links and make a reliable income online.
Of course, you are searching for more information because you don't really think that such an affordable course can help you make $1,000s per month! It seems too good to be true, right?
So, is 5 Minute Money Machines a scam or legit course? Does it live up to the hype?
Let's find out!
5 Minute Money Machines Review
---
Name: 5 Minute Money Machines
Price: $6.95 + Upsells
Website: https://5minutemoneymachines.com
Strategy Affiliate Marketing
Author: Mark Barrett
Overall Rating: 1.8/5
The Sales Page
---
In his video presentation, Mark Barrett claims that 5 Minute Money Machines is a method that he's been using for years to generate thousands of dollars in recurring income per month.
According to him, it's a copy and paste method that only takes 5 minutes of work.
Well, the reality is that you just can't buy any course and expect to start making money with this copy and paste mentality.
In my opinion, that mentality is the perfect ingredient for failure.
What is 5 Minute Money Machines?
---
5 Minute Money Machines is an online course that teaches you how to promote the Wealthy Affiliate platform through solo ads.

This reward platform is going viral! Cash out via PayPal, Visa, Gift Cards, and in-game currencies - Click here to find out how to generate an extra $10+ per day! 
Wealthy Affiliate is an excellent training program on how to build niche sites and make money as an affiliate marketer. It also has one of the most profitable affiliate programs!
How Does it Work? 
---
As I mentioned, you will promote Wealthy Affiliate (WA) through solo ads. But what is a solo ad you may ask?
A "solo ad" is a marketing strategy in which you contact marketers with a big list of subscribers (people's emails), and pay them to promote your affiliate links.
The link directs people to Wealthy Affiliate, and when someone signs up for free, the person becomes your referral.
Now, if the person decides to become a premium member and pay for the monthly membership of $49/mo, you will earn $23.50 per referral per month.
The problem is that solo ads is a risky strategy because they are not cheap and might not convert well enough to generate profits. So, you may lose money.
There is no doubt many marketers are able to make a good income and grow a list of subscribers with solo ads. But it's not easy.
The Training
---
5 Minute Money Machines consists of the following 7 videos:

Introduction – Start here first.
Here's how it's done.
Setting up Part 1.
Setting Up Part 2.
Start the traffic.
Onboarding new clients.
Conclusion.
The course is short and to the point, and anyone can apply the method with minimal effort.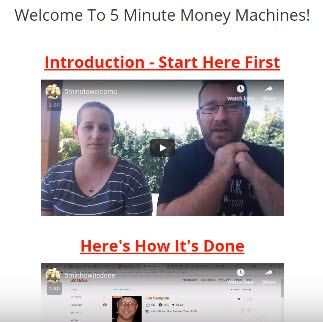 Can You Make $1,000s Per Month With Just 5 Minutes of Simple Work? 
---
I have been promoting Wealthy Affiliate for over 3 years, so I am confident in what I am about to say.
You're unlikely to make $1000s in profits by merely sending out affiliate links through solo ads.
Perhaps you can make $1,000, but then you may have to spend $2,000 or even more…
Here is something fundamental you should know:
Although WA is focused on helping you build sites about a topic you are passionate about, it also has extensive training on how to create a website to promote the platform itself. It's called Bootcamp.
Click here to learn more about Wealthy Affiliate's Bootcamp.
I followed the Bootcamp and finally reached $1,000 per month after 2 years of consistent work. I've been writing 3 articles per week on average, which ranks on Google and get me FREE traffic (visitors).
WA itself doesn't teach individuals to buy solo ads. If this strategy worked so well, then there would be a significant demand for solo ads, causing prices to increase dramatically.
As a result, the profits would shrink more and more until the point where we are right now. A point where it's extremely difficult to generate profits.
Conclusion – Is 5 Minute Money Machines a Scam? 
---
No, it isn't. In my opinion, it's just a course that focuses on an outdated strategy that is quite risky.

If you want to promote Wealthy Affiliate, the best thing you can do is follow their Bootcamp course.
Kyle and Carson, the owners of the platform, knows what works. Besides, their business depends on successful marketing campaigns of their affiliates.
They will teach you to rank on the first page of Google by writing helpful, and SEO optimised articles. Not to mention all the other strategies such as social media and PPC (pay per click).
It's a strategy that has worked very well for me and will continue to work for years to come. Here is a screenshot of my next payment due on the 1st January 2019:

The method they teach is excellent to build a solid foundation to live the laptop lifestyle.
I can not only promote WA but also any other platform that brings me passive income.
Here is another screenshot that shows daily commissions that I earn by promoting a GPT (get paid to) site called Prizerebel: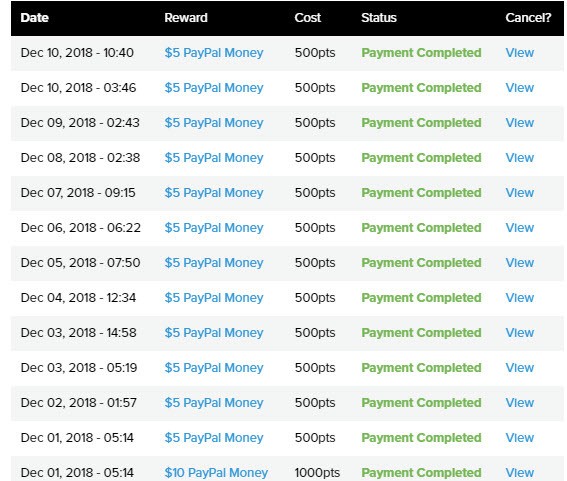 If you want to learn more about my story with Wealthy Affiliate and how it can help you create a profitable internet business, check out my full review here.
Thanks for checking out my 5 Minute Money Machines Review and I hope it was helpful to you. If you have any questions, please let me know in the comment section below.

All the best.
Stefan