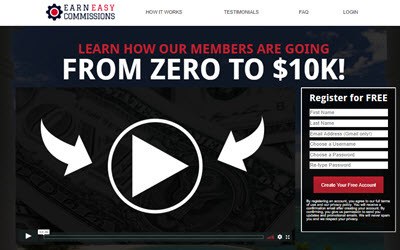 The creator of Earn Easy Commissions is trying to convince that his program will help you generate massive commissions on complete autopilot.
After you set this up, all you have to do is sit back, relax and earn easy commissions. The best part? The done-for-you system is 100% free to use!
Is it really free and easy? Is Earn Easy Commissions a scam or a legit program? In this review, I will expose the system and give you my honest opinion about it.
If you want to learn step by step the same method that earns me over $1,000/mo from my laptop, check out my #1 recommendation! Free and newbie-friendly training available.
Earn Easy Commissions Review
---
Name: Earn Easy Commissions
Price: Free, but you will need to purchase at least 2 services that will cost you $27/mo.
Website: https://earneasycommissions.com/
Owner: Check Nguyen
Strategy Affiliate Marketing
Overall Rating: 2/5
The Sales Page
---
In the video presentation, Chuck says the old "make money online" industry was all about teaching.
The "gurus" used to teach his students how to build a website, an email list, and a 6-figure online business.
However, according to him, this method is now "stupid" and a complete waste of time.
So, what is his smart way of making money online?
Take a guess!
Well, the smart strategy is to use his done-for-you website, email list and 6-figure online business.

This reward platform is going viral! Cash out via PayPal, Visa, Gift Cards, and in-game currencies - Click here to find out how to generate an extra $10+ per day! 
Instead of teaching you how to build your own business, he will give you his exact 6-figure business system. So, all you have to do is clone it and start making money.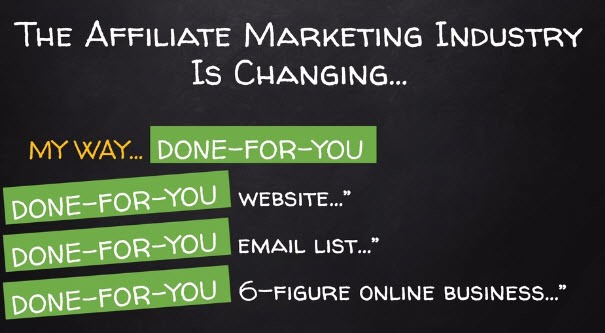 What is Earn Easy Commissions?
---
According to the creator, Earn Easy Commissions is a free done-for-you system that builds your email list and helps you earn earns multiple income streams without extra work.
After you set up the system, they say all you have to do is to share (promote) your affiliate link.
Well, the problem is that promoting the link and earning a ton of commissions is easier said than done.
It's definitely not something that will happen on "autopilot" if you don't have a constant amount of traffic (visitors) to your capture page.
How Does it Work?
---
I have lost count of how many times I came across similar programs on the internet. One of them is the 4 Percent Group, which I reviewed a long time ago.
The key strategy of these done-for-you systems is to entice members to buy services through the owner's affiliate links as well as promote the same system to others.

It's not free! 
They will give you a ready-made capture page and an affiliate link as long as you purchase an Autoresponder (Getresponse – $15/mo) and a Link tracking service (Click Magick – $144/Year).
Therefore, the system is not free because without the affiliate link, you can't earn commissions, and you can't get the affiliate link if you don't buy those services.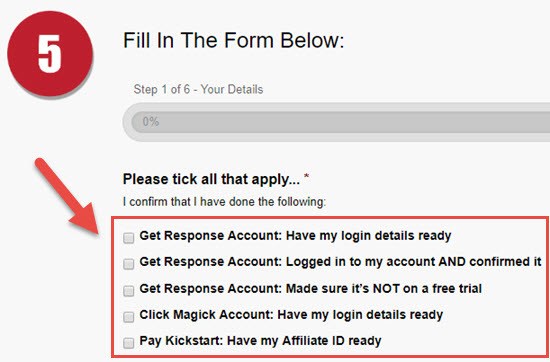 The Owner Has a Very Profitable System For Himself
When you purchase these services and set up the system, the owner earns recurring commissions from both GetResponse and Click Magick.
Besides, when you share the link, you are promoting and perpetuating the exact system that will generate more affiliate sales for him.
On the other hand, nothing guarantees that you will make a consistent income to cover the monthly costs of running this business.
Hence, you assume all the risks!
The System – Your Commissions
If you decide to go ahead and purchase those services, you will get a capture page a and 100 follow-up email sequences.
The capture page is simply a webpage that has email form and message to encourage people to sign up, similarly to the front page of Earn Easy Commissions.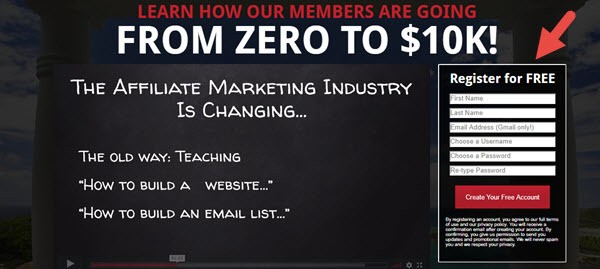 This form is connected to your Autoresponder, which will collect people's email and will automatically send one or two emails per day to each subscriber.

These emails promote Earn Easy Commissions and have your affiliate links in them.
Upon signing up, the person will be directed to Earn Easy Commissions, and you will earn $2 commission if he or she also set up the system.
There is also a $20 commission if the person decides to become premium and a $10 commission per 2nd tier pro upgrade.
The Pro membership also allows you to earn commissions on 10 different services that Earn Easy Commissions recommends inside the platform.
So, by sharing one link, you are actually creating 10 other income streams.
I will not go into detail about the premium membership because you can find the explanation in the Step 4 video.
The key thing to understand is that you will need traffic to make this work. And a LOT of it!
The more traffic you have, the more money you will make.
Traffic Training
---
In Step 5 of the free training, you will learn the following 3 traffic strategies:

Facebook Marketing (free).
Forum Posting (one-time fee of $5 to post on Warriorforum).
Solo Ads (paid)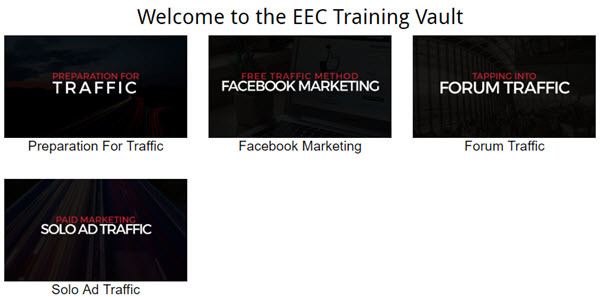 In my opinion, none of these traffic sources are great to generate a consistent income online.
Solo ads is the worst method for a beginner because its high prices can reduce your profit margin drastically. Many affiliates end up losing money! So, it's a risky strategy that I don't recommend.
Facebook and Forums are not good either because they require constant posting, and the result is usually poor.
But There Are So Many Income Proofs!
---
Yes. The sales page has probably hundreds of income screenshots, but it's impossible to know if all of them are real.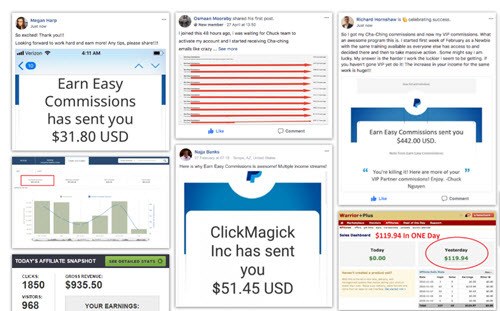 Bear in mind these screenshots don't reflect net profit.
Remember, the minimum cost of running this business is $27 per month. Also, a reliable solo ad vendor will charge $0.40+ per visitor.
So, how many people are making profits? We will never know, folks!
I don't doubt people can make money with this system. It's actually much more profitable compared to most other affiliate programs.
The problem is that, in my opinion, the business model and traffic strategies are not good for a long-term and consistent income.
Conclusion – Is Earn Easy Commissions a Scam? 
---
Earn Easy Commissions is not a scam, but in my opinion, it gives people unrealistic expectations about the method.
The business model proposed by Chuck is weak and unreliable because it's entirely based on the promotion of Earn Easy Commissions itself.
In other words, you depend heavily on another business to survive. If the owner wakes up one day and decides to shut down the platform, your revenue streams vanish overnight.
Also, you are not building a website that people can find on Google, so you have to rely on social media and forums to promote your links. if you decide to invest in solo ads, then this business model becomes even riskier!
It's scary to even think about running this type of business…
Verdict: Not Recommended
My Recommended Strategy to Build a Long-Term Business
---
If you want to make money as an affiliate marketer, I highly recommend the same strategy that I've been using successfully for over 3 years.
It consists of building a website and providing helpful content that people can find by searching on Google.
For example, a review article that you create today is going to rank on the first page of Google for years. Therefore, it will continuously attract an audience to your site.
This strategy is much more powerful in the long-term compared to posting on forums and Facebook groups. Plus, you can also grow an email list in the process after you start getting traffic.
A website is an online asset that generates passive income, but it takes a lot of time and effort before you can start making money. There is a lot to learn too!

If you want to start in this type of business, knowledge and support from those who walked the way is the best investment you can make.
I was a complete beginner when I started my website, but I was able to achieve remarkable results thanks to this excellent step-by-step program.
Sign up for free (no credit card) and take advantage of their free starter membership.
Thanks for checking out my Earn Easy Commissions review.  If you have any questions, please let me know in the comment section below.
All the best
Stefan