If you live in the United States or Canada, you may have heard about the Drop App, which gives you the opportunity to earn cash rewards with every purchase that you make. However, you may be wondering if Drop is a scam or legit.
In this review, I am going to show you the pros and cons of using Drop and give you my honest opinion about it.
Are you looking for a proven strategy to make money online? Click here and discover the platform that helped me reach over $1,000/mo from my laptop. Free and newbie-friendly training available.
Drop App Review
---
Name: Drop
Website: https://www.earnwithdrop.com
Overall Rating: 2.2/5
LEGITIMATE
What is Drop?
---
Drop is a loyalty program for mobile devices founded in 2015 by a Canadian company called Drop Technologies Inc.
It rewards users for linking their credit cards and spending at their favourite brands such as McDonald's, BestBuy, Forever21, Wallmart, Adidas, Zara, and many others.
You can even get rewards when you take an Uber ride.
Is Drop a Scam?
---
No. I am confident Drop is a legit app.
Although I found some complaints on the internet, there seems to be nothing wrong about the way the business operates.
It's a cashback app similar to Ebates, Dosh, Honey, Earny, and many others.
Is Drop Safe?
---
Many people hesitate to use Drop app because they are afraid of linking their credit cards to the app and making purchases through it.
The concern is valid because hackers are always searching for system vulnerabilities and cloning credit cards.
My wife had her card cloned a few weeks ago in London, probably because of a recent purchase she had made through her phone.
There are also many unreliable apps out there!
According to Drop's website, their system will never store your bank credentials on their servers, and your sensitive data is securely encrypted.
The process was certified by DigiCert, the industry leader in website and app security. For this reason, I firmly believe that Drop is safe to use.
Pros and Cons
---
Pros
The app has strong security measures to protect your bank and personal data.
There are lots of cashback offers.
There are many gift cards to choose from.
Cons
There is no PayPal or other cash rewards.
Many people complain about difficulties linking cards, missing points and poor customer service.
How Does it Work?
---
Step 1 – Register
Drop app is available for Android and iOS devices. You can either get the app by visiting the official website or by searching for it on the Google Play or App Store.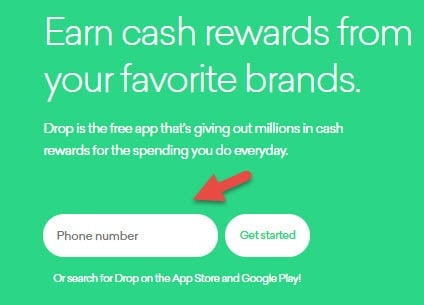 The registration is 100% free!

Step 2 – Link Your Credit and Debit Cards
After registration, you will have to link one or as many cards as you want with your banking credentials.
Step 3 – Shop and Earn Points
Whenever you make a purchase or complete an offer through the Drop app, you will earn points that you can redeem for gift cards.
1,000 points are worth $1. 
As I mentioned earlier, Drop is a cashback program, which means the company is earning commissions from retailers and passing on a percentage of the profit back to you.
Some of the brands available include:
Walmart
Boxed,
ASOS,
Jet
Warby Parker
And many others!
You may wonder how long it takes to receive your points after the purchase.
Well, it depends because each offer has different tracking systems and return policies. Therefore, you should check the terms and condition of each offer.
If your points are taking longer than 8 days to be credited, then you should submit a support ticket to [email protected].
Step 4 – Redeem
Once you have earned a minimum of 10,000 points ($10), you can redeem for a wide range of rewards.
The reward options include gift cards of different brands including:
iTunes
Starbucks
Amazon
Dunking Donuts
BestBuy
Domino's
And more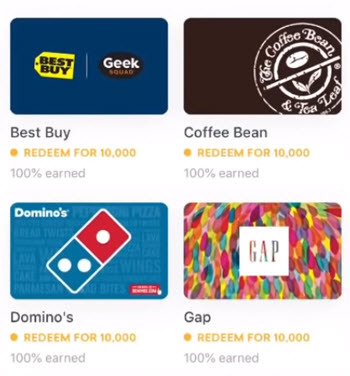 Complaints
---
If you take a look at user reviews on Google Play, you will see mixed opinions about the Drop App.
Many people complain and don't recommend the app due to different issues such as:

Difficulty in linking cards.
The app crashes frequently.
Missing points.
Points are listed as pending for a long time.
Accounts are locked for no apparent reason.
Also, many people complain about customer service, which doesn't reply or take too long to solve these issues.

Nevertheless, it's still possible to have a positive experience with the app as other people have rated the app 4 and 5 stars.

Conclusion 
---
Drop app is not a scam, but because there are many complaints on the internet, I recommend trying other well-established alternatives such as eBates and Dosh app.

This reward platform is going viral! Cash out via PayPal, Visa, Gift Cards, and in-game currencies - Click here to find out how to generate an extra $10+ per day! 
Cashback apps are great for saving money on purchases. That's true!
However, many people go overboard and spend money extravagantly to earn more rewards.

The fact you are earning points for shopping should never be an excuse to spend more than what you would if you had no incentive. That's my honest opinion.
Verdict: Legitimate
How I Make Money Online
---
In 2015, I discovered how to build niche sites that generate passive income. It's possible to start small and achieve a full-time income over time. It just takes some time and commitment.
I was sick and tired of depending on my minimum wage just to live paycheck after paycheck, so I decided to take massive action and change this situation once and for all.
Thanks to this excellent step by step program, I learned the ropes and built a profitable internet business that is covering all my living expenses in London. Bear in mind I had no previous experience in website creation or internet marketing.
I created this side income while working full-time as a dishwasher at a small coffee-shop. So, if I was able to achieve results, you can too!
I am grateful for this opportunity as I can travel more and save for my house deposit.
Sign up now and take advantage of their free starter membership here! No credit card required.
Thanks for checking out my Drop App review.  If you have any questions, please let me know in the comment section below.
All the best
Stefan