Welcome to my Flash Rewards review!
I have recently found this website called Flash Rewards (flashrewards.uk), which claims you can win a £100 Visa Gift card upon fulfilling certain requirements.
It seems like a great opportunity to earn some extra money, especially now with the current lockdown situation. Millions of people are struggling to pay the bills and need the money for yesterday!
However, you must be very careful because as the old saying goes: "there is no free lunch". You see, lots of sites entice people to complete easy tasks in return for cash rewards, but many of them use different tactics to avoid payments.
You are here because you're wondering if you can really claim your cash reward after completing the offers. Is Flash Rewards a legit site? Don't proceed with your registration before reading this.
If you are serious about making money online, check out my #1 recommendation. It's the same program that helped me build my own online business and reach $1,600/mo. No special skills required! 
Flash Rewards Review 
Name: Flash Rewards
Company: Main Source Media, LLC
Website: Flashrewards.uk
Eligibility: UK (+18)
Type: Offers
Price: Free
Overall Rating: 

2/5
What is Flash Rewards? 
Flash Rewards is a website owned and operated by Main Source Media, LLC. They are giving UK residents the opportunity to earn £100 or more by sharing their contact details, answering surveys, and completing offers.
Whenever you complete an offer through Fash Rewards, the company earns a commission from the advertiser. However, they only payout once you complete all the deals.
Flash Rewards is a lot different than most GTP sites whereby you can browse and complete any tasks in exchange for points. Instead, you can only pick one deal from a limited number of options on the list before you can move to the next page. 20 Cogs has a similar approach. 
The problem is that you don't know what types of offers are waiting for you on the next page. For me, this is a no go!  
How Does Flash Rewards Work? 
First, it's important to mention there are two types of rewards:
Tier 1: reward worth £100 or less –  You need to complete 4 offers.
Tier 2: reward worth than £100 –  You need to complete more than 10 offers.
The first step is to answer a few questions and provide some personal information such as your date of birth, postcode, email addresses, and phone number.
Flash Rewards will ask your consent to share your contact details with their 3rd party marketing partners. The good news is that you can proceed without ticking this box.
Next, they will ask you a few more profiling questions to tailor offers because of your demographics.
Now is where the fun begins! On the next page, you are required to complete 1 deal before continuing to the next session. Read the requirements of each offer, make your choice, and click on "Claim Deal".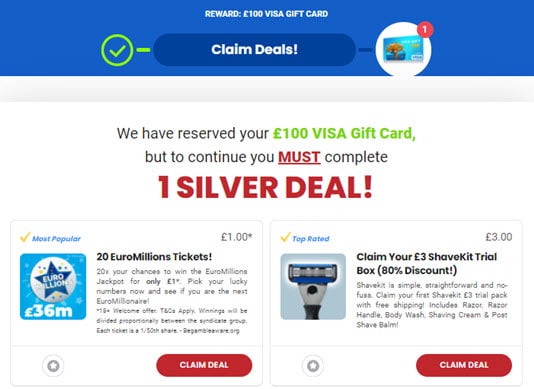 You will find three types of offers:
Free offers – You just need to sign up and provide your details to other companies.
Purchase Offers – They will ask you to make a deposit or purchase a product or service.
Subscription offers – You must subscribe to services that will charge you a monthly fee.
Keep in mind that you must complete all offers within 20 days from the day you completed teh first offer.

Important Information About Offers
Some types of offers, especially the free ones, require that you share your contact details, such as your phone number and email address. As a result, you will receive lots of marketing messages and calls from 3rd party companies trying to sell their products on a daily basis.
According to GDPR regulations, you have the right to unsubscribe and delete your contact info, but you will have to contact each company individually.
If you want to proceed, I advise focusing on free trials of service subscriptions. Also, make sure they will credit even if you don't keep the service active after the trial ends. You want to avoid spending money on these offers because there is no guarantee that you will receive the money later.
Don't cancel your subscription too soon. The reason is that you will only get credited after the advertiser approves the offer and pays a commission to Flash Rewards. If you cancel the offer before the approval, you will have to pick another deal.
Also, you should not use a prepaid card when completing offers. The advertiser wants to make sure they can charge you for the service, and therefore, only a credit or debit card will be accepted.
Claiming Your Reward
Flash Rewards will send you a claim form via email after you meet all the offer requirements. Alternatively, you can start the claim process by visiting the "Reward Status" page.
You must fill up this form and submit proof of address (ex. utility bill). According to the FAQ, it takes up to six weeks to receive your reward.
Is Flash Rewards Legit? Does it Pay?
Completing sponsored offers in exchange for cash rewards is very convenient, but is has always been problematic!
Regardless of the platform you use, there is always a risk of not receiving the credits. That is because many companies do a poor job of tracking the offers and pretend system errors to avoid payments. You will never know what is really going on behind the scenes!
I had a look at some reviews on Trustpilot and found mixed opinions about the site. Overall, Flash Rewards has been rated 2 stars out of 5, which is not good!
Some people claim that they completed all the offers and received the payment with no issues. However, most people left a review to voice their discontent with the site, warning that they didn't get paid.

Flash Rewards is a legit site, but that doesn't mean they are consistent with payments.
Pros and Cons
Pros
It's free to join.
Decent cash reward.
Cons
Most offers require a deposit.
Companies will collect your contact details for marketing purposes. So, expect to receive lots of promotional calls and emails.
There are many complaints about payments.
Conclusion 
I don't like the idea of having to complete a sequence of offers before collecting the final lump sum. The main reason is that if something goes wrong, you will waste a lot of time and even money.

This reward platform is going viral! Cash out via PayPal, Visa, Gift Cards, and in-game currencies - Click here to find out how to generate an extra $10+ per day! 
Based on lots of reviews that I found on the internet, Flash Rewards seems like a hit-and-miss opportunity. Unfortunately, there is no guarantee that you will receive your reward. 
In my opinion, the best way to earn money by completing offers is to join a traditional and reputable GPT site. The great thing about these sites is that you complete other tasks and cash out quickly.

In the UK, Oh My Dosh is probably one of the most popular platforms to complete these types of offers.
Final Words
Thanks for taking the time to read my Flash Rewards review. If you want to share your thoughts or ask any questions about this site, just leave your message in the comment section below.
Peace!