Check my honest FB Continuity Profits review, and find out everything you need to know about this training platform.
Mario Brown wants to show you a system that you can use to earn recurring income online and achieve the ultimate piece of mind. But can you trust his teachings to build a sustainable business, or is it another scam?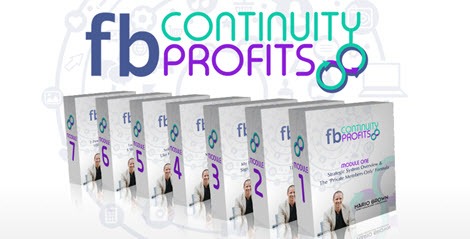 FB Continuity Profits Review
Product Name: FB Continuity Profits
Price: $27 + Upsells
Strategy: Online Marketing focused on selling your own products/services.
Owner: Mario Brown
Overal Rating:

7.5/10
What is FB Continuity Profits?
FB Continuity Profits is a step by step training designed for those who want to start a and grow a successful online continuity business. He will teach you different models so you can apply to your product/service, and promote it mainly on Facebook.
There is no need to have any experience as the course is designed for newbies and people who already have some experience with online marketing.
Mario claims that you won't have to start from scratch because he will show you exactly what he does so you can apply to your own business.
Pros and Cons
Pros
High-Quality step by step training
Newbie friendly
Advanced training for more experienced marketers
Valuable real-world case studies
High converting done-for-you campaigns
You can achieve success with hard work and perseverance
Cons
The training focuses primarily on paid advertising
Quite risky for beginners
Support is limited – No forum/community to ask for help
How Does it Work? 
An online continuity business is the one that is set up to earn you continued sales/revenue month after month.
The focus of the training is to teach how to market and sell your own products that require a monthly or yearly subscription.
FB Continuity Profits will walk you through different business models such as:
Paid Newsletter: Here you will send regularly distributed publication on people's emails. Many website owners provide a newsletter for free, so your content must be very enticing and provide excellent value to your audience.
Membership Site: Learn how to build a successful training platform with courses and webinars. Mario's Brown is an example of a membership site.
High Ticket Coaching: Coaching can be incorporated into your membership site as well. But you can charge a higher price for it.
Software Service: If you have your own software, you will learn how to build a lucrative business around it.
Mario will teach you how to get lots of new members within just a few days, and how to keep retention rates high. These two factors are key to your success!
This is a screenshot from the Dashboard: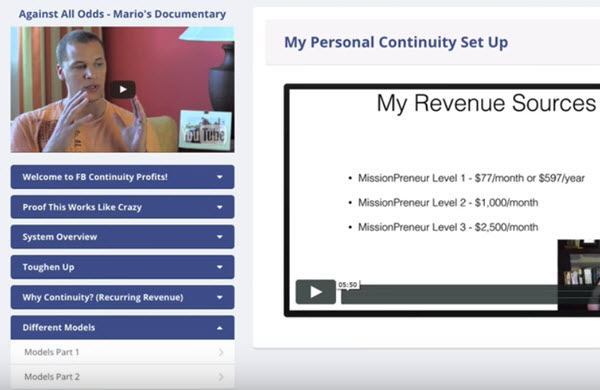 Done-For-You Systems
In addition to the training, you will get access to done-for-you systems that are supposed to save you lots of time, effort and headache. This is what you will get:
High converting landing pages: Mario has been working in this industry for 8 years, so he knows very well how to develop an enticing sales page. He claims to have split testing them for years to achieve incredible results.
Sales funnels: Follow-up sequences, offer structure, traffic sources and sales triggers. Everything you need is laid out for you. You can take the models and leverage into your own business.
Real Case Studies – Looking Over Mario's Shoulder
Case studies are awesome because you learn from results, not just from theory. You will get two real-world case studies that will show you EXACTLY how Mario built his membership sites with thousands of members each. He will present the membership site itself, the different offers and Facebook ads for each campaign. Good stuff here!
Conclusion – Risky For Beginners
FB Continuity Profits is definitely not a scam. However, there is some risk in the beginning, especially for newbies.
Why is that? Well, the training focuses mainly on paid advertising. So, if you don't attract members, you will be at a loss.
If you don't have an online presence, it will be quite a challenge to gain trust and attract members because they don't know your background.

Unless you have lots of experience in your niche and have confidence your service/product will sell like CRAZY, then you might have an exciting journey with FB Continuity Profits.
However, if you have no expertise AND are just starting out in online marketing, I don't recommend launching your own product before building a website.
Verdict:
Legit 
What Now? 
As I always explain to my readers, a website should be considered the foundation for ANY online business. That's because a website is the means by which you build trust and get free traffic (visitors) from search engines like Google and Yahoo.
In my opinion, free traffic is a MUST in the beginning! By building a site, you gain experience in your niche market and don't risk losing money with advertising.
If you want to build an online presence and eventually launch your own products, check out my recommended training platform.
Check Out My #1 Recommendation!
This excellent community-based platform will teach you different methods to get free traffic to your site.
After you gain experience and authority in your niche, you can become more confident in launching your own products in the future. By that time, you will have a strong online business, with lots of free and highly targeted traffic to your offers.
Thanks for reading and I hope this review will help you make an informed decision. If you have any questions about FB Continuity Profits or my recommended strategy to start an online business, feel free to leave me a comment below.
Your friend
Stefan