Welcome to my Eureka App review!
You may have found the Eureka app while searching for a simple way to make money online.
Eureka is a top-rated iOS and Android application where you can earn a few bucks for voicing your honest opinions.
Your feedback about products and services is precious for marketing research companies. However, many are so greedy that they will do everything possible to avoid your payment.
Unfortunately, this industry is flooded with apps and websites that will collect your data, sell it to big corporations, and leave you empty-handed.
You are here because you want to know whether Eureka is legit and worth your time and effort.
Check out my honest review to find out!
While you are still here, don't forget to check out my top recommendation, the same program that helped me reach $1,600/mo from my laptop. No special skills are required!
Eureka App Review
---
Use my referral code 1MQTJM and unlock a $1 survey just for signing up!
What is Eureka?
---
Eureka is a survey app available for download on App Store for iPhone users.
As a panel member, you can participate in marketing research studies in return for cash rewards and sweepstakes entries.
Every time you share your opinions with brand partners, you will earn cash that you can withdraw via PayPal.
Or so they say…
Eureka app has been rated 4.4 stars, but considering the Play Store is jam-packed with fake reviews, you may be unsure whether the rating reflects reality.
Pros and cons
---
Pros
Easy to use.
The average member earns $5 within 24 hours of creating their account.
Surveys are relatively short.
Earn 2 cents if you get disqualified.
Generous referral bonus.
Instant cashouts
Cons
There are not many surveys.
Low-income potential.
It can be hard to qualify.
Use my referral code 1MQTJM and unlock a $1 survey just for signing up!
How Does Eureka App Work?
---
After installing Eureka and registering with your email, you must verify your phone before getting access to paid surveys.
Enter your phone number and click on Send Code. Then, enter your code in the app to complete the verification process.
Most surveys take 5 – 10 minutes to complete and pay anywhere between $0.15 and $1.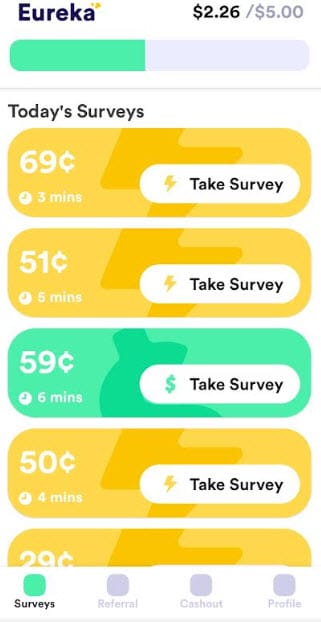 That is not so bad compared to many other survey panels in the United States and the UK.
In the past, most surveys could be completed inside the Eureka app itself, as the company was responsible for creating them.

But now, you will be redirected to different third-party platforms to complete surveys, such as Samplicios.
The downside is that panelists are getting disqualified more frequently.
In the beginning, you may get 1 – 2 surveys daily, which is excellent!
Tired of taking surveys in return for pennies? Click here and turn your passions into a 6-figure online business. 
You May Get Stuck!
---
After reading reviews on the App Store and YouTube, I discovered many negative comments about Eureka.
The main issue is that many people get stuck before reaching the minimum payout threshold of $10.
Eureka provides frequent surveys in the first week or two, so people can accumulate earnings relatively fast.
However, surveys may halt after you approach somewhere between $8 – $9.
It's very frustrating because if they don't want to pay you, they can stop sending you new invitations!
Not only that, but panelists also report that it gets harder and harder to qualify for surveys after some time.
You may spend around 10 minutes answering screening questions only to get disqualified!
IMPORTANT UPDATE: The company has contacted us in the comment section to inform us that Eureka has improved since I published this review. So, from the past reviews I checked on Google Play, it seems everyone can reach the payout threshold and cash out.

Value Surveys
---
You will eventually unlock the so-called value surveys as you participate in more studies and provide quality responses.
Eureka promises to pay $19 for the best response, but they do not explain how to stand out.
I wouldn't set high expectations because your chances are very slim!
These links will route to a third-party platform such as Samplicio, which frequently screens out candidates.
Even if you don't earn $19, you will earn a little bit of money if you get qualified and complete the survey.
Otherwise, Eureka will invite you to apply for another marketing study.

This reward platform is going viral! Cash out via PayPal, Visa, Gift Cards, and in-game currencies - Click here to find out how to generate an extra $10+ per day! 
UPDATE: Eureka has discontinued the value surveys.

Referral Program
Invite your friends to Eureka using your unique referral code and earn $50 for every person that signs up.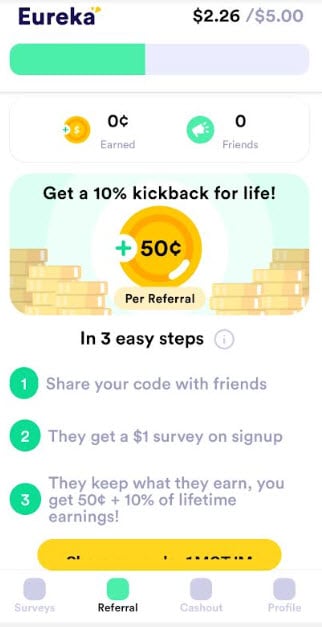 Your friend will get a $1 survey on Signup using your referral code.
In addition, Eureka will give you a 10% referral bonus for each survey your referral completes.
So, if they complete a survey worth $1, you will get $0.10 without lifting a finger!
How do You Get Paid?
---
If you reach $5, you can withdraw the money to your Paypal account or redeem an Amazon gift card.
Unfortunately, many people struggle to cash out because of the sudden drop in survey opportunities and frequent disqualifications.
UPDATE: It's not so difficult to cash out because Eureka has lowered the minimum payout threshold from $10 to $5. In addition, it seems that panelists are not getting stuck before reaching $10 anymore. So, I believe the company has significantly improved, helping people get rewarded fairly for their time!
Conclusion – Is Eureka App a Scam? 
---
No, Eureka is a 100% legit application that will transfer the money if you reach the minimum cashout requirement.
Many members were disappointed and angry about the lack of surveys and frequent disqualifications.
However, this is expected with countless other survey platforms that partner with third-party marketing research firms.
I like that Eureka has improved a lot since its release and is genuinely committed to rewarding people for their opinions.
In my opinion, Eureka is worth the time for those who want a little extra cash without much effort.
Verdict: Recommended
The internet is jam-packed with reward platforms that pay you to complete surveys and simple tasks.
Here on this blog, I have reviewed hundreds of them, so I know how to separate the wheat from the chaff.
In my opinion, the best reward platform that ticks all the boxes is Prizerebel. Click here to hear my full Prizerebel review and understand why!
Now, if you always dream about quitting your job and working remotely, the next section is specially designed for you!
How to Make a Full-time Income Online
---
Surveys Apps like Eureka can make you waste a significant amount of time in return for very little money.
I was an avid survey taker in 2015 when I discovered a business model called affiliate marketing.
In a nutshell, the "strategy" involves creating helpful content and promoting other people's products in exchange for commissions.

The more people visit your website, the more money you can make, and there are no limits!
What I love about this business model is that I can work whenever and wherever I want.
Yes, you can achieve this income level and even higher!
But you must be willing to work for at least one year before you start seeing results.
If you want to learn step-by-step how to build a website that earns you thousands of dollars in affiliate commissions, check out my #1 recommendation.
This is the same platform I used to grow my website and achieve time and location freedom!
Final Words
Thanks for taking the time to read this Eureka App review. I hope it was informative!
If you have any questions or thoughts about this reward app, feel free to leave me a comment below.
Stay safe, and peace out!