Welcome to my Earn Gem app review!
Perhaps you were searching for an opportunity to earn money on the go when you found Earn Gem. It claims you can easily get paid for watching videos, giving opinions, installing apps and more.
Finding a legit application that you can trust is an enormous challenge, which is why you are here. In this post, I am going to explain exactly how Earn Gem works so that you know the pros and cons of using it.
Is Earn Gem a legit app? Will you get paid? If the answer is yes, then how much money can you make? Keep reading to find out!
RECOMMENDED: Check out the step-by-step program that helped me build an online business from scratch and reach $1,600+ per month. No special skills required! 
Earn Gem App Review
Name: Earn Gem
Developer: Gadnet Software Technologies
Eligibility: Worldwide (+18)
Payout Threshold: $5
Price: Free
Overall Rating:

2

/5
What is Earn Gem? 
Earn Gem is a reward app operated by Gadnet Software Technologies. By installing this application, you have access to different tasks that you can complete in exchange for Tokens (Gems). Once you accumulate 5,000 Gems, you can redeem $5 through PayPal or Skrill.
People who never used these types of apps may think this is too good to be true. If you are skeptical too, it's important to know that simple online tasks have been around for over 15 years now. It all started with the so-called GPT Sites, and now the same opportunities have emerged via mobile apps with the advent of smartphones.
How Does Earn Gem Work? 
Advertisers promote their offers on the Earn Gem app in order to attract panellists and potential customers to their businesses. These include marketing research companies, game developers, and trading websites, to name a few. Whenever you install an app, watch a video or complete a survey, Earn Gem earns an advertising fee and shares a percentage with you.
Installation 
The Earn Gem app is available on the Play Store for Android devices. It's completely free and works worldwide. You don't need to provide any personal details (Email, name, etc) before you can start completing tasks.
They will only ask if you have a referral code. If you enter my code FX-1MED-KEAD you will get 100 Gems. However, you will eventually have to provide your name and email in order to get paid.
How Much 1 Gem is Worth? 
1 Gem is worth $0.005. Therefore, you always have to multiply your reward by 0.005 to know the exact amount in dollar.
How to Earn Money With Earn Gem? 
As soon as you open the application, you will see a list of tasks and the number of Gems that you will earn. Select the task you want to complete and follow teh instructions.
Keep in mind that the availability of tasks depends on your location. So, depending on your country, you may not find a lot of tasks which are usually available in the US, Canada, and Europe. Next, I will show you a brief description of the most common missions:
Daily Task – Earn 20 Gems by watching a short video. This only works once per day.
Verify your Information – Here is where you provide your name and PayPal email. Earn 50 Gems.
Facebook Share – Share the app on the social media and get 100 gems.
Invite Friend – Send an invitation message to your friends and earn 100 Gems for everyone who signs up with your referral code.
Watch videos – Get 5 gems per video view.
The last 5 options are offer walls where you can Earn gems by sharing your opinions, installing apps and playing mobile games on your phone. Simply follow the instructions to collect your reward.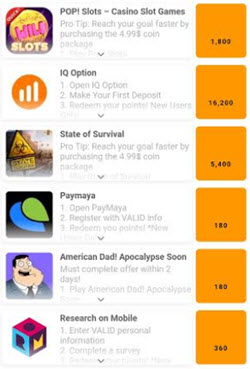 Those offer walls are provided by many other reward apps and GPT sites. However, they gave each platform a different name. For example, "Digging Shovel" is Adgate rewards, and "Gem Wagon" is the popular ad network called OfferToro.

The best way to make money with Earn Gems is by completing surveys from any of these third-party platforms. But here is my advice: Avoid apps that ask you to make a deposit because you don't want to take any risks with your hard-earned money.
How do You Get Paid? 
There is a big problem here. When you open your cash balance, it says you need 5,000 Gems to cash out $5 via PayPal. However, the verification section, it says you need to add your Skrill email in order to get paid. Beware, you cannot change it later.
So, I am still wondering whether Earn Gem pays via Skrill or PayPal. I'd email the developer to make sure you are providing the correct details.
How Much Money Can You Earn? 
There are lots of opportunities, but you should not get your hopes up because tasks usually pay only a few cents. I believe if you can reach 5000 Gems ($5) only after a month or two depending on your activities. If you just watch videos, though, it will take forever!
Is Earn Gem Legit? Does it Pay? 
Unfortunately, I coudn't find enough evidence of payments. Most people on the Play Store give it a positive review but don't mention if they got paid or not. Some people are still waiting for the payment while other complain they don't win Gems for completing free offers. I believe Earn Gem is legit, but I wouldn't put my hand in the fire for it.
Is There an Alternative to Earn Gems? 
There are hundreds of apps and even sites that pay you for completing similar tasks. Instead of using mobile applications, I would stick with GPT websites that have a long track record of paying members.
Prizerebel is my top recommendation for earning pocket money. I have cashed out hundreds of times via PayPal with no issues, which is why I am so confident that it's the best option for you. Also, it works like a charm on your phone or tablet, which is great because it saves memory. If you still prefer reward apps, try CashApp, Bidcash or AppKarma.

Pros and Cons
Pros
There are lots of offers and surveys.
Payout threshold is not too high.
Cons
It may not credit you for completing tasks.
There is not enough evidence that it pays.
You cannot change your email.
There are some glitches.
Conclusion 
Earn Gem seems like a legit app, but the lack of positive feedback regarding payments is something to be wary about. That's why I always recommend well-established sites and apps to stay on the safe side.
If you want to learn how I build a successful online business from scratch, check this excellent step-by-step program.

This reward platform is going viral! Cash out via PayPal, Visa, Gift Cards, and in-game currencies - Click here to find out how to generate an extra $10+ per day! 
Thanks for reading until the end, and if you have questions, leave me a comment below.
Stay safe!