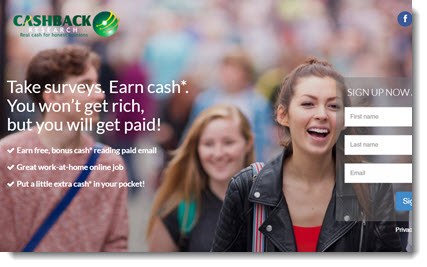 You know the internet has more scams than people on this planet, so you decided to check if Cashback Research is a reliable survey site. You have come to the right place!
I decided to sign up and give it a try. If this is a legitimate survey website, then it must be honest about the income potential, don't ask for money and pay without any trouble.
So, let's check it out.
Cashback Research Review
---
Product Name: Cashback Research
Website: cashbackresearch.com
Price: Free
Business Type: Online Surveys
Overall Rating:

3.5/5
What is Cashback Research?
---
Cashback research is a site where you take surveys and sign up for other survey websites in exchange for cash.
It is important to note that all surveys you take inside the platform are designed and requested by proper survey companies like Ipsos, Toluna, and Opinion Outpost. Therefore, Cashback Research is only a middleman between you these companies.
Online surveys is a very popular method to make money online because it is easy, widely available and doesn't require any specific skills or initial investment.
You just have to provide basic information about yourself (demographic), your personal opinions and habits. However, they are also famous for the low pay rates. Trust me, it is not uncommon to earn $2 or even less in 1 hour.
Pros and Cons
---
 Pros
There is a generous bonus for signing up with other survey panels.
User-friendly dashboard.
Gpaidpid via Paypal.
Cons 
Low-income potential.
It's not very easy to qualify for surveys. The same as any other survey site.
It doesn't provide a time estimation to complete each survey.
It can take a long time to reach the payout threshold.
Your payment can take up to 30 days.
How Does it Work? 
---
After you sign up, you are taken to the dashboard where you can find the opportunities divided into 5 sections:
1. Profile Surveys
You are encouraged to take all 8 profile surveys that will earn you a total of £1. These questionnaires will be used to select proper surveys that match your demographics (age, gender, location, income level, education, etc).
2. Daily Surveys
This is a list of companies that you can try and complete surveys for. Most of them request a pre-qualification questionnaire in order to see if you are a good match for the marketing research.
You can waste 5 minutes or more on this qualification process, only to get the following message:

I have tried many surveys in the past and found that at least 50% of my attempts got rejected.
If you are rejected, you can try it for the second time. But it is frustrating because you are not getting rewarded for your time. Another negative point is that they don't show you an estimation of how long each survey takes.
You see the reward by pointing the mouse over the survey. In the example below, the survey pays £0.25., but as you can see, there is no time estimation.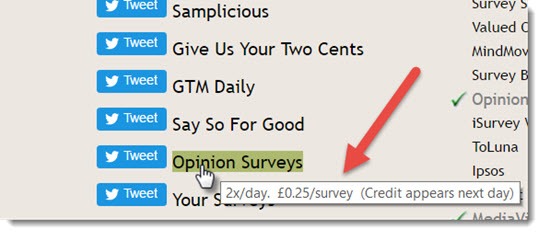 3. Survey Panels
This is a list of survey websites that you can sign up for and get more survey opportunities.
Different from the "daily surveys" section, you need to visit those websites and complete surveys directly for these other companies.
Therefore, your payment doesn't have any connection with Cashback Research, and you have to comply with their own rules. That means you must earn a minimum amount on each website in order to cash out.
The good news is that when you sign up for at least 10 panels, you will be credited £5 (UK) or $10 (US) in your balance account.

4. Bonus Cash Offers
Similar to the last section, your job here is to sign up for more websites and trial offers.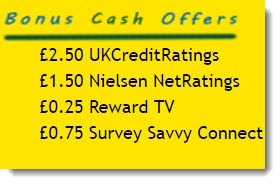 Pay extra attention when subscribing for trials that request your credit card. Unless you are interested in the product or service, make sure you cancel the subscription before the expiry date. Otherwise, you may end up with another bill to pay.
5. Earning Points 
Right at the bottom of the page, you will find a link called "Earn Points". That's simply a place where you find bonus offers to sign up for and earn points that you can exchange for Gift Cards only.
Cashing Out 
---
You can only cash out via Paypal when you have at leat £10 (UK), $30 (US) or $20 (CA, AU) in your balance account. For payments via Amazon Gift Card, the minimum is £15 (UK), $30 (US) and $25 (CA, AU).
Besides, the payment can take up to 30 days to be processed.
Final Thoughts
---
Cashback research is definitely not a scam!
I don't think the Cashback Research offers a lot of survey opportunities, though. If you want to stick with online surveys, you should sign up for as many survey websites as possible in the "Survey Panels" section.
If you want my honest opinion, I am not a big fan of online surveys because although you are working from home and without any pressure, the pay rate too low.
Not only that, but you are wasting time when you get rejected in the pre-qualification phase. I tried to complete 4 surveys but was rejected in 3 of them.
Verdict:

Legit

A Better Way to Make Money Online
---
If you are tired of working for others and not getting the recognition you deserve in terms of salary or hourly wage, it's time to take control of your income and create your own business.
My father has been a business owner for over 20 years. But he feels stuck there having to manage employees, so he still doesn't have the flexibility that he wants.
Taking this into account, I realized that the best option would be to create an online business to work whenever and wherever I want!
Travelling is my passion, so the flexibility to follow my own schedule allows me to be on the road very often.
In my opinion, the best way to make money online is to create a website and promote other people's products. This business model is called affiliate marketing, where you earn commissions without having to deal with customers, employees or physical products.
Your main job is to create content for internet users and recommend products or services that you think are the best for them. It is not complicated, but you may lose track if you learn things without a structured training and support.

This reward platform is going viral! Cash out via PayPal, Visa, Gift Cards, and in-game currencies - Click here to find out how to generate an extra $10+ per day! 
Do you want to build an online business and make a living online? 

Thanks for reading this article. It feels great to share information and thoughts to people all over the world. If you have any questions or comments, don't hesitate to leave a message below.
Your friend
Stefan