Welcome to my ZineCheerful review!
So, I stumbled upon this new Android app that claims you can make money just by diving into news articles and videos.
Sounds like the dream, right?
Indeed, the idea of generating income without breaking a sweat attracts a large audience.
Therefore, it's no surprise the app has already been installed over 100k times in just weeks!
The developer's pitch is undoubtedly attention-grabbing!
They claim that the longer you engage with videos, the more money you stand to make.
Even more astonishing, they claim you could pocket $100 by watching a single video.
Also, they encourage you to keep playing to win $1000 a day!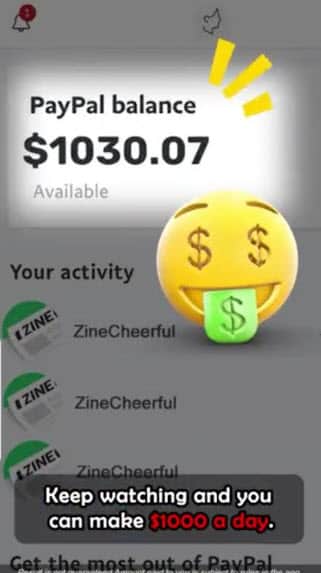 Oh, and they're talking direct PayPal transfers with no cap on how much you can cash out.
However, there's a small voice in my head questioning – Isn't it almost too good to be true?
If it were that simple, shouldn't everyone be talking about it like the next TikTok?
And why doesn't the app description mention these cash rewards?
So, what's the real deal with ZineCheerful? Is it a legit goldmine or another fake money-making app trying to exploit your time?
Read on to find out!
Before leaving this post, check out the step-by-step program that helped me build an affiliate site and quit my job in 2019. It's free to join, and you don't need any previous experience.
ZineCheerful Review 
Name: ZineCheerful
Developer: Karagulleyan Jack
Availability: Worldwide
Price: Free
Overall Rating: 0 stars
What is ZineCheerful?
ZineCheerful is an Android app that allows users to earn money by reading content.
Using Yahoo as its primary source, the app brings forth curated content on news, entertainment, sports, movies, and celebrities.
With this app, you can supposedly generate income simply by browsing articles.
I am talking about substantial amounts of money, like hundreds of dollars!

Additionally, ZineCheerful claims to pay users for watching videos, which reminds me of ClipClaps or TV-Two.
However, the true essence of this app resembles that of CashZine and GoNovel.
While it offers video content, these are advertisements for other money-making applications.
ZineCheerful is operated by Karagulleyan Jack, the developer behind Undersea Connect and Jolly Scanner.
I recently reviewed these two apps on my blog and found they were not rewarding users.
This is not good news for ZineCheerful users!
How Does ZineCheerful Work? 
ZineCheerful is a freely available application on the Play Store designed to reward users for engagement.
The developer is generating revenue from advertisements and supposedly sharing earnings with users.
Once downloaded, you can immediately start using it without undergoing any registration process.
How It Fetches News From Yahoo
Interestingly, ZineCheerful is pulling up articles from Yahoo using Yahoo's APIs.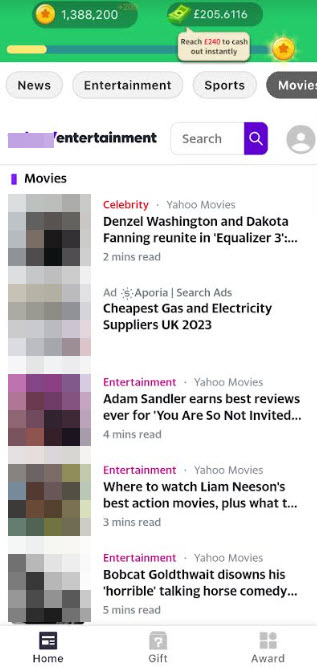 For those unfamiliar with the term, API stands for Application Programming Interface.
Think of an API as a bridge between different software.
It takes Yahoo articles and delivers them straight to ZineCheerful for you to read.
Data Privacy Concerns
A crucial point of note is the app's lack of data encryption.
Encryption acts as a protective barrier, safeguarding user information from potential cyber threats.

This reward platform is going viral! Cash out via PayPal, Visa, Gift Cards, and in-game currencies - Click here to find out how to generate an extra $10+ per day! 
Without this layer of security, your data can be at a severe risk of unauthorized access or breaches.
Now, ZineCheerful promises not to gather user data.

However, users must provide their account details, like their email or number to receive payment.
So, why are they contradicting themselves here?
Claiming Your Initial Reward
Upon opening the app, it immediately entices you to sign in and claim £80.
This amount is credited to your virtual cash balance by tapping the sign-in button.
The Earning Mechanism
ZineCheerful offers a brief tutorial on how to accumulate cash rewards.
As long as you keep the app open, a progress bar fills up, culminating in a cash reward pop-up.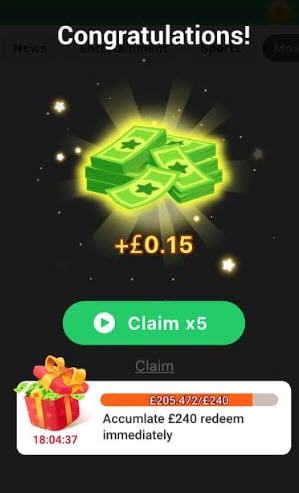 Heck, you don't need to choose and read any article from the list if you don't want to.
There's the 'claim x5' button for those looking to maximize earnings.
By selecting this, users can watch an advertisement, multiplying their reward by five.
However, a straightforward 'Claim' option is also available, though it might lead to an advert too.
Additionally, you can passively accumulate coins every second. These coins can be exchanged for cash through PayPal.
How to Cash Out
As you know, ZineCheerful has dual currencies: cash and coins.
According to the app instructions, you can withdraw up to £800 within a 24-hour window or opt for an immediate cash out at £240.
The app provides nine withdrawal methods, including popular options like PayPal, Paytm, and Alipay.
For the coin balance, reaching a threshold of 3 million coins allows for a £240 cash out.
The Mystery Box 
Additionally, ZineCheerful introduces a 'Mystery Box' feature.
You can unlock this box and receive puzzle pieces by browsing two articles.
Collecting sufficient pieces allows you to redeem attractive prizes, such as a PS5, Nintendo Switch, MacBook Pro, and more.
Is ZineCheerful Legit? Does it Pay? 

No, it doesn't! ZineCheerful is a carbon copy of apps like FunZine, HappyZine, and others that entice people with fake cash rewards. 
They say the more you watch, the more money you make!
As time passes, the incentives offered decrease, making it nearly impossible to reach the £240 threshold.
What started as a promising £80 soon turns to mere pennies, even with their "5X Claims".
So, what happens once you reach that elusive £240 mark? What do you get?
A classic bait-and-switch!
They may ask you to watch more videos to activate your payout or meet other nonsense requirements.
They aim to keep you glued to the app, filling the developer's pockets.
Dreaming of that prize from the gift section? Please, don't!
All these tempting claims are a smokescreen for the app's real intent: to exploit and profit from your time and attention.
Conclusion 
ZineCheerful is a treacherous pit where your time and energy are squandered for someone else's gain.
It's not designed to be an easy money-maker for its users but rather a passive income machine for the developer.
Instead of wasting precious hours on fleeting apps, I recommend you build an online business!
It's a proven method that has stood the test of time!
With the digital age in full swing, the opportunity to work remotely and achieve the sought-after laptop lifestyle is more attainable than ever.
And guess what? I'm living proof.
Thanks to an outstanding step-by-step program, I built a rock-solid foundation and cultivated a profitable affiliate site. 
The guidance, support, and tools they provided were invaluable.
And if the idea of being your own boss, working from anywhere, and having a passive income site excites you, then this is THE place! 
I started as a complete newbie, just like many others. But with dedication and guidance from expert marketers, I succeeded.
You can achieve the same, and perhaps even more. Click here to get started! 
Final Words
Thanks for diving deep into my ZineCheerful review! I hope it sheds some light!

Do you have a ZineCheerful story to share? If so, spill the beans in the comments below and warn the world!
Peace