Welcome to my WeWard review!
We all know staying fit and healthy is extremely important for our overall well-being.
Despite the well-known benefits of exercise, many people still struggle to make it a part of their daily routine.
That's when mobile apps like WeWard come in!
WeWard is a popular app that motivates users to stay active by offering excellent rewards.
As you walk, the app converts your steps into Ward points, which you can exchange for vouchers, gift cards, cash, and even a 2-day trip to Rome.
With so many unethical money-making apps on the Play Store, you are probably wondering if WeWard is legit and worthwhile.
In this review, we will explore in detail the various features and incentives WeWard offers its users.
Before leaving this post, check out the step-by-step program that helped me build an affiliate site and quit my job in 2019. It's free to join, and you don't need any previous experience.
WeWard Review 
Name: 

WeWard

Company: 

WeWard SAS

Price: 

Free

Referral Bonus:

 Enter the code 

B+Gx-sekqz

 to win 150w

LEGITIMATE

Overall Rating: 4/5
What is WeWard? 
WeWard is a health and fitness app that offers excellent incentives for people to maintain an active lifestyle.
Created by a French company, WeWard uses your device's sensors to track your steps and reward you with Ward points based on your daily activity.
And if you're looking to maximize your earnings, you can also take surveys, play games, and refer friends.
One of WeWard's best features is its unique cash-out options, including vouchers, gift cards, bank transfers, and other prizes.
WeWard has become widely popular among those who want to get paid for walking.
According to the Official website, the platform motivates over 20 million people worldwide to walk every day.
How Does WeWard Work? 
Installation and Registration 
WeWard is available for Android and iOS platforms, making it easy to install on Google Play or the App Store.
Registering with WeWard is very straightforward, as you can sign up with your Google or Facebook account.
Once logged in, you must accept the app's terms of use and privacy policy.
This is an important step, as it outlines the legal agreement between you and the company and explains how your data will be used and protected.

Now, only one step is left before you can start collecting points. First, connect WeWard to your Google account to enable step counting through Google Fit.
The reason is that the app uses Google Fit to collect the number of steps you take and the distance you travel.
All you have to do is select "Connect to Google Fit" in the same pop-up window.
How Much is Ward Points Worth? 
The value of Ward points depends on your country. However, you can easily see the value of your points by checking the Gift section.
There, you'll see the total number of Ward points you've accumulated and the conversion to your local currency.
For example, if you're in the UK, 1 Ward point equals £0.005.
Collecting Ward Points for Walking
The dashboard is a central hub where you can keep track of your progress and points.
It features a step meter, indicating how many points you will earn to reach specific milestones.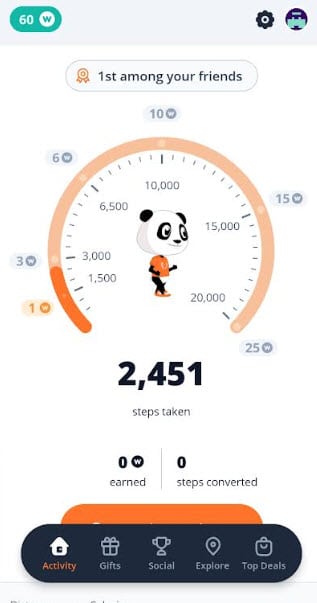 Here is a list of steps you need to take to earn rewards:
1,500 steps = 1w

3,000 steps = 3w

6,500 steps = 6w

15,000 steps = 15w

20,000 steps = 25w
As you can see, the more steps you convert, the more points you will receive for each step.
In real-time, you can see the total number of steps taken on the day, the distance walked, and the calories burned.

The good news is that WeWard can track your outdoor and indoor movement. Besides, you can let the app run in the background while you go about your day.
Challenges
WeWard also offers challenges to help motivate users to maintain an active lifestyle.
For example, you will get Ward points for taking a specific number of steps at lunchtime or for converting steps for seven consecutive days.
By encouraging small but achievable goals, the app gives that extra motivational boost you need to go the extra mile!

This reward platform is going viral! Cash out via PayPal, Visa, Gift Cards, and in-game currencies - Click here to find out how to generate an extra $10+ per day! 
Track Your Progress and Earn Badges
WeWard helps you track your progress and stay inspired in your fitness journey. 
By opening the progress section, you can check your daily, weekly, and monthly activity and your overall score. 

Another great feature is the ability to earn badges for achieving milestones and completing challenges.
However, remember that these badges won't give you extra points. So, they are visual representations of your progress. 
Earn Extra Wards
WeWard is more than a pedometer app that rewards you for walking!
That's because it offers several other ways to earn Ward Points, including surveys, playing games, completing offers, and more.
This is great because it allows you to reach the minimum point requirement to redeem rewards much faster.
Completing surveys is one of the best methods, as most surveys take less than 10 minutes and award between 30 and 70 w points.
The downside of surveys is that you will only qualify for some. As a result, you will waste time answering many questions with no compensation. 
Another way to earn points is by playing games through WeWard's partnership with an advertising platform called Adjoe. 
I have recently reviewed a decent reward app that uses the same advertiser. Check out my mRewards review. 
It will track your playtime and rewards you with points based on how long you play the game.
Additionally, the app features Offer Walls, third-party platforms where users can complete offers from advertisers. 
They give you even more opportunities to collect points by installing applications, answering quizzes, and taking surveys. 
Refer a Friend
WeWard's referral program allows you to invite your friends to join the program and earn Ward Points as a commission. 
To invite someone, simply head to the app's referral section and grab your unique referral code.
You can then share this code with your friends through WhatsApp, social media, email, etc. 
Ask your friend to enter your code to earn 50 w for creating an account plus 100 w for entering the code. 
And for you? You will get 50 w as soon as your friend reaches 200 w. 
If you haven't entered any code yet, enter the app's settings (that engine icon at the top), and select "enter my referral code." 
How to Redeem Rewards
To exchange your Ward Points for rewards, open the gift icon at the bottom of the home screen and browse your options. 
WeWard provides a wide range of rewards in different categories, such as vouchers, gifts, gift cards, bank transfers, and charity donations.
Vouchers: get discounts on different retailers, such as Cuure, Smoovii, and Gadget Discovery Club. 
Gifts: in this section, you can redeem your hard-earned Ward Points for an iPhone 13 or a two-day trip to Rome with a companion. Amazing, right, but be prepared to walk a marathon for that! 

Gift cards: Redeem gift cards from popular retailers like Adidas, H&M, and Zalando. Unfortunately, Amazon is not on the list yet. 
Bank Transfer: The minimum threshold for bank transfers is £15, and you must earn at least 3,000 Ward Points to be eligible. 
Donation: You can also donate your Ward point to various causes such as reforestation, ocean conservation, and global health. 
Is WeWard Legit? Does it Pay? 
Yes, WeWArd is a legit app that does reward users. However, some users have reported issues with the step counter not accurately tracking their steps.
These issues have led to frustrations and many negative reviews on the app's Play Store page.
One user reported that despite walking 10,000 steps a day, the app didn't record any of their steps.
WeWard team has been responsive to user feedback by providing resources to troubleshoot step counter issues. 
One user received prompt and effective support from WeWard, which recommended changing the reference pedometer to Google Fit. 
If you are having issues, the company advises you to read this page: My step counter is not working – what should I do?
You can also contact the support team at: [email protected]. 
Conclusion 
WeWard provides a decent opportunity to turn physical activity into a fun and rewarding experience.
Overall, it's a great motivational tool for maintaining a healthy lifestyle! 
What sets WeWard app apart from other pedometers is the ability to boost earnings by completing surveys, offers, and referring friends. 
I also like the wide range of reward options, especially the bank transfer! However, I wish it offered the chance to redeem via PayPal and Amazon gift cards. 
Unfortunately, many users complain that their steps are not tracked properly, which can be very frustrating.
However, WeWard seems to be committed to providing a high-quality experience by supporting those who need it. 
Is There an Alternative to WeWard? 
Yes, there is! If you're looking for an alternative to WeWard, try WinWalk. 
It offers more gift card options, including Amazon, Argos, Costa, and more. However, the downside is that it doesn't offer PayPal or bank transfers. 

Final Words
Thanks for reading my WeWard review. I hope it helps! 
So, have you tried the app? If so, feel free to share your experience in the comment section below.
Also, I'll be glad to offer any help and advice! 
Peace!