Welcome to my Royal Fishing Party review!
I stumbled across Royal Fishing Party, a game trying to hook players with the opportunity to win a lot of money.
The advert portrays a man saying he earns $300 a day just from playing the game! Have you seen this one?
Discovering a free game that may hold the key to financial freedom is fascinating!
However, it is important to be cautious and conduct thorough research before using these kinds of games.
The reason is that you don't want to fall prey to a fake money game that exploits your precious time!
So, is Royal Fishing Party legit or just bait to catch the unwary? Does it pay or not? Let's find out!
Before you leave this page, don't miss out on the step-by-step program that helped me to generate $2,000+ each month and quit my job in 2019.
Royal Fishing Party Review
Name: 

Royal Fishing Party

Developer:

A Coding Wolf

Price:

 Free

Payout threshold:

$500

Overall Rating: 0 stars
What is Royal Fishing Party?
Royal Fishing Party is an addictive merging game that can keep you hooked for hours on end!
It revolves around merging turrets and using them to defeat increasingly powerful fish, including the tough boss. It's identical to Royal Fish Hunter! 
The crazy thing about this game is that you will receive large sums of "cash" for shooting the aquatic creatures.
It's also worth noting the developer will bombard you with advertising in the process.
So, it's important to remember that this seemingly innocent fishing game is cashing in on our attention.
Royal Fishing Party has been released recently and has already achieved over 10k installations on the Play Store.
How Does Royal Fishing Party Work? 
Royal Fishing Party can be installed on any Android device, and it's free to play.
As soon as you launch the game, you will see a page explaining the three simple steps to win $500 for free.
Earn Points – Enter the game, and collect as many coins as possible.
Extract Cash – When you collect enough points, click redeem to extract $500.
Enjoy your cash rewards – After a successful cash-out, $500 will be issued directly to your account through various platforms.
After tapping the "Star Button," Royal Fishing Party claims you can exchange points for PayPal, Amazon, Cash App, and more!
Then, you will receive a lucky user bonus of 1,000 worth $100! 
According to the app's instructions, you can redeem $500 once you collect a minimum of 5,000 points.

How to Play Royal Fishing Party
The game features an underwater world teeming with all kinds of marine life.
It also features ten zones where you can combine cannons to attack the fish above.
Your job is to combine cannons (turrets) of the same color to unlock more powerful, higher-level weapons.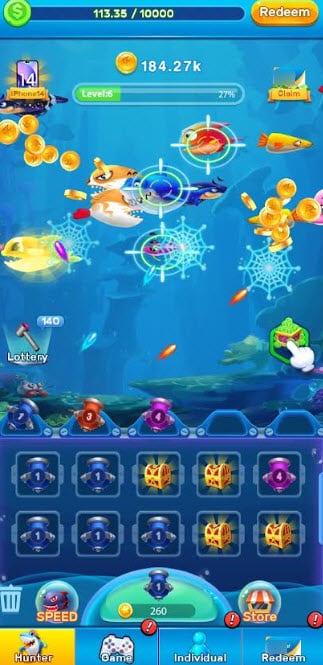 Then, you must select and drag the turret to any of the five spaces to trigger aromatic shooting.
As you eliminate the sea creatures, you will receive points that accumulate in your wallet.
But in order to can collect them, you will be enticed to tap the button and watch the commercial.
Royal Fishing Party also entices players with the opportunity to win the iPhone 14 Pro provided you collect 60 fragments and complete 100 levels.
According to the developer, the system will send you the iPhone 14 through the FedEx logistics platform.
Is Royal Fishing Party Legit? Does it Pay? 
No, it doesn't! You won't receive a single penny from this sneaky fishing game!
Royal Fishing Party lures the player with unrealistic cash rewards only to keep them engaged for as long as possible.

The tactic behind this game is simple: They establish a target that players must accomplish before they can withdraw their earnings.
The minimum cash out is 5000 points, which will supposedly convert to $500 via PayPal, Cash App, etc.
You start earning decent cash bonuses in the beginning to get that rush of adrenaline and motivation.
But as you approach 5000, the number of points you receive will dwindle until you start getting fractions of points.
It feels so close to the payout threshold that you just refuse to give up!
So, you keep playing and watching all those misleading commercials promoting other fake money games.

This reward platform is going viral! Cash out via PayPal, Visa, Gift Cards, and in-game currencies - Click here to find out how to generate an extra $10+ per day! 
Once you finally reach $500 and press the redeem button, they will tell you the money will be sent to your PayPal account in 72 hours.
Unfortunately, the bait-and-switch tactic kicks in to exploit you even further!

Now, they want you to watch 30 videos or pay the $0.69 fee to activate the order.
Of course, they won't transfer any money to your account even if you meet this condition. It's completely fake!
Conclusion 
Stay away from Royal Fishing Party at all costs, as they are simply using fake rewards to get your attention.
By selling the idea of easy money, it attracts a large audience who wind up watching an insane number of promotional videos.
I know the idea of making money online is appealing to most people. Who doesn't want to supplement their income without a boss breathing down their neck?
And how about the freedom to work whenever and wherever you want? Amazing, right?
But if you want to benefit from the digital economy, you have to provide some form of value.
My advice has always been focused on building a content-based business!
That's how most people (me included) have generated a steady income online since the dawn of the internet!
Interested? So, click here to learn step-by-step how to grow an online audience and achieve the laptop lifestyle!
Final Words
Thanks for reading my Royal Fishing Party review. I hope it was helpful!
 If you want to share your experience or thoughts on this app, drop us a comment below. 
Peace!