Welcome to my Flip Em All review!
Imagine playing a casual game where you can earn hundreds of dollars without financial risk. 
Well, that's what the developer of Flip Em All suggests! 
In this addictive gameplay, the objective is to slide the yellow ball over the squares to flip them all. 
After completing the level, you receive a generous cash reward, but only if you watch the promotional video. 
I am writing this post because many seek information about this unrealistic opportunity. 
It's a shame that the app is still in Early Access, prohibiting players from posting honest reviews on the Play Store.
Hence, the value of sites like this cannot be overstated, as they expose the truth behind those apps and raise awareness. 
So, is Flip Em All legit or fake? Does it pay? Let's find out!
Before you leave this page, don't miss out on the step-by-step program that helped me to generate $2,000+ each month and quit my job in 2019.
 Flip Em All Review 
Name:

 Flip Em All

Developer: 

Rebuild Go

Availability:

 Worldwide

Price:

 Free

Payout threshold:

 $200

Overall Rating: 0 stars
What is Flip Em All? 
Flip Em All is a casual game that allows players to earn easy money and cash out via PayPal and other platforms. 
The goal is to strategically flip the squares so that all of them display the blue face.
Each level offers a unique puzzle with more challenging square arrangements that will put your reasoning to the test.
Once you accomplish the task and complete the level, you will receive a decent cash prize. 
But as with other "money games," there's a condition to receive your reward – watching a promotional video.
How Does Flip Em All Work? 
Flip Em All can be quickly installed for free on the Google Play Store. 
The game starts immediately after loading and doesn't require any registration. 
To play, you will have to slide yellow balls over squares, which will turn over to reveal the opposite side. 
Each level is designed to present a new set of challenges for the player.

That's because the ball will inevitably pass over squares already facing blue.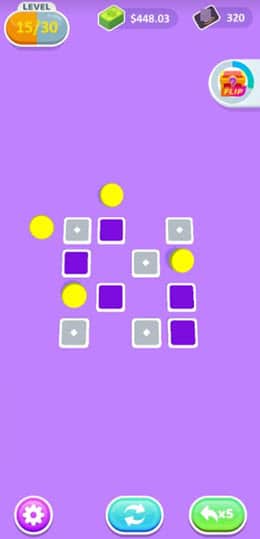 So, the concept is similar to the magic cube, which requires players to think critically and creatively to solve the puzzle. 
After completing the level, Flip Em All will offer you a generous cash prize, but there is a catch:
You will be enticed to click the button to activate a short promotional video and watch it fully to claim the reward. 
Flip Em All rewards players with virtual Amazon cards that can also be converted into real money. 
Additionally, you can click bubbles and collect puzzle pieces to redeem iPhone 13 Pro, MacBook Pro, Sony TV, and many other prizes. 
How to Withdraw Funds
To withdraw money from Flip Em All, click on the cash-out icon on the left side of the screen.
Next, it will prompt you to choose one of the eight payment methods: PayPal, Line Pay, Alipay, and Worldpay.
Once you select your preferred payment method, enter the amount you wish to withdraw. 
It's worth noting that there is a minimum payout requirement of $200.
Additionally, you'll have the option to withdraw $500 once you collect 500 virtual Amazon cards. 

Is Flip Em All Legit? Does it Pay?
No, it doesn't! Instead, you will reach the minimum payout threshold of $200, only to hit a roadblock. 
They'll reveal a hidden requirement: completing 15 levels to approve the order.
But that's just part of the ongoing illusion designed to waste your time watching videos! 
After completing all levels, you will find that your so-called "order" is processing and that you must wait in a queue with over 9000 players. 
Your position will be refreshed every minute, but unfortunately, this is entirely fake! 

This reward platform is going viral! Cash out via PayPal, Visa, Gift Cards, and in-game currencies - Click here to find out how to generate an extra $10+ per day! 
Even if the number reaches zero, you will never see any payment in your account since the cash rewards don't exist. 

Conclusion 
Stay away from Flip Em All's slick marketing tactics to entice users with fake cash rewards. 
The game may seem harmless at first glance, but it's just another platform to exploit people's desire for easy money. 
The only ones who benefit financially from these games are the developers and advertisers alike. 
So, they make real money while you collect worthless pixels on your smartphone. 
Earn a Full-Time Income Online
Are you feeling stuck in a rut and looking for freedom?
What if you could generate a consistent income online that pays for all your living expenses? 
Yes, that's possible if you change your mindset and focus on providing value! 
By growing an online presence, you can live the laptop lifestyle without the constraints of a traditional job. 
For example, this type of business allowed me to travel non-stop for three years and experience life to the fullest. 
You can take your first steps by following this excellent training program! 
Final Words
Thanks for reading my Flip Em All review. I hope it was helpful!
 If you want to share your experience or thoughts on this game, drop us a comment below. 
Peace!