Welcome to my Tap Away 3D review! 
I recently stumbled upon a popular game called Tap Away 3D by Rebuild Go.
While scrolling through the Play Store, I noticed two other apps with the same name, albeit from a different developer.
Intrigued, I couldn't resist trying the app with over a million downloads!
And it didn't take me long to see what all the fuss was about.
The real draw isn't just the game itself but the fact that players can earn virtual currency that can be redeemed for real money. 
I am talking about transferring hundreds of dollars via Paypal and gift cards!
But, is it really that simple? Are people tapping their way to an easy $100 – $1000? Is Tap Away 3D legit or fake? 
In this review, I will go the extra mile to expose this game's true nature! 
Recommendation: Join the step-by-step program that helped me to generate $2,000+ per month and become a digital nomad in 2019.
Tap Away 3D Review 
Name:

 Tap Away 3D

Developer:

 Rebuild Go

Price:

 Free (no financial risk)

Payout threshold:

 $100

Overall Rating: 0 stars
What is Tap Away 3D?
Tap Away 3D is a free puzzle game that has captivated the attention of over a million users on the Play Store.
The game's premise is simple: it presents a cluster of cubes, each marked with an arrow indicating the direction it will move when tapped.
The objective is to tap the cubes in the correct order, eliminating all of them to clear the stage.
As a reward, players earn banknote tokens which can supposedly be exchanged for cash – 1000 tokens for a sweet $100.
Despite its popularity, Tap Away 3D is still in early access, which prevents players from sharing their experiences with the app. This lack of user feedback is a big red flag! 
Another reason for concern is that Tap Away 3D was developed by Rebuild Go, which operates fake money games like Crazy Balls and Flip to Win. 
How Does Tap Away 3D Work? 
Tap Away 3D is available for any Android device and a 100% free to download and play. 
It features a cluster of cubes, each marked with an arrow or another sign that indicates the direction it will move when tapped.
The goal is to tap the cubes in the correct order to clear the stage.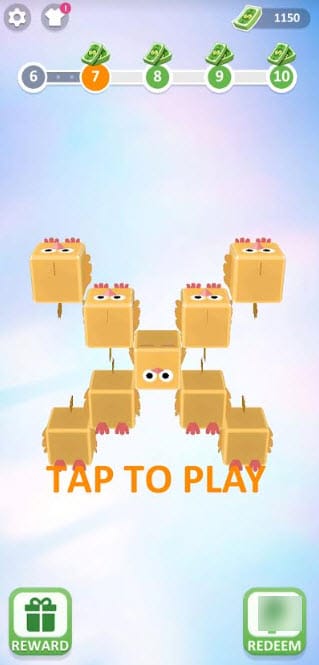 But beware! If you tap the wrong cube, it won't leave, and you'll lose a move. Run out of moves, and you're "treated" to a commercial.
Ah, yes, the commercials are everywhere!
Every time you complete a level, you receive tokens and the opportunity to boost your earnings by up to 10x.
How? Tap the "Get More" button and endure another 30-second video promoting another fake cash game. 
The developer has partnered with advertising companies and reaps the benefits when you watch those videos.
So, keeping you hooked and playing for as long as possible is in their best interest.
To ensure this, Tap Away 3D has a minimum payout threshold of $100, meaning you'll have to accumulate that amount to cash out.
Most reward-based games use this well-known tactic to keep you hooked for long periods.
More Rewards! 
Tap Away 3D also has a reward section where you can collect puzzles to redeem fantastic prizes like an iPhone 13, MacBook Pro, or a Sony camera.
You can play the game to collect these puzzles and look out for puzzle bubbles.
Additionally, you can enter the reward section to tap bubbles or pin the lucky wheel.
Of course, you always have to watch more videos since the whole purpose of this app is to maximize profits. 

Withdrawing Funds
To cash out from Tap Away 3D, you must first collect 10,000 tokens.
Once you've reached this milestone, you can open the redeem section and select the $100 option.
Multiple platforms are available, including PayPal, Line Pay, AliPay, and Worldpay.
If you're feeling more ambitious, you can also choose higher cash-out amounts of up to $1,000.
However, most players aren't willing to wait long to find out whether the company pays. 

This reward platform is going viral! Cash out via PayPal, Visa, Gift Cards, and in-game currencies - Click here to find out how to generate an extra $10+ per day! 
Is Tap Away 3D Legit? Does it Pay? 

Brace yourself for the disappointing truth: it doesn't!
The developer is skillfully exploiting people's precious time, profiting from all those annoying adverts.
It takes ages to accumulate 10,000 tokens, but once you finally get there and attempt to cash out, they pull a classic bait and switch.
Suddenly, the requirements change, and now you must pass 30 levels to approve the order within seven days.
But the illusion doesn't stop there! Once you've achieved that task, it says over 9,000 players are waiting to get paid before you.
Your position in the queue is refreshed every minute, but alas, your turn never arrives! 
And even if it does, they'll ignore your payment request. 
Conclusion 
Despite offering fun gameplay, Tap Away 3D doesn't deserve your attention! 
Clearly, the game exploits the hopes and dreams of those seeking easy money.
If you need real money, avoid all games and invest your time in reputable reward platforms. Here is my top Gpt (get-paid-to) site! 
But if you're looking for an even better opportunity with unlimited income potential, consider becoming a content creator like me. 
By creating valuable content, you can earn commissions that amount to thousands of dollars. 
This type of business is scalable, allowing you to become a successful online entrepreneur and work whenever and wherever you want.
Thanks to this excellent step-by-step training, now, I have the freedom to live life on my own terms.
The potential is enormous for anyone! So, if you are interested, click here to learn more, including my success story! 
Final Words
Thank you for reading my Tap Away 3D review. I hope it was helpful and eye-opening! 
If you have tried the game, we would love to hear your personal experiences and thoughts about it.
Peace!