Welcome to my Star Win review!
Today's post is about another elimination game that has already been installed over half a million times.
It's called Star Win, and as you might already know, it claims to reward users with substantial cash prizes!
I discovered this app a few weeks ago through an enticing advert, saying the more you play, the more you earn!
How much? The commercial suggests withdrawing $ 5,000 and receiving the money within 5 minutes.
Are we dreaming? If so, please, I want to spend all that money before I wake up!
Jokes aside, Star Win attracts thousands with high hopes of making real money.
The best part is you don't have to put your hard-earned money at risk like you do in Vegas.
This is a free game that is only generating revenue through advertisements.
I know this sounds revolutionary, but this is not the first time I come across a similar opportunity.
In fact, this blog has exposed hundreds of similar games that never pay out! Crazy Star is identical to Star Win! 
So, is Star Win the exception in a sea of deceptive Android apps? Is it legit or fake? Let's find out!
Ready to trade in your 9-5 for a laptop lifestyle? This excellent step-by-step program helped me generate $2,000+ per month and can help you do the same. Click here to find out!
Star Win Review
Name: Star Win
Eligibility: storehouse
Price: Free
Payout Threshold: $1000
Overall Rating: 0
Sick of Deceptive Apps? Turn your frustration into action! Check out my in-depth guide on how to report scam apps!
What is Star Win?
Star Win is a free casual game where players eliminate blocks by tapping on groups of blocks of the same color.
As you complete levels, you earn virtual dollars that can supposedly be cashed out via PayPal or Amazon cards.
However, cashing out is only possible once you accumulate $300.
The app has already seen over half a million downloads.
Yet, even with such a large user base, the game hides behind its 'early access' status on the Play Store.
That means the app is still in development and doesn't allow user reviews on the Play Store.
This lack of user feedback is a concern as players cannot share their experiences or warn others about Star Win's true nature.

Imagine playing for hours and realizing the game is fake!
You feel the urge to tell the world so that more people avoid this trap, but the platform doesn't allow it. You are silenced! 
How Does Star Win Work? 
Getting Started
Star Win can be easily installed on your Android and played without registration.
Simply download the app on the Play Store, wait for it to load, and you're off to the races!
The Gameplay Experience
At its core, Star Win appears to be a simple yet captivating game.
You are greeted with a board replete with vibrantly colored cubes.
Your mission? To tap groups of cubes of the same color and eliminate them from the board.
As you proficiently clear these blocks, Star Win rewards you with a decent amount of cash, up to $5.
Sounds enticing, right?
But here comes the catch: a prompt pops up whenever you're ready to claim your earnings, encouraging you to tap the "claim" button.
And what follows? An advertisement!

This is a well-crafted strategy many of these so-called' cash games' employ.
By offering virtual dollars, they lure you into a cycle where you're more than willing to watch these adverts.
It's worth waiting for a few seconds to earn the same amount as a payment for participating in a marketing research study.
This is a tried-and-tested method that many fake cash games use to fill their coffers.
They essentially "sell" the dream of easy money, and many people buy it, sometimes spending hours on end tapping away.
Players are under the impression that their time and effort will translate into tangible rewards.

This reward platform is going viral! Cash out via PayPal, Visa, Gift Cards, and in-game currencies - Click here to find out how to generate an extra $10+ per day! 
Withdrawing Funds
They tell you that if you reach $300, you can withdraw your funds via PayPal cash or Amazon gift cards.

But if you think the temptation stops here, you're in for a surprise.
Star Win has more incentives designed to keep you engaged!
As you remove the cubes, Star Win rewards you with coins that can supposedly be traded for cash ranging from $30 to $500.
But of course, there's a caveat: You must complete an astonishing 2000 levels before you can cash out.
The tactic is crystal clear. It's all about helping the developer pocket advertising revenue from the app.
But will the developer keep his word and transfer all that money to your account?
Stay tuned, as the answer awaits in our next section!
Is Star Win Legit? Does it Pay? 
Making money simply by playing a game on your mobile device is very tempting.
I'm sorry to burst your bubble, but Star Win doesn't pay a dime!
As you approach the $300 payout threshold, the rewards drop significantly.
By the time you reach $230, earnings decrease to a pitiful $0.01 – $0.02 per video, which is just remarkably low.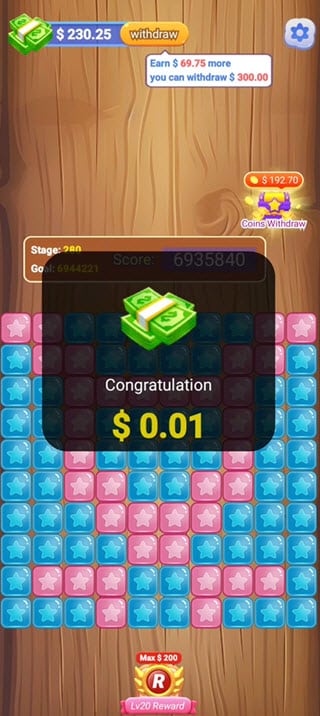 It's like chasing a mirage in a desert.
Let's break down the math so you can realize the rabbit hole you are going through.
Assuming the average earning from these videos is $0.015, to go from $230 to $300, you need to earn an additional $70.
$70 divided by $0.015 per video equals 4,667 videos.
So, to close the gap and reach $300, you'd need to watch over 4,000 videos!
This is not an innocent game with virtual dollars to play pretend to get rich!
No, it's a veritable trap designed to steal your time with the false hope of cashing out via PayPal and Amazon.
Most people will stop playing and start searching for reviews to find out if someone got paid.
That's probably how you landed here. Well, the truth is you won't get paid even if you complete thousands of levels.
Conclusion 

Imagine trying to fill a bathtub with a teaspoon – sounds silly, right?
That's precisely what trying to cash out from Star Win feels like.
For all the compelling claims, Star Win is more like a drawn-out joke played on hopeful players.
Instead of playing games that promise unrealistic prizes, why not focus on real opportunities?
In 2019, I said farewell to my regular 9-5 job, thanks to the steady earnings from my online business.
How? I built this website that ranks high on Google and attracts visitors worldwide.
With the right tools, knowledge, and persistence, you, too can transition to the laptop lifestyle.
Click here to get started. Trust me, it's worth it.
Final Words
I trust this Crazy Star review was eye-opening!
Keen to share your thoughts or experiences with the game? If so, feel free to leave us a comment below.
Peace!