Welcome to my Crazy Star review!
Do you know those games that promise unbelievable amounts of cash with absolutely no effort?
Yeah, I found another one called Crazy Star! 
I stumbled upon this app while playing a fake money game, and boy, was I intrigued by its advert! 
Picture this: a 17-year-old girl standing in front of two shiny Mercedes-Benz off-road vehicles.
The video said her skeptical father couldn't believe his eyes, but after playing Crazy Star, he started making more money. 
Sound like another fairy tale to me, but who knows? Maybe I found the secret to financial freedom by eliminating cubes! 
So, is Crazy Star legit or fake? Will these guys transfer the money to your PayPal account? I doubt it, but let's dive in! 
Recommendation: Join the step-by-step program that helped me to generate $2,000+ per month and become a digital nomad in 2019.
Crazy Star Review 
Name:

 Crazy Star

Developer:

 Jing Qi

Price:

 Free (no financial risk)

Type:

 Entertainment 

Payout threshold:

 $300

Overall Rating: 0 stars
What is Crazy Star? 
Crazy Star is a simple casual game where you tap groups of cubes sharing the same color to eliminate them. 
You will get virtual dollars as you mindlessly crush those cubes and complete the levels. 
The game boldly claims that once you reach $300, you can cash out your winnings via either PayPal or Amazon gift cards. 
What makes Crazy Star irresistible is that you can enjoy it for free. So, there is no risk of losing your hard-earned cash if something goes wrong! 
Despite its promise of significant cash prizes, the app has only achieved a 3.8-star rating on the Play Store.
What's going on? 
How Does Crazy Star Work? 
Crazy Star can be easily installed for free on Play Store and doesn't require registration. 
The game will begin immediately once fully loaded, making it quick to start collecting those cash bonuses.  
Now, let me guide you through the gameplay, which is as straightforward as it gets. 

You'll be greeted by a board brimming with colored cubes, just waiting for your strategic touch.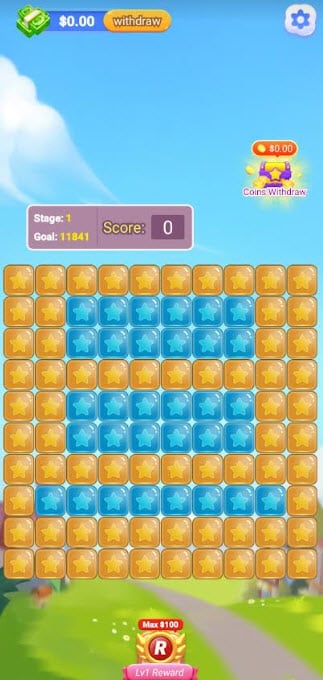 Your mission? Tap groups of cubes of the same color, eliminating them with the least number of moves to maximize your score.
It's all about efficiency, dear reader!
After eliminating all the cubes and achieving the score goal, you will receive fantastic cash prizes ranging from a few cents to $5.
However, you will be prompted to tap the "claim" button and sit through a sponsored video occasionally. 
How genius! By enticing players with cash rewards, the developer has cleverly maximized his own revenue through advertisements.
After all, players will be more than glad to watch those short clips for free money! 
This similar elimination game actually rewards players with BTC!
Withdraw Your Funds
You can redeem rewards via PayPal or Amazon gift cards once you reach the minimum balance of $300. 
Simply press the withdraw button at the top, select the redemption method, and follow the prompts. 
Is Crazy Star legit? Does it Pay? 

You've tapped away at those colorful cubes, dreaming of reaching that alluring $300 threshold. 
But unfortunately, the payout remains a distant mirage, doesn't it? 
So, allow me to illuminate the unfortunate reality: Crazy Star doesn't pay a dime! 
As you progress in the game, you'll notice a frustrating trend: your cash rewards gradually decrease, making it virtually impossible to cash out.
Those dreams of easy life and financial freedom? Gone with the wind! 
But don't just take my word for it. Check out the reviews on the Play store, and you will find many people who couldn't cash out! 

This reward platform is going viral! Cash out via PayPal, Visa, Gift Cards, and in-game currencies - Click here to find out how to generate an extra $10+ per day! 
This app is nothing but a marketing trap where the developer is the only true winner. Their joy is your misery! 

Conclusion 
Crazy Star is another fake money trying to profit with the allure of easy money! 
Your time is valuable, so don't let it be snatched away by developers dangling a carrot on a stick.
It's only possible to receive a large sum of money by taking risks or putting in any effort.
Although they are earning revenue from advertisers, it's not near enough to pay users hundreds of dollars. 
That's why these games are completely disingenuous, as their business model is incompatible with their unrealistic cash rewards. 
Earn a Full-Time Income Online
I have good and bad news if you dream of generating substantial income online. 
The bad news: games like Crazy Star are not the solution! In fact, you will have to put in a lot of work to grow from $0 to $100! 
The good news is that the sky is the limit once you achieve the three digits! 
By creating valuable content, you can attract visitors and monetize your own platform through adverts, affiliate marketing, and more!  
That's the strategy I've personally used for over seven years to pay my bills while working from my laptop.
This program guided me every step of the way! 
The best part is the freedom that it provides, as I am not tied to a fixed schedule and can travel whenever I want. Simply amazing! 
If this is the kind of lifestyle you envision for yourself in the near future, click here and start today! 
Final Words
I hope my Crazy Star review has been informative and eye-opening! 
If you're eager to voice your opinion and join the conversation around this game, feel free to leave us a comment below.
Your insights and experiences could make all the difference! 
Peace!