The owners of Social Profitmatic want to show you a powerful money system that will allow you to collect an hourly paycheck without lifting a finger.
So, is Social Profimatic a scam or legit way to achieve financial freedom?
Check out my reviews if you can't afford to lose your hard-earned money.
Highly recommended:  Learn a proven method to achieve time and location freedom with my #1 recommendation!
Social Profimatic Review
---
Platform: Social Profimatic
Website: www.socialprofimatic.com
Price: Minimum $10 investment
Recommended? 

No

[yasr_overall_rating size="medium"] 0/5
What is Social Profimatic?
---
Social Profimatic is a website that promises to pay investors a staggering 8% return on investment every day for LIFE!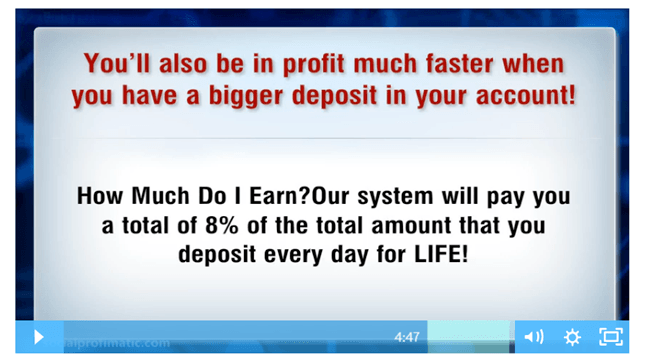 Why invest in the stock market, which gives around 8% per year, when you have a system that generates 8% per day!?
Of course, that's complete nonsense!
Imagine how easy would it be for everyone to achieve financial freedom with this system?
Invest just $1,000, make $80/day and enjoy the good life!
Think carefully, guys! No legit investment can consistently pay you that much, and deep inside you know that.
How Does it Work?
---
Social Profimatic supposedly provides businesses with valuable social media exposure (Tweeter followers, Facebook likes, retweets, etc.).
They claim to have developed a massive inventory of social media assets and profiles that they purchase on wholesale and sell to businesses on demand.
According to the FAQ, for the system to work, they need to be continually purchasing inventory. And that's when your money comes in.
The minimum deposit you can make is $10,00, and you can only invest via cryptocurrencies such as Bitcoin, Etherium, Litecoin, etc.
Then, the difference between the buying and selling price of these social media assets is paid back to you.
Referral Program
---
It's critical for all HYIP (high-yield investment programs) to offer commissions for members who bring more people into the system.
That's how they can advertise their incredible and life-changing opportunity on the internet.
Social Profimatic is offering a 10% commissions on deposits made by your first level referral. There is also a 3% commission for second level referral (referrals of referrals).
Many people who are broke, or don't want to invest their hard-earned money will try to promote it so they can finally invest the profit back into the system.
In that case, what is at stake here is not their money, but their time and reputation.  

Conclusion – Is Social Profimatic a Scam?
---
There are strong reasons to believe Social Profimatic is a scam.
They promise to pay you hourly at a 0.33% rate, which is insane!
To be honest, I don't think they are paying anyone, which means Social Profimatic may not even be considered a Ponzi Scheme.
A Ponzi Scheme will pay early investors, but at 8% per day, I doubt this business would survive for longer than a day.
I was foolish and invested £200 into a supposedly Ponzi scheme that was paying 1% per day on average. Then, 3 months later, the company froze everyone's assets, and I lost all my investment.
Many people, mainly affiliates, earned hundreds of thousands of dollars with this scheme, but those who invested too late, like me, lost everything!
It was a great lesson to learn! I knew the possibility of it being a Ponzi was high, but as they were running and paying everyone for over 1 year, I thought I could jump on the boat as well.
I learned my lessons, and that's why I am warning you now.
Verdict: Not Recommended
What I Recommend
---
It's possible to make a good income online, but you won't be able to accomplish anything without putting the time and effort.
If you want to create an alternative source of income from home, you can work as a freelancer or build an internet business.
Personally, I prefer the last option as it allows me to make money without having to trade my time. I can scale and make money and more money!

There are many ways you can go about building an internet business, and it's important that you do some research and learn which one appeals to you the most.
In my case, I decided to build a review blog, become an affiliate marketer and promote other people's products.
Today I make over $1,000/mo in affiliate commissions and the revenue keeps growing.
If you are interested in learning more about this method, check out my #1 recommendation.
These guys have a combined 20 years experience in internet marketing and will help you every step of the way!  Besides, the first 10 lessons are completely free!

This reward platform is going viral! Cash out via PayPal, Visa, Gift Cards, and in-game currencies - Click here to find out how to generate an extra $10+ per day! 
Thanks for checking out this Social Profimatic review. If you have any questions, feel free to ask in the comment section below. It's always a pleasure to help.

Stay safe!