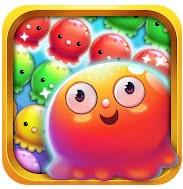 Welcome to my Sea Big Bang app review!
In today's post, I am going to expose another application that claims to pay over $1,000 through PayPal and Amazon gift cards.
Sea Big Bang is a simple puzzle game where players earn virtual dollars just by matching creatures of the same colour.
If you search this blog, you will find many similar games such as Pop Diamonds and BigBang Popstar. These games thrive because players are enticed to watch sponsored videos to collect cash rewards.
I know you are skeptical and wondering if Sea Big Bang is legit or fake. Does it pay or not? Check my review below to find out!
Tired of playing games for fake dollars? This step-by-step program helped me build an online business and generate over $2,300 per month. Join for free and start now!
Sea Big Bang App Review 
Name: Sea Big Bang (Early Access)
Developer: Nikau Nanai
Eligibility: Worldwide
Minimum Payout: $1000
Price: Free (no in-app purchases)
Overall Rating: 1/5
What is Sea Big Bang?
Sea Big Bang is another match puzzle game in which players tap sea creatures with the same color to eliminate them.
Most people have installed it after watching a video ad saying they could transfer real money to PayPal. That's the bait they are using to lure people into watching advertising.
Sea Big Bang is operated by a Nikau Nanai and has been installed over 50,000 times!
Despite the large number of players, the developer still classifies it as "Early Access", meaning the game is still in development. That's the reason you don't see any reviews on Google Play.
How Does Sea Big Bang Work? 
Sea Big Bang is available for free through the Play Store. Before you do so, it's should know the developer can change and even delete content in your USB drive.
If you care about your data and privacy, you'd better think twice before playing Sea Big Bang.
How to Play Sea Big Bang? 
Just tap on two or more octopuses of the same color to destroy them and earn points. Complete the level by eliminating as many sea octopus as possible and reaching the target.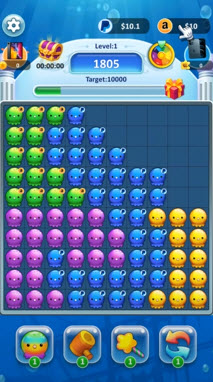 Whenever you match the creatures, Sea Big Bang will add a few cents to your cash balance.
There are other ways to collect virtual cash rewards!
Note that some octopuses have either a small PayPal or an Amazon logo at the top. After eliminating them, you will receive cash coupons worth a decent amount of money.
You must tap the button and watch the video to collect the dollars. They always show you a progress bar and encourage you to achieve $1000 to redeem the free reward.
Besides, Sea Big Bang will give you more cash coupons once you complete the level and select the four cards. But of course, they only give you the money if you watch the video until the end.
You can also play the Lucky Spin game to collect more cash rewards.
How Do You Get Paid? 
Sea Big Bang claims that if you collect $1,000, you can withdraw the money via PayPal or Amazon.
Unlike games like Cube Master, which don't let you reach the payout threshold, you will be able to meet the requirement and cash out.
However, once you press the redeem button, you need to activate order by watching 15 videos within 12 hours.
At this point, anyone can see what is the type of game they are playing! But it doesn't stop here!
Those who still have a glimmer of hope and watch 15 videos will be told to wait 48 hours unless they watch 50 videos. 
It's a complete joke, folks!
Is Sea Big Bang Legit? Does it Pay? 
No! You won't get any money from this company or individual who operates this application.
Sea Big Bang shouldn't even be available in the Play Store because the cash rewards are fake.
They entice people to play the game and watch lots of videos in return for money, but the players don't get paid.
Note the app remains "Early Access" forever even though it's generating profits for the developer through advertising.
In my opinion, this is a smart excuse to suppress user reviews and complaints. I am confident about it because most of these so-called "money games" are launched as "Early Access" and never chance their status.
Conclusion
Sea Big Bang is another game trying to increase profits at the expense of your precious time and mobile data.
I am sure many people are frustrated and angry with this game after playing for hours!
If you are trying to make money online, avoid Sea Big Bang because the dollars you see in the game are completely fake.
At the end of the day, you are just making app developers richer and wasting big time!
Is There an Alternative to Sea Big Bang?
Yes! I can give you two options: Bitcoin Blast and Toy Town.
The first one transfers BTC to your Coinbase account, but please, don't set high expectations since you will may have to play for more than a year to accumulate a measly $1.
As for Toy Town, you will earn entries into the weekly $3,000 sweepstakes. Since millions of people are playing, it's almost impossible to win the cash prize.
However, you can trade your tickets for cash and withdraw the money to PayPal once you reach £10. Just keep in mind there is no payment guarantee!
If your priority is to make money, you are much better off joining this GPT site and completing simple tasks from either your phone or laptop.
Some highly committed members generate over $150 per month, mostly by filling up surveys.
Final Words
Thanks for reading my Sea Big Bang app review. I hope it was helpful!
Have you played this game? If so, feel free to share your thoughts in the comment box below.
Peace!