In this Road Trip Profits review, I am going to walk you through Bob Beckett's training on how to create a digital product.
Selling info products on the internet can be very lucrative if done correctly, so I decided to buy this quick training and put it to test.
Road Trip Profits Review
---
Product Name: Road Trip Profits
Price: $7.24, Upsell 1: $27, Upsell 2: $47
Strategy: Creating your information product (membership site)
Owner: Bob Beckett
Overall Rating: 6.5/10
Overview: If you are just starting out and don't have any experience, developing your own training can be a challenge. Check out my #1 recommended training if you want to learn how to build a highly profitable business without creating a product.
What is Road Trip Profits?
---
Road Trip Profits is a four video training on how to create a product/lead magnet from start to finish. The course was developed by Bob Beckett, an experienced internet marketer who claims to have 20 years of experience.
The interesting thing about this training is that Bob recorded the videos during a 2-hour road trip, with ZERO prep!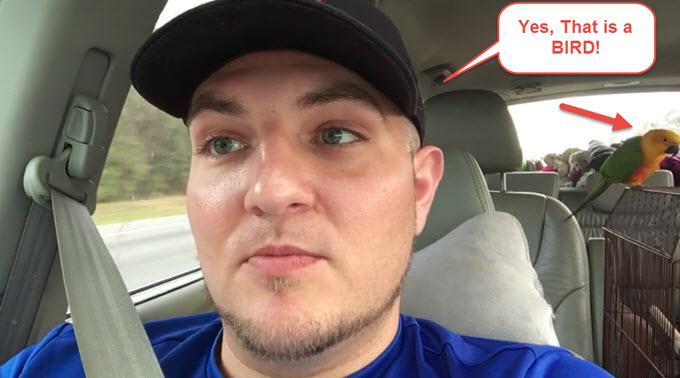 It's amazing how he can put up a course with JVZoo so fast and make tons of money teaching others how to do the same.
In fact, he will teach you how to create your a membership site by setting up the Road Trip Profits itself on the go.
Pros and Cons
---
Pros
The training is quick but beneficial and easy to understand.
Cheap frontend product – Some unscrupulous marketers charge over $47 for this information.
You can make good profits, but don't expect success overnight.
Cons
It can be a challenge for the complete newbie to create his own product.
It gives bad advice for beginners. If you are just starting out, don't go fast! Take your time because a bad product can destroy your reputation on the internet.
You need to buy the upsells to get more in-depth training
The Training – Take a Close Look Inside
---
Road Trip Profits was designed for those who want to create information products. An information product is basically education in the form of eBooks, audio recordings, or video recordings.
Here is an overview of what you will learn in each lesson:
Road Trip Profits Overview: This video is just an introduction to the course and the right mindset to succeed.
Come With Your Idea FAST: What problems do you want to solve? Do you want to help people lose weight, eat healthily, train their dogs?  Here you will learn where to search for ideas and important considerations before creating your info product.
Setting Up Your Sales Page FAST: Learn how to create the sales page for your business using Vimeo (video creation) and Clickfunnels, which is a powerful tool for creating squeeze pages, lead magnets and your entire membership site.
Setting Up Your Membership Site: Learn how to set up your training platform from scratch using Clickfunnels.
The last video "We made it" is just a farewell and a thank you message.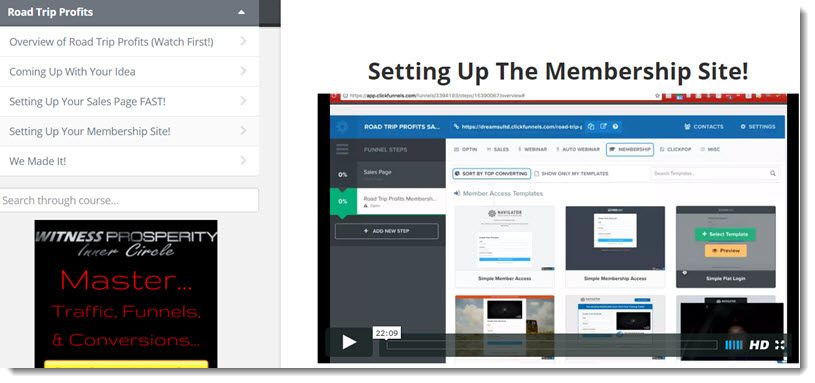 Upsells – In-depth Training
---
What can you expect from $7 course developed by a highly experienced marketer? Upsells! Exactly. They always want to sell you more expensive training, and that's exactly what Bob recommends you also do within one of his videos.
You don't have to create a whole giant course. You better charge thousands for that.
So, after you purchase Road Trip Profits' frontend product, Bob will recommend you two upsells for $27 and $47. Those upsells will provide a more in-depth training and additional techniques on how to attract more customers and scale your business.
My Final Opinion About Road Trip Profits
---
Road Trip Profits' frontend course is somewhat superficial. But you can't expect a comprehensive course for just $7.
You can still get valuable tips and tricks, though. It's interesting and eye-opening to discover how successful marketers like Bob go about creating their own info products.
In my opinion, it's a fair price!  But if you want to get in-depth training, you will have to purchase the upsells.
My Recommendation 
---
There is one important thing I would like to mention before you decide to create your product.

If you don't have the experience and knowledge necessary to provide quality training, don't rush things up!
Take your time to learn about your niche and don't compromise the quality. When you put your name behind a product for the whole internet to see, you need to be very careful! The reason being that you can damage your reputation in a blink of an eye.
Bob is fast and successful because he has been in this industry for more than a decade! But if you are a total newbie, things might not turn out as fast as you wish.
An excellent way to start gaining experience and trust is by building an affiliate marketing website. So, you can start making money by writing articles on your site and promoting other people's products.
That's how I currently make around $500/month in affiliate commission. If you are interested in this strategy, check my #1 recommended platform below.
It has a 100% free starter membership that will put you on the right track to succeed with affiliate marking.
Then, after you gain more confidence and authority, you can create and promote your info product on your website. By the way, this is a strategy followed by many successful online entrepreneurs.
Click Here for My #1 Work at Home Recommendation
Thanks for reading this review. I hope this was helpful to you. If you have questions, feel free to leave a message just below.
Your friend
Stefan