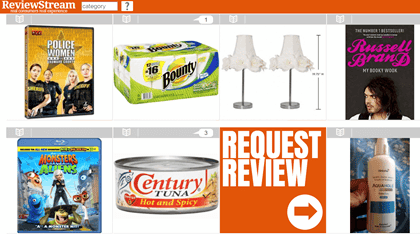 Have you ever thought about the possibility of making money by writing product reviews? I have stumbled across many online opportunities, and I believe ReviewStream offers the quickest way to get started!
Can you trust ReviewStream? Is it a scam or a legit? Check out my honest review below before you decide to put in the time and effort.
By the way, if you want to learn step by step the same strategy that earns me $1K+ per month from my laptop, check out my #1 recommendation!
ReviewStream Review
---
Platform: ReviewStream
Website: www.reviewstream.com
Price: Free to join
Type: Content writing
LEGITIMATE
Overall Rating: 3.3/5
What is Review Stream?
---
ReviewStream is a platform that allows you to get paid for writing honest and helpful reviews on any product or service you are familiar with.
It also allows you to write about food, a travel destination, a movie and many other topics!
Instead of writing or hiring freelancers, the website owner pays users in exchange for content that will get indexed by Google.
That means when people search for that product or service on the Internet, they will find the review that you wrote, thus attracting a new visitor to the website.
It's definitely a smart and creative approach that is working since 2005 when the platform was created.
Pros and Cons
---
Pros
No sign up required.
Decent pay rate if your content meets all the criteria.
You can review any product or service you want, as long as it's a genuine review.
There is no need to worry about perfect grammar. ReviewStream is more interested in getting unique and helpful content.
Get paid via PayPal.
Cons
Confusing user interface.
The exact criteria are not specified.
The minimum payment requirement is too high.
How Does It Work?
---
It can be tricky to find your way through the website as the user interface is quite messy – my opinion.
They need to improve the user experience because I believe many newcomers will leave without a clue.
The homepage is full of product images that lead to its reviews.
I don't know how the list is organized, but I always find vintage stuff like movies from the 90s, non-touch screen phones, etc. There is a wide variety of content there!
What's unique about Review Stream is that there is no signup process.
So, all you need to do is provide your PayPal address before submitting your review.
How to Sell Your Content?
Among the product images, you will find an orange square link that says "sell your content." That's where you need to go to submit your review.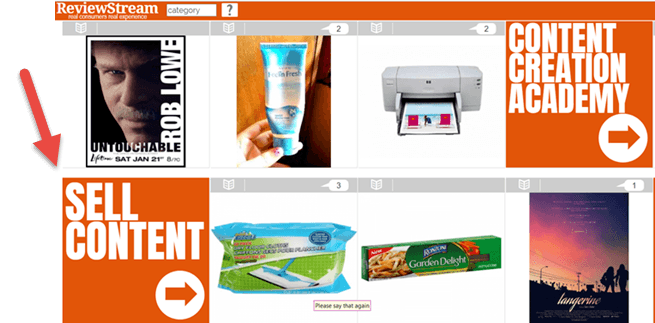 This link is always located in different places, and sometimes you need to scroll down the page to find it.
Next, select the category that matches your product, service or topic and then choose your template.
There are currently 61 categories to choose from, which means you can practically write about anything.

As for the templates, there are 6 types you can choose from: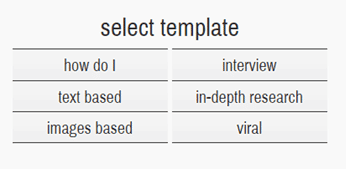 How do I: This is a not a product review but an article where you help people how to do anything related to the topic you have chosen. For example, if you've selected the computer category, you can write about how to install windows 10 on a laptop.
Interview: This type of article involves interviewing someone and writing the questions and answers about a specific product or topic.
Text-based: A simple text using paragraphs and proper formatting.
In-depth research: A lengthier article that required more in-depth research.
Images based: This format requires an introduction, at least 5 pictures with comments, and a conclusion.
Viral: It requires the same format as in the "Images based." However, you will need to create a content that is likely to get lots shares on social media.
Note that once you submit your content, ReviewStream is buying the copyrights of it.
That means reselling it, publishing it on your blog or in any other platform is strictly forbidden.
How Much Will You Get Paid?
How much you earn will depend on the template you choose and whether your content meets their criteria.
The regular prices of the different templates are as follows:
How I do – $19.66
Interview – $9.83
Text-based – $11.47
Images based – $16.38
In-depth research – $22.93
Viral – $19.66
You will get paid the exact regular price if your content meets all the criteria.
If not, then they will pay you at the bulk rate as long as you have ticked the bulk rate box.
PIC
The bulk rate is 5 times less the regular price. For example, if you've chosen in-depth research but haven't met all the criteria, you will get paid only $4.58.
If you haven't ticked the bulk rate box, your content will get rejected, but you will still have a second chance to resubmit your content with the box ticked.
The worst-case scenario is the one in which your content doesn't meet any criteria. In that case, your content will be rejected without any compensation.

The problem is that ReviewStream is not clear about all the exact criteria it uses for accepting or rejecting your work.
Therefore, it's up to them decide whether your content is worth the regular price, the bulk price or $0.
According to the FAQ:
Content could be rejected if it is vague, contains too much incorrect grammar, is written in capital letters, contains more description than opinion, etc. It may also be rejected, if the author writes about the item he/she has not actually used. 
The FAQ also states that they usually take up to 72 hours to process your content and give you the verdict.
Other Ways To Make Money With ReviewStream
---
Every Vote Pays Program: if you write a helpful piece of content, readers can vote for it. Each vote will earn you $0.10.
Reply & Earn: there are thousands of non-replied questions on ReviewStream. You will get paid $0.10 for each question that you answer.
Upload Images & Earn: there are many reviews without images. You can upload and earn $0.05 for each image. Although I haven't found any information about pictures, I suppose you can only upload the ones that you have personally taken or royalty free images.
Referral Program: You can invite people to join ReviewStream and earn 2% commission on every content they sell.
Payment
---

This reward platform is going viral! Cash out via PayPal, Visa, Gift Cards, and in-game currencies - Click here to find out how to generate an extra $10+ per day! 
You will get paid via PayPal when you reach the minimum threshold.
The minimum payment is calculated by multiplying the first amount you earned (regular price) in the new cycle by 10.

For example, if the regular price of your first content was $10, you will need to reach a minimum of $100. Even if you earn the bulk rate for that content ($2), the minimum of $100 still applies.
In my opinion, that is a very high requirement compared to other review sites such as Slice the Pie.
Conclusion – Is ReviewStream a Scam?    
---
I am confident ReviewStream is not a scam.
I like the fact that users can review any product they want and get paid for it.
My only concern is about the criteria they use to evaluate your content to decide whether they will pay the full or the bulk price.
It can be very frustrating to write an in-depth review only to discover you will earn five times less than what you expected.
Verdict: Legit
Work For Yourself and Earn Much More! 
---
It's possible to earn a substantial income online by writing product reviews!
If you are capable of writing useful content for ReviewStream, I'm sure you can work for yourself and earn passive income with your own website.
Trust me. It's not that complicated, and the potential is enormous!
You can choose a topic you enjoy and then build an affiliate website around it.
Having an affiliate site means earning commissions when people click on your affiliate links and purchase the product directly from the merchant's website.
So, there is no direct selling as all you did was direct people to their websites.
For example, let's say you love cameras!
Build a site around photography and start writing camera reviews.
Here is an example of a website earning revenue with camera reviews: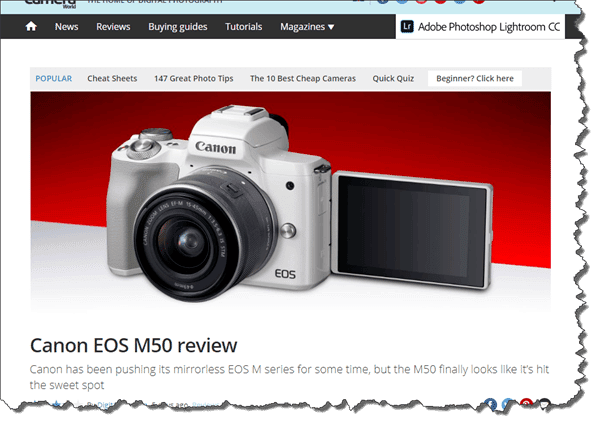 Then, sign up for affiliate programs like Amazon, and in a specific camera review, link to the Amazon page that is selling that camera.
Next, you can see the affiliate links that the website owner included in that camera review: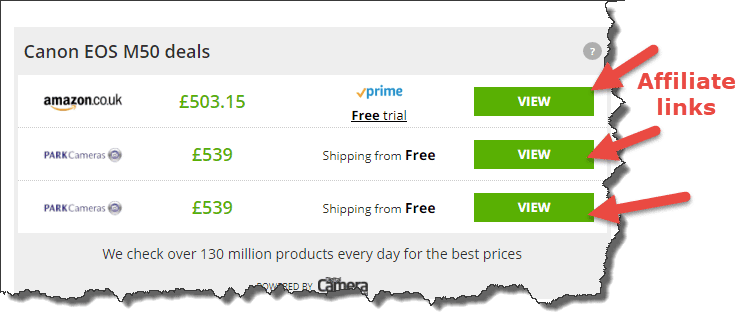 If people click your any of those links and purchase the camera or any other product, the website owner will get a nice commission, probably over £15.
Imagine having thousands of people visiting your site every day?
I don't know if you realize how awesome it is to write a review and keep making commissions from the same content for months or years.

True passive income!
I am living proof of that it works.
3 years ago I had no idea how to build a site, and today it covers all my living expenses!
There are many profitable niches (topics) that you can tap into.
Personally, I've chosen the "make money online" niche. So, I review products and platforms that help people earn an online income.
Yes, it takes time and hard work, but that's why it's worth it!
I started from NOTHING and achieved remarkable results thanks to a newbie-friendly step-by-step training developed by Kyle and Carson.
These guys helped me go from $0 to $1,000 per month, so I highly recommend anyone to try their free starter membership.
So, have you used ReviewStream? Tell us about your experience with this platform in the comment section below.