Welcome to my Pusher All review!
I was browsing the Play Store when I found another coin pusher game that allegedly rewards players with cash and great prizes.
After installing many similar applications in the past, I was very skeptical that the developer would transfer the money.
This is because these games are essentially advertising machines that merely serve the creators.
However, I can only give you a definitive and reliable answer if I put it to the test.
So, is Pusher All legit or fake? Does it pay once you meet the cash-out requirements?
Before you leave, click here and discover the step-by-step program that helped me build an internet business and generate $2,000+ per month. No special skills are required! 
Pusher All Review
Name: Pusher All
Company: mega2mobile
Eligibility: Worldwide (+18)
Price: Free (no in-app purchase)
Type: Entertainment (no financial risk)
Overall Rating: 0 stars
What Is Pusher All?
Pusher All is another free coin pusher simulation in which you can supposedly withdraw real money. 
It was created by mega2mobile, which also runs other money games such as Vegas Pusher, Plinko Mania, and Fortunes Tree.
You will collect virtual dollars by touching the screen to drop the nickels off the platform.
However, you can only cash out through PayPal, Cash App, or Messenger if you fulfill specific requirements.
Pusher All has been installed over 100k times and rated 4.2 stars on Google Play. But you'll soon understand why I don't believe the overall rating reflects reality.
How Does Pusher All Work?
You may wonder how Pusher All can reward useth hundreds of dollars.
After all, it only displays commercials you are enticed to watch before you collect the virtual cash.
So, they must receive compensation from advertisers and share that money with players who meet the withdrawal conditions. Right?
Yes, sure! However, they are offering gamers an absurd amount of money, which is incompatible with this sort of business.
Are you tired of making other people rich while you waste your time? Then, check out my top recommendation and start your online now!
Installation 
Pusher All can be installed on Google Play for your Android device, and it's 100% free.

Launching the app will prompt you to select a withdrawal method to link with the game. PayPal, Cash App, and Messenger are the three alternatives.
Next, enter your email or phone number associated with your account and click link account.
If you choose PayPal, Pull open your PayPal app, where you should log in.
This behavior is unusual and suspicious since he only needs your email to transfer the money.
Therefore, I advise you don't proceed. But if you already did, contact PayPal to ensure the developer hasn't set up any subscription.
Also, change your password as soon as possible to be on the safe side.
How to Play Pusher All? 
Pusher All features a virtual coin machine that allows you to begin playing with 40 nickels.
Just tap anywhere to drop the dimes in front of the coin dozer, which constantly moves back and forth.
Pushing green and yellow dimes off the platform's edge will give you virtual dollars and tokens.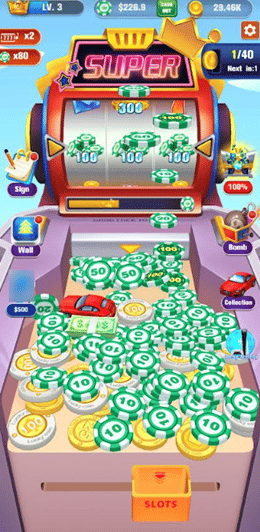 Whenever a dime falls into the "777" box, you will get a chance to play the slot machine and win big rewards.
You will receive extra coins, a big push, and other items by matching three symbols. Watch a video to get earn an extra spin!
From time to time, Pusher All will give you a large cash reward if you tap the "Free" button and watch a video until the end.

Please, realize that's how the developer is getting players to watch lots of videos, so he maximizes his own revenue.
You can use several tools to boost earnings in the game and achieve the payout threshold faster.
For example, there are bombs, walls, lucky chests, and more!
You can always watch a video or use $60  worth of in-game currency to get an extra 40 nickels.
Lucky Activity
Like in the Hyper Pusher app, you can win excellent prizes such as the Samsung Galaxy ZTapBook Pro, and more!

This reward platform is going viral! Cash out via PayPal, Visa, Gift Cards, and in-game currencies - Click here to find out how to generate an extra $10+ per day! 
Simply tap the bubbles or the "Spin" button to watch the video and collect puzzle pieces.
You can redeem the gift by collecting 100 fragments corresponding to the prize.

How do You Withdraw Your Money?
You can find all the redemption options by tapping your cash or token balance.
The minimum payout threshold is $500, which you can receive by collecting $500 (cash balance), 10,000,000 tokens, or 777.
Is Pusher All Legit? Does it Pay? 
No, it doesn't! Pusher All is nothing but a coin pusher simulation where the virtual currency has no real-world value.
They make you believe you will get paid just so you'll watch the videos that make money for them. 
It takes ages to reach $500 or 10 million tokens, but that's okay since you are just touching the screen.
But the problem is that you will waste too much time for no pay!  
So, how does Pusher All behave when you reach $500?
It puts you in a long queue with over 60k users who are supposed to get paid in the sequence. However, your turn will never come because the queue is fictitious!
Some even claim that their number has risen rather than decreased! What a joke!
All prizes in the Lucky Activity section are fake too. So, you can never collect enough fragments to claim the expensive gift.
Conclusion 
I don't recommend anyone to play Pusher All since the money is fake for you but real for the developer.
Like hundreds of games, it maximizes profits by enticing players to watch endless videos with the expectation of cashing out.
Coin Dozer is perhaps the only coin pusher app that gives players a real chance of winning prizes. Read my Coin Dozer review! 
Unfortunately, you must be very lucky to win the prize draw, and you will probably waste a lot of time too!
Earn A Full-Time Income Online
In this ongoing economic downturn, having an internet business makes a huge difference!
It allows me to work remotely and earn a good living without relying on a traditional business.
This excellent step-by-step program helped me build an affiliate website with no previous experience and attract a large audience.
As a result, I get paid every month through many streams of income and enjoy a freedom lifestyle!

You can do the same by putting into practice a clear plan of action you can join here. 
Final Words
I hope this post helps raise awareness about Pusher All. If you have any questions or thoughts about this game, please leave them in the comment box below.
Thanks for reading!
Peace!