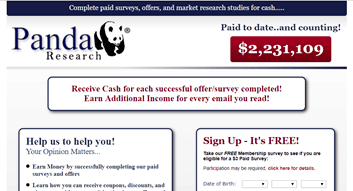 In this review, I'll give you my honest opining about an American survey panel called Panda Research. Is it a scam? If not, then is it worth your time and effort?
We'll see!
By the way, if you are serious about making money online, check out my top recommendation and discover the strategy that earns me over $1k per month.
Panda Research Review
---
Platform: Panda Research
Website: com
Price: Free to Join
Strategy: Online Surveys
LEGITIMATE
Overall Rating:

2.4/5
What is Panda Research? 
---
Panda Research is a website where users get paid to take online surveys and complete offers.
As a member, you will be invited to share your opinions on many topics.
By doing so, you are helping companies to perform marketing research understand consumer behavior so that they can improve their products and services.
I haven't found any information about the company behind PandaResearch.com on the website, which is odd because if you are proud of your company, why wouldn't you show up the trophy?
After a quick research though, I found the website is owned by A&A Marketing Inc. located in Buffalo Grove, Illinois.
Their official website is www.aam2.com, which in turn, doesn't mention Panda Research as part of their brand portfolio.

This reward platform is going viral! Cash out via PayPal, Visa, Gift Cards, and in-game currencies - Click here to find out how to generate an extra $10+ per day! 
The question is: why can't we find the connection between Company and website easily?
Is Panda Research a Scam?
---
I don't think it is a scam. However, you should keep in mind they have a clause in the terms and conditions that says there is no payment guarantee.
Here is the entire paragraph:
NO PAYMENT GUARANTEE. PandaResearch does NOT guarantee that a member will receive credit for a completed survey and offer. PandaResearch will make reasonable efforts to track and report your signing up for offers but does not guarantee the precision of the process. We reserve the right to refuse the credit to members for offers for a variety of reasons, including, but not limited to, Lack of appropriate information, Improper signup, Improper browser settings, Errors in third party reporting, and/or any other reason.
So, while you are putting the time and effort into providing helpful insights for companies, they can refuse to pay you for any reason.
How Does it Work?
---
The registration is free like in any other legit panel, but I didn't like the fact that I had to complete 3 questionnaires and even provide my phone number to get access.
If you say yes to some of those questions, you will agree to be contacted via email or phone by different companies.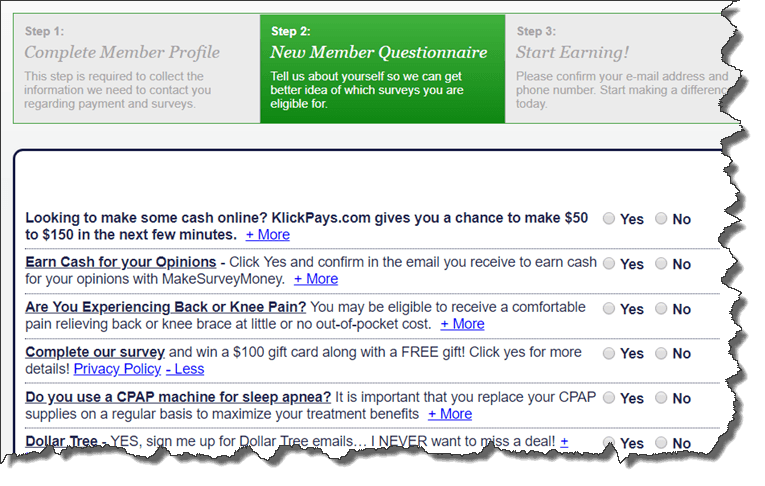 Personally, I didn't like the way they get people's consent on marketing communications because they will need to read the small print or click on the Privacy Policy link to discover they are giving consent.

Here is one example:

After you finish the questionnaire and confirm your email account, you will get $3 as a signup bonus.
Taking Surveys
---
Panda Research provides an extensive list of survey opportunities. But you probably won't be qualified to take all of them.
First, you need to answer pre-qualification questions that will check your eligibility for a particular study.
For example, if a pharmaceutical company conducts a study about lower back pain, they may select only people with that condition.
In that case, if you answered you had no back pain, you would get screened out.
The problem is that many of these pre-qualification surveys consist of a couple of questions.
So, you should be prepared to waste a lot of time in the process as you won't get paid for trying.
Most surveys pay between $1 to $3 and take 10-20 min to complete. But there are cases when you can earn more or less depending on the type and length.
Example:

Always read the instructions carefully as each survey or offer may have different rules.

Payments
---
In my opinion, the payout requirements are quite disappointing.
First, you can only request a payout via PayPal once you reach $50.
Second, the pay on the 1st or 15th of every month, but only after 30 days of your request.
Third, they only pay multiples of $50. So, if you have $60 in your account, they will retain the extra $10 until you reach $50 again.
Fourth, they will ask you to call their department phone number to verify your payment request. This a unique requirement that I have never seen on other sites (I have reviewed over 100 surveys panels and GPT platforms).
Despite all the time spent qualifying and taking surveys, there is no guarantee they will pay you as stated in the TOS.
Final Thoughts
---
Panda Research is legit survey panel, but in my opinion, they should provide a quicker and more straightforward payment method.
Another significant drawback is the fact that they can deny your payment for any reason.
We will never know for sure whether someone was denied payment for any reason. But it's a possibility that can't be ignored.

I think they should honor people's time and effort and make sure all genuine users get paid.
Verdict: Legit 
How I Prefer to Make Money Online
---
In 2015, I was craving for an extra income to help with the high living costs in London.
I was taking lots of online surveys, but at the same time, wasting precious moments of my life that I could be either enjoying or pursuing something bigger.
Luckily, I discovered affiliate marketing in the possibility of building an online business.
That kind of business that keeps working on autopilot 24/7 and generating an income regardless of whether you are actively working on it or enjoying the beach.
Also, I am talking about the kind of business that goes with you in your backpack if you decide to travel the world for a year or more!
I started from zero and reached $1,000/mo in affiliate commissions thanks to a great step by step program that I discovered in that same year.
It worked for me not only because the course is solid, but also because I put in the time and effort to build my business. I was consistent and avoided laziness!
If you are ready to take massive action to succeed, stop the procrastination and self-doubt and follow my #1 recommended training. It's free to get started!
Check Out My #1 Recommendation Review!
Thanks for checking out my Panda Research review. If you have any thoughts or questions about it, feel free to drop me a message below.