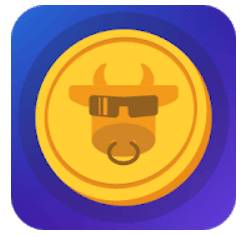 Welcome to my Mooncash app review!
In this post, I would like to show all you need to know about Moocash app and give you my honest opinion about it. Does it really pay? Is it a scam or legit?
Let's find out!
Before you leave this page, don't forget to check out my #1 recommendation!
This is the same program that helped me reach $2,000/mo online, escape the hamster wheel and travel to SE Asia in 2019 (the first 10 lessons are 100% free). 
Moocash Review
---
Name: Moocash
Website: www.getmoocash.com
Price: Free
Type: Reward app
LEGITIMATE
Overall Rating:  

3.1/5
What is Moocash?
---
Moocash is a reward app that gives users various opportunities to make money online such as:
Downloading apps and games.
Completing offers.
Taking online surveys.
Reviews
Subscribing to YouTube channels.
Watching videos
And more!
With Moocash, you will earn points called Gems that can be redeemed for cash rewards, Gift-cards, bitcoins and even followers & likes!
The app has been installed in over 100,000 all over the world and is similar to App Like, FeaturePoints and many other available on Google Play and App Store.
2020 UPDATE : MooCash is not available on these two platforms anymore. You have to download the APK through a third-party website provided by the company. Visit www.getmoocash.com and follow the instructions.
Pros and Cons
---
Pros
There are many payment options available.
Low minimum payout requirement.
Easy way to make money.
There are many different tasks and offers to make money.
Cons
Low-income potential.
You can experience technical issues to download and use the app.
How Does Moocash App Work?
---
Moocash app is completely free to download from Google Play or the App Store.
Before you start using the app, you need to give them some permissions such as your location and searches that you perform with your mobile.
However, they guarantee they will never share your personal information with others.
You can sign up using your Facebook or by providing your phone number.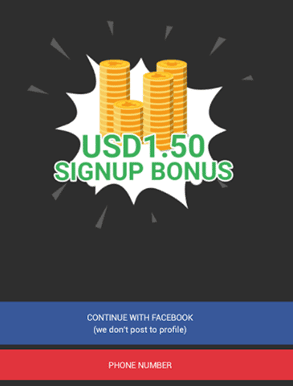 As I said, the app offers many options to make money. So, to make this review short and to the point, I am going to explain some of them briefly.
Regardless of the task or offer you choose, you need to read the instructions carefully and complete all the steps required. Social media and review tasks usually require a screenshot as proof.
Also, keep in mind that you will earn points called Gems that you can exchange for different rewards. 1000 Gems is 5 USD.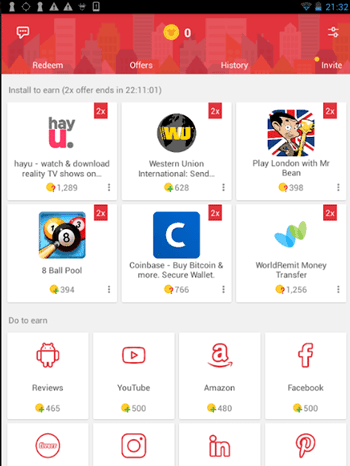 Download Apps
Simply download the app and complete the requirements.
For example, if the app is a game, you'd probably have to play it for a while or reach a certain level to get rewarded.
Here is one example: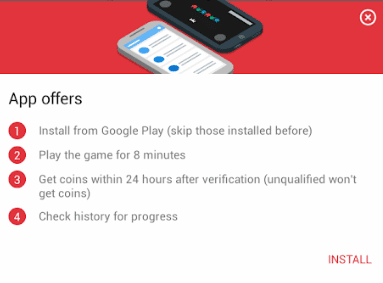 Earnings: 200 – 2000+ Gems.
Complete Offers
There are different types of offers such as:
Signing up for an online survey panel and taking your first survey.
Completing a form to participate in a prize draw – You will need to provide personal information for marketing purposes such as name, email, and phone number.
Signing up for a free trial – Be careful here as some offers ask you to wait until the free trial is finished. That means you will have to purchase the service for the first month.
Earnings: 200 – 2000+ Gems.
Give Feedback 
In this section, most tasks involve using an app and giving feedback.
There is also a section to give feedback on products for sale on Amazon. However, I am not a fan of this method as encourages individuals to provide fake 5-star ratings with fake positive reviews.
Earnings: 200 – 500 Gems
Social Media Tasks
In this section, you can find quick tasks such as
Sharing a video, or a page on Facebook
Like posts, Youtube videos,
Follow Twitter, Instagram, and Linkedin accounts.
Earnings: 10-15 Gems.
Lucky Draw
You can also use your points to get tickets for a prize draw. When all the tickets available for a particular prize is sold out, they will come up with the winner.
When I was writing this review, the prizes available were a Power Bank, a Samsung Galaxy, a Moocash mascot T-shirt, an Apple iPad and more!

Will You Get Paid?
---
I have read lots of user reviews, and many people claim to have received their payment without any issue.
I saw many complaints too mainly because of technical issues downloading and using the app.
There are many payment options available such as PayPal, Skrill, Bitcoin, Payoneer, and Gift Cards (Amazon, iTunes, Steam, Google Play).
You can even use your gems to get followers and likes for your social media accounts.
The minimum payout requirement is 5 USD (500 Gems) via PayPal. The other options require a higher amount.

This reward platform is going viral! Cash out via PayPal, Visa, Gift Cards, and in-game currencies - Click here to find out how to generate an extra $10+ per day! 
Referral Program
---
Invite other people to join Moocash and get 10 gems plus 10% of what they redeem for a year.

To refer people, you should share your code, which gives 20 Gems when they use it for signing up.
Conclusion – Is Moocash a Scam?
---
I'm confident Moocash is a legit app that is rewarding users for their time and effort.
However, like all reward sites and apps out there, it's not something that can change your life.
It's okay for pocket money, but it takes a long time to earn just $5.
Verdict: Legit
How About Time and Location Freedom?
---
If you have big dreams in life, at some point you will have to ignore all the distractions and put in the work required.
There are effective and proven methods that will help you start small and grow towards a full-time income online.
It's possible to earn a living from your laptop if you know what works and follow a clear plan of action!
In my opinion, building affiliate sites is one of the best ways to make money online.
I make over $1,300 per month in affiliate commissions using this strategy, so I highly recommend it to anyone, even if you have no experience in web design or marketing.
Anyone can do it with determination and work ethic.
If you want to follow the same step-by-step program that I used to build a profitable affiliate site, check out my #1 recommendation review.
It's a community-based platform that will take you by the hand and show you the roadmap to succeed with your affiliate business.
Also, it has all the tools you will need under the same roof!
Final Words
---
That's it for now and thanks for checking out this Moocash review!
If you have any questions about this app or how to build a lucrative site, feel free to ask in the comment section below. I'd love to help you out!