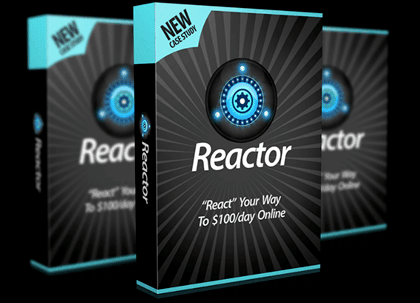 The creators of Reactor are claiming that their unique method helps anyone to rack in $100+/day. Can Reactor really help you achieve such a high daily income from home? Is it a scam or legit?
Let's find out!
By the way, if you want to learn step by step the same strategy that earns me $1K+ per month from my laptop, check out my #1 recommendation!
Reactor Review
---
Product: Reactor
Website: www.grabreactor.com
Price: $12.97  (Frontend) + Upsells
Type: Affiliate marketing
LEGITIMATE
Overall Rating: 3.3/5
The Sales Page
---
The sales page of Reactor tells us about the possibility of making some powerful tweaks to scale your online business and make over $100/day online.
Bratt Hitchcock, which is the creator of the method, is making these profits by what he calls "reactions."
Some of the few things that is said about these reactions are that they attract highly targeted traffic, and as a result, profits!
Also, they say it's very easy to set up, and don't require any product or video creation.
Most people who are desperate to make money online will be very tempted to buy this product as they make it seem like a shortcut to success.
However, I encourage you to have more unrealistic expectations because succeeding in any online business opportunity requires hard work and a high level of commitment.
What is Reactor?
---
Reactor is a training that will show you a strategy to promote affiliate offers on Facebook.
It's a short course that consists of a PDFs and 8 video lessons.
How Does it Work?
---
The method involves creating Facebook posts that are likely to trigger high engagement – lots of comments.
Then, you will react to them by recommending products and encouraging people to click on your affiliate links.
That's where the name "reactor" come from.
If people purchase the product after clicking through your link, you will get paid an affiliate commission.
Reactor will teach you how to:
Find a high converting offer.
Get approved as an affiliate.
Write simple copies for your Facebook posts.
Find your target audience.
Get maximum engagement.
Narrow down your audience and engage the right way.
Deliver your links without failing.
My Opinion About Reactor
---
For just $12.97, I consider Reactor a decent training for those who want to make money promoting products on Facebook.
However, I don't think you can easily make $100/day only with simple posts unless you have a considerable number of followers.
The number of people required to achieve this income level probably means you are seen as an authority in your niche. Learn how to become an authority and dominate your niche! 

So, before wasting your time posting on Facebook, you will need a solid strategy to grow your followers base, if you don't have one.
It's not a quick process because you will need to provide something that attracts others to you.
Usually, what attracts people to your social media account is value.
You need to attract people from Google's or Youtube's search results by providing content so that more and more people know you.
I firmly believe there is no easy way around free traffic.
Conclusion – Is Reactor a Scam?    
---
Reactor is not a scam as they are showing you a strategy that really works!
However, how much money you will make will depend on many factors including:
The size of your Facebook account.
How effectively you promote your affiliate offers.
Your niche.
How much time and effort you put into growing your business.
You will learn a lot from this Reactor, but please don't think success will come quickly after you start implementing it.
You need to be consistent, so expect to work for a long time without any results. But don't feel hopeless because that is the case with all online business models.
Verdict: Legit
My Recommended Strategy
---
One of the best ways to start making money online is to provide valuable content in any form, be it through a blog or a YouTube channel.
In 2015 I built this website and started providing value to the internet community.

By writing helpful product reviews, they get high Google rankings, which allow me to attract visitors to my site and affiliate offers.
Imagine getting thousands of visitors every day from around the World!
It's mind-blowing the possibility of making money from articles that you did months or years ago. This is true passive income!
I started as a complete newbie and achieved remarkable results thanks to a step-by-step training developed by Kyle and Carson.
These guys helped me go from $0 to $1,000 per month, so I highly recommend anyone to try their free starter membership. You won't regret it.
Thanks for checking out my Reactor review. If you have any questions, do let me know in the comment section below.

This reward platform is going viral! Cash out via PayPal, Visa, Gift Cards, and in-game currencies - Click here to find out how to generate an extra $10+ per day! 
Best,
Stefan