Welcome to my Money Maker app review! 
I've recently bumped into this advertisement that makes you dream of financial abundance beyond imagination!
Picture this: a woman, gleaming with joy, talking about a seemingly magical app named "Money Maker."
This app is supposedly dropping $50 daily for her to enjoy gaming and downloading other apps.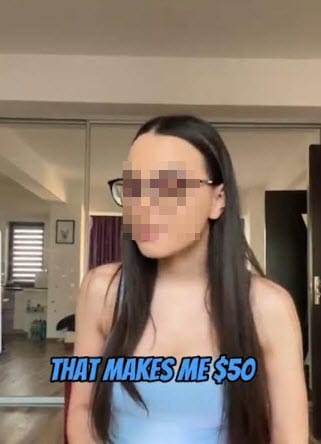 Now, she boasts about living job-free and making easy money while the rest of us grind away. 
But it doesn't stop there. That lady claims to earn every single day through PayPal, and the payouts are almost instant.
And the payout threshold? Laughably low at just $1.
In her own words, "It's so low that I got paid after 5 minutes of using the app."
She made it seem like stumbling upon a hidden gem, a golden goose tucked away in the Play Store, as if it was a gift of the Gods. 
So, is Money Maker app legit? Will your PayPal ring with regular deposits, or will you be left high and dry?
Recommendation: Join the step-by-step program that helped me to generate $2,000+ per month and become a digital nomad in 2019.
Money Maker App Review 
Name:

 Money Maker: Play & Earn

Developer:

 Digital Life LLC

Price:

 Free 

Payout threshold:

 $3

Overall Rating: 1.5 stars
What is Money Maker? 
Money Maker app is a reward application available on Android devices. 
It operates under the 'get-paid-to' model, offering users opportunities to accumulate tokens.
You can collect those tokens by completing simple tasks such as playing mobile games, testing new apps, watching sponsored videos, or answering surveys.
Moreover, the Money Maker app also incentivizes users to bring in new members by offering referral rewards.
As you already know, the developer is advertising the app as an opportunity to earn a whopping $50 per day.
Well, that's a number you don't usually see in the world of reward apps.
Usually, these platforms offer much less for your time and effort. That's why people are wondering if their advert is overhyped and misleading. 
The app also claims to have a low minimum cash-out limit, stating that users can withdraw their earnings once they reach just $1. 
In practice, you could have a secret money vault in your pockets. But is it as rosy as it sounds? Let's explore! 

How Does Money Maker Work? 
The Money Maker app is a user-friendly platform available worldwide for Android users.
You can download it for free from the Google Play Store and start completing tasks immediately. 
Once installed, you can use the app as a guest without creating an account.
But to safeguard your earnings and cash out, you should link your Google account under the "profit" section.
This ensures your tokens won't be lost if you change devices or uninstall the app. In this section, you can also add your username and PayPal email to enable funds transfer.
Collecting Tokens
Now, let's dive into the fun part – collecting tokens!
But first, let's nail down a crucial detail: every 5000 tokens you earn equals $1. 
To check your earnings, visit the wallet sections to find your balance converted to dollars. 
Playing games
The dashboard presents a range of featured games, primarily from the casual and puzzle genres.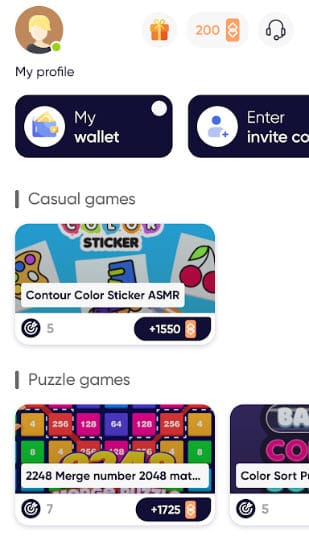 Each game indicates the number of tokens you can earn, but unlike Mistaplay or Justaplay, the rewards are not tied to the duration of play.
Instead, you are rewarded based on reaching specific milestones in the games.
For instance, completing level 5 might earn you 300 tokens, with further tokens awarded for higher levels.
The availability of games can vary by country; if you are in the Uk, there are currently only 5. 
Offer Walls
In addition to gaming partners, the app has teamed up with a decent number of offer and survey providers.

This reward platform is going viral! Cash out via PayPal, Visa, Gift Cards, and in-game currencies - Click here to find out how to generate an extra $10+ per day! 
Below the list of games, you'll find offer walls from providers like ayeT-Studios, Lootably, Adgate Media, and Pollfish.
These platforms are essentially digital billboards full of various tasks you can complete to earn rewards.

I am talking about downloading and trying out new apps, watching videos, completing surveys, or signing up for free trials.
The developer receives payment for every user action and shares a portion of this revenue with you as tokens. 
Completing Surveys
Surveys are the best way to boost your earnings on the Money Maker app! 
However, dealing with marketing research companies can be very time-consuming and frustrating. And often time, they try to get a free lunch from panelists! 
Let me explain. These companies aim to gather data on consumers' attitudes, opinions, and behaviors. 
But to get a robust and representative sample, they must ensure only the right folks participate. 
This process, however, often involves pre-screening or qualification steps that can be very problematic. 
You might find yourself halfway through the questionnaire only to realize you have been screened out and directed to another survey. 
The thing is, many survey panels are using the disqualification excuse to gather data without paying us!
Once you accept the Terms and Conditions, they can kick you out without any obligation to compensate you for your time.
Click here to learn how to avoid survey disqualifications! 
Watching Videos
One of the available tabs is "Watch a video AppLoving." AppLoving is an advertising platform used by developers to promote their apps.
You'll mainly watch sponsored videos promoting other platforms and ludicrous money games. 
Exercise caution with these promotions, as most are entirely fake.
You will earn a modest four tokens for each 30-second video watched.
Daily Check-in
You can check in daily by tapping the gift icon next to the token balance. You will get 50 tokens for that! 
How to Cash out Your Earnings
Remember the advert told you that you could cash out with as little as $1?
There are two options here. Either the developers lied to you, or they unintentionally forgot to update their marketing materials.
The minimum cash-out amount is actually $3! 
With the conversion rate of $1 for every 5,000 tokens, you'll need to collect 15,000 tokens before you can cash out.
Once you've reached this token count, you can request a transfer to your PayPal account. But remember, you need to link your Google account before withdrawing. 

Is Money Maker App Legit? Does it Pay? 
The creators of Money Maker advertise the potential to make $50 every single day, which is unattainable considering the nature of this app.
In reality, most users struggle to reach the minimum cash-out amount of $3.
To make matters worse, some people have mentioned missed tokens and payouts. 
Users are putting time and effort into answering survey after survey, only to be disqualified. 
And the frustration doesn't end there. Some users report getting an error message saying they cannot connect to the server.
Others have been unable to link their Google accounts, a crucial step to cashing out.
That said, amidst these issues, there are still users who've successfully managed to withdraw their earnings.
To call Money Maker a scam? I wouldn't go that far. Misleading? Yes, I think so! 
If you're advertising the opportunity to make $50 a day, you should disclose what the average user earns and how to achieve that. 
High-paying offers require hours of dedication or a service subscription, often decreasing or eliminating your profit margin. 
So, not only does the Money Maker app offers a low earning potential, but there is also a severe risk of not receiving the rewards. 
Conclusion 
Our investigation has revealed some unsettling truths about the Money Maker app.
Despite the hyped-up advertisements and claims of financial freedom, the reality seems less glamorous.
Users have reported multiple issues, such as missed tokens and payouts. 
Is it a scam? Not necessarily. But unfortunately, it doesn't seem like a reliable and profitable way to make money online.
Luckily, this is not the end of the road for those searching for a reputable and consistent way to earn some extra income online.
Let me introduce you to PrizeRebel, an alternative I have used for years! 
I am pleased to report that this platform has always paid me promptly and without issues.
Unlike the Money Maker app, PrizeRebel is a platform known for its dependability and reward system.
It's been around for over a decade, with millions of users worldwide who are earning daily.
To understand how it works and why I am confidently recommending it, I invite you to read my in-depth review here! 

Final Words
Thanks for reading my Money Maker app review! If you used this app and want to share your experience, please comment below. 
Peace!