Welcome to my Huuuge Task Tycoon review!
I just came across an advert that caught my eye and made me lose even more faith in humanity.
It began with a simple query directed at ChatGPT – someone pleading for advice on how to make quick money, specifically for gas.
With no hesitation, ChatGPT shot back with a response: download Huuuge Task Tycoon and earn $100. Easy peasy, right?
The advert continues, insisting that you can win a whopping $1800, promising that these wins will be transferred directly to your account.
Sounds too good to be true, doesn't it?
This world of instant riches portrayed in the advert got me pondering, as I'm sure it has for you too.
How legitimate is this app? Will they transfer the money to your PayPal account or is it all an illusion crafted by mart marketers?
It's easy to find oneself hooked by these sugar-coated claims, and you can end up falling into a rabbit role of delusions.
So, stick with me until the end as we uncover the truth about Huuuge Task Tycoon.
Recommendation: Join the step-by-step program that helped me to generate $2,000+ per month and become a digital nomad in 2019.

This reward platform is going viral! Cash out via PayPal, Visa, Gift Cards, and in-game currencies - Click here to find out how to generate an extra $10+ per day! 
Huuuge Task Tycoon Review 
Name:

Huuuge Task Tycoon

Developer:

EclipseTesseract

Price:

Free 

Payout threshold:

 

Overall Rating: 0 stars
What is Huuuge Task Tycoon? 
Huuuge Task Tycoon is a free Android app that claims you can earn cash rewards just by doing simple tasks.
These tasks range from participating in surveys and watching videos to downloading and using other apps.
It's an attractive proposition, especially in today's fast-paced world, where a few extra dollars can come in handy.
Who wouldn't fancy making a quick buck while chilling on their couch?
But here's the problem – The cash rewards they're touting seem, well… extraordinarily high.
They claim you can earn up to $30 just for installing and playing each game. Even more surprising, they give more than  $30 after watching each video.
Those amounts seem too generous, don't they? It's a big red flag when an app offers rewards that make no sense in the real world.

Besides, Huuuge Task is still in the 'Early Access' stage, meaning users cannot publish reviews and share their experiences with others.
Is this lack of transparency a clever tactic to dodge negative comments? Probably!
Huuuge Task Tycoon Work? 
Huuuge Task Tycoon is available worldwide for Android users, and it's free on the Play Store.
When you launch the app, you're greeted with three simple steps promising you 100% real cash – head to the task hall, pick up a task, complete it, and bam!
You supposedly transfer the money, which will be transferred to your account immediately. Well, that's what they say!
Sounds simple, right?
And get this – they're throwing in a $60 welcome bonus as if you were the luckiest person on planet Earth!
But here is teh catch. A 24-hour countdown starts ticking away, warning you that your money will vaporize into thin air if you don't hit $200 within that time frame.
Many fake cash games deploy this classic scarcity tactic to create an illusion of urgency and reel you in.
You then encounter the Task Hall, boasting a line-up of games, each offering up to $30.
Huuuge Task Tycoon urges you to reach level 5 of any game to claim the reward.
You might have noticed that the game you initially chose isn't what they offer on a second page.

Instead, they direct you to another list of in-app games which run inside the platform.
And guess what? You don't even need to download anything or reach level 5 to earn cash rewards.
After you play one of these games, you're offered three cards with cash prizes. One card is revealed instantly, while the other two come at the cost of watching advertisements.
It's important to note the focus isn't on you playing the games. Instead, the primary motive is to get you to tap those cards and trigger the adverts.
Why? Because the developers cash in every time you do.
It's a classic advertising gimmick. Even when you check out the game section with its assortment of mini-games, the focus isn't on you playing them.
They entice you to tap that banknote icon on the right, hit the 'Claim' button, and watch a commercial to collect virtual dollars.
Withdrawing Funds
So, you've been diligently tapping away and somehow reached the magical $200.
You're eager to cash out and enjoy the fruits of your labor, right?
Well, when you try to cash out, Huuuge Task Tycoon tosses in another condition.

Yes, they suddenly want you to complete three tasks before you can get your hands on the cash.
It essentially boils down to playing three games and enduring an advert each time you close them.
Is Huuuge Task Tycoon Legit? Does it Pay? 
No, it doesnt'! After you've dedicated your precious time and patience to reach that elusive $200, a harsh reality starts to dawn on you.
You'll notice a peculiar shift in your journey – the rewards start to dwindle as you get closer to your target.
When you're almost there, standing at $199, Huuuge Task Tycoon starts dishing out mere cents at a time.
Talk about taking two steps forward and one step back, right? It's almost as if they're toying with you, dangling the carrot just out of reach.
But here's the real kicker: after you finally hit the $200 mark and jump through the hoops of completing those extra three tasks, guess what awaits you?
You're asked to choose your payment method, say PayPal, and provide your email. Then, they pull a fast one on you!
Now, they say you must watch 40 videos within the next 24 hours just to activate your cashout.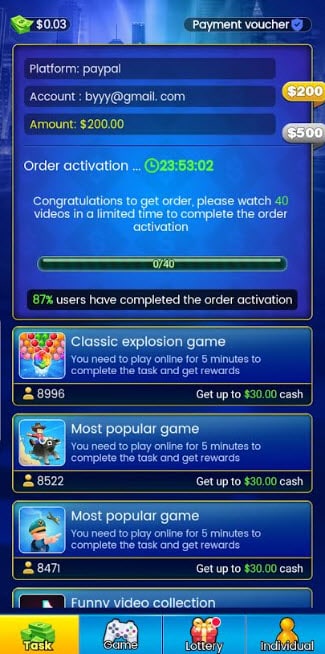 Talk about moving the goalposts! They're playing a clever game with you, and the odds, my friend, are not in your favor.
Here's the harsh truth: Huuuge Task Tycoon doesn't pay a dime.
After all your invested time, you're left with empty pockets and frustration!
Conclusion 
Huuuge Task Tycoon is definitely not a real money-making application!
Now, I get it. The idea of making quick cash from your phone is super appealing. Who wouldn't want that?
But it's super important to pick a platform that values your time and pays you fairly.
That's why I'd recommend a reliable GPT (Get-Paid-To) site like PrizeRebel.
Here's a platform that's been around for over a decade and has a solid reputation.
You can earn real cash by taking surveys, watching videos, and completing real app offers! It's user friendly, straightforward, and, most importantly, it pays out honestly.
I have been a member for over 5 years, and they never missed a single Paypal transfer!
You can find more about it in my detailed review of PrizeRebel. Don't just take my word for it, sign up, and see the difference for yourself!

Final Words
Thanks for reading my Huuuge task Rycoon review! 
I hope you found it helpful and eye-opening! 
If you have questions or experiences about this app, please share them in the comments section below. 
Peace!