Welcome to my Crush Honey Slot review!
I stumbled upon an advert that nearly had me spitting out my morning coffee.
Picture this: You're using social media when an advert claims you can earn cash rewards just by spinning a 5-reel machine.
We're not talking pennies here – we're talking hundreds of dollars risk-free! Imagine that.
Riding high on captivating visuals, Crush Honey Slot spins a fascinating tale of zero-effort cash rewards.
They've got you dreaming of receiving $300 daily directly to your Cash App.
Your job? Well, it's simply tapping your phone screen and watching the infamous adverts promoting fake cash games! 
It seems like a very lucrative activity, doesn't it? It almost feels like you are doing something illegal! 
What's concerning, though, is that thousands of people download this game with high hopes of striking it rich. 
And more, they are doing so without reading a single review online. 
That's because Crush Honey Slot is listed as 'early access' – meaning no one can share their experiences or opinions.
So, the question is: Is this game legitimate? Will they transfer the money as promised? Let's find out! 

This reward platform is going viral! Cash out via PayPal, Visa, Gift Cards, and in-game currencies - Click here to find out how to generate an extra $10+ per day! 
Recommendation: Join the step-by-step program that helped me to generate $2,000+ per month and become a digital nomad in 2019.
Crush Honey Slot Review 
Name:

Crush Honey Slot

Developer:

Andrenachkro

Price:

 Free (no financial risk)

Payout threshold:

No minimum requirement

Overall Rating: 0 stars
What is Crush Honey Slot? 
Crush Honey Slot is an Android arcade game that transports you into a vibrant and rewarding world of slots.
It's like having Vegas at your fingertips, but with a tempting twist – the game is entirely free!
You won't find any hidden deposits or financial risks lurking around here.
The thrill of the game lies in earning virtual cash that you can supposedly withdraw anytime, with no payout threshold.
Over 10,000 people have already installed this game on the Play Store. That's a sizeable crowd lured in not by the charm of the teddy bear but by the prospect of easy riches!

The game is similar to countless fake cash slots I reviewed in this blog, such as Magic Slots! 
How Does Crush Honey Slot Work? 
If you're over 18, you can hop onto the Play Store and install the Crush Honey Slot game.
But before you rush into this, there's something vital you need to be aware of.
This app doesn't encrypt data; worse, it doesn't allow users to delete their data. This is stated on the official page of the app! 
That's a bit unnerving, isn't it? Think about it – your data is left unencrypted and available for anyone operating the game!
It's like leaving your house with the front door wide open. Your information could be at risk, and that's a valid reason for concern! 
Anyone who intercepts it can see the information you entered in the withdrawal section.
As a result, sensitive information such as your account details and full name could fall into the wrong hands. 
Furthermore, the inability to delete your data means you can't erase your digital footprint from their system if you ever stop playing the game.
How to Play? 
Now, let's talk about the game itself. When you first load it, the game gives you a generous welcome bonus of 300,000 coins.
You can use them to spin the 5-reel machine. Just beware that each spin will consume 20,000 coins.

As the reels spin and finally come to a halt, your heart might skip a beat. This is where things get interesting.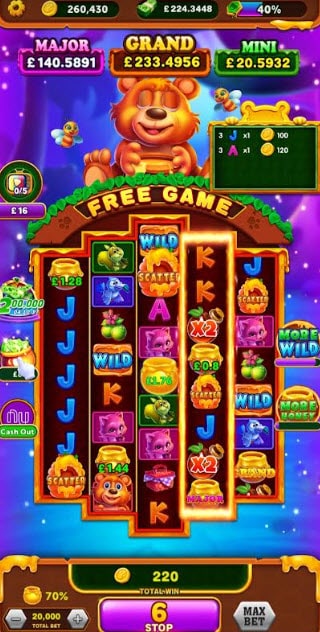 Depending on the symbols you match, different things can happen. For example, match honey jars, and you'll earn virtual cash added to your balance.
That's not all! There are many opportunities to win bonuses based on other symbol combinations.
When you match 3 or more scatter symbols, you trigger a free game mode for additional rewards.
If you need clarification, the game rules are there for all the details. But it's a bit overwhelming and confusing! 
Withdrawing Funds
They make the process of cashing out seem as easy as pie, at least in the beginning! 
They claim there's no minimum amount to withdraw. However, hitting milestones like £80, £240, and £800 unlocks multipliers.
Get this: if you reach £800, they say your winnings will multiply by 5, making it a whopping £3000!
Mind-boggling, isn't it?

When you go to cash out, Crush Honey Slot allows you to choose a withdrawal method and enter your account details.
There are six options: PayPal, Cash App, Paytm, Tez, Coinbase, and Banco Inter.
Crush Honey Slot Legit? Does it Pay? 
Despite all the flashy cash rewards and tempting promises, the truth is that Crush Honey Slot doesn't pay a dime.
The cash rewards are entirely fictional. It's a classic case of a bait-and-switch, with the cash acting as a carrot in a stick! 
You see, the main motive of game developers is to maximize their own revenues.
How? By getting you to spend countless hours watching advertisement after advertisement in the game.
And here's the kicker – for every video you watch, the developers are making money. So it's a pretty clever tactic to exploit your time! 
So, what happens when you finally decide to cash out? Well, that's when the game decides to move the goalposts.
Instead of a simple withdrawal, they tell you to spin the machine 30 times to 'approve the order.'
And to convince you to stay longer, they include a one-hour countdown and promise you'll earn extra dollars accumulated during this mission.
Sounds enticing, but it's all smoke and mirrors.
Once you complete this goal, another one magically appears.
This time, you must watch five more videos to 'approve the order.' But here's the real deal: there is no order!
It's a never-ending cycle of tasks, like a mouse running on a wheel, going nowhere. So, don't be fooled – it's all fake!
Conclusion
It turns out that Crush Honey Slot is more of a cruel illusion than a cash cow.
Instead of going down this rabbit hole of empty words and fake cash-out orders, I strongly urge you to consider a solid strategy – becoming a content creator.
Creating content online, be it blog posts, videos, or social media, can open many doors. I speak from personal experience here.
I started my online business in 2015, and it's been a rewarding and fulfilling journey. There were challenges, sure, but the freedom it gave was remarkable! 
Through creating content, I've managed to build an online audience and generate a sustainable income from my laptop.
Not only does this allow me to work remotely, but it also lets me live the so-called 'laptop lifestyle.' And let me tell you, it's simply amazing! 
Anyone can become a successful online entrepreneur with the right tools and mindset.

Trust me, the satisfaction you get from building something from scratch and making money from it is incomparable.
If this sounds like something you'd be interested in, I have great news for you. The exact step-by-step program that helped me succeed is available to you. Click here and join today! 
Final Words
Thanks for reading my Crush Honey Slot review! 
I sincerely hope you found it enlightening and beneficial. 
If you have questions or experiences about this app, please light up the comments section below. 
Peace!