Welcome to my Merge Palace review!
I recently stumbled across an advert promoting a game that supposedly pays $1000 every single day. 
It claims you can easily win big cash while playing the puzzle game in your spare time.
But if you will make so much money, then why not make it your full-time income and quit your job?
Of course, this opportunity seems like one of those fairy tales created by smart developers to waste your time.
Or it's just my imagination, as making money with no effort is so common nowadays!
So, can you really get paid for merging palaces? Is Merge Palace legit or fake? Let's find out!
Before leaving this post, check out the step-by-step program that helped me build an affiliate site and quit my job in 2019. It's free to join, and you don't need any previous experience.
Merge Palace Review 
Name: 

Flip to Win: Merge 3 Puzzles

Developer: 

YY Happy

Membership Eligibility:

 Worldwide

Price:

 Free 

Overall Rating:0/5
What is Merge Palace? 

This reward platform is going viral! Cash out via PayPal, Visa, Gift Cards, and in-game currencies - Click here to find out how to generate an extra $10+ per day! 
Merge Palage is a three-dimensional merging game that allows players to cash out $1,000!
Your job is to move the items across the board and position three identical pieces adjacent to each other.
Whenever you arrange the items correctly, they will merge into a bigger object representing a construction material.
Keep merging, and you will eventually unlock palaces at higher game levels.
You will receive fantastic cash rewards as you merge and complete milestones in each level!
The prizes are so generous that you can achieve $1,000 in less than half an hour of gameplay.
Merge Palace was developed by YY Happy, who released many other money games like Beauty Jumping, Dice Hunter, and more. Here is my Beauty Jumping review! 
How Does Merge Palace Work? 
You can install this app via the Google Play Store on any Android device. 

Upon launching Merge Palace, you will go through a quick tutorial on how to play the game.
The game involves merging items on a 3D landscape made of a grid of small squares.
By placing three identical items side by side, they will merge to create higher-level objects. 
Starting with flowers and stones, you can gradually build more complex objects until you unlock big palaces.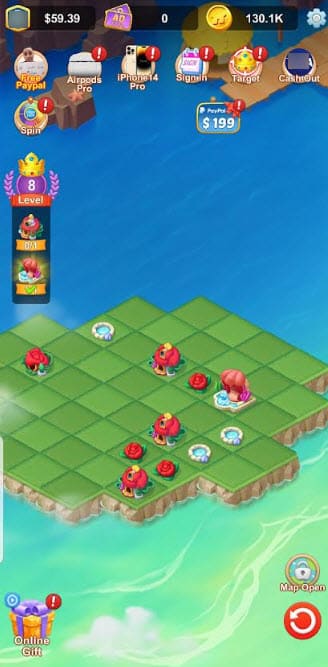 Complete the level by unlocking every item on the screen's left side.
As you progress on Merge Palace, the game will bombard you with cash prizes amounting to $1,000 in less than 30 minutes. 
You will also get gold coins redeemable for the same cash value via Gift cards. 
Remember that you may have to watch a commercial before receiving your rewards.
This is a common monetization strategy that developers use to increase their profits. 
Additionally, Merge Palace activates the slots, lucky spin, and other games from time to time, giving you more chances of winning. 
You can also collect puzzle pieces to redeem the amazing iPhone 14 Pro or check in for three days to win an AirPods pro. 
How do You Cash Out? 
The first option is to reach the $1000 threshold and cash out via PayPal.

Alternatively, you can exchange 500k gold coins for $1000 via Amazon, Google Play, Steam, Visa, and Playstation gift cards.
Is Merge Palace Legit? Does it Pay? 
No, it doesn't! Merge Palace only plays with your most primal instincts of instant gratification. 
The developer claims to pay $1,000 per day, but I assume he is the one making a grand with all their fake money games. 
By taking advantage of people's urgent need for cash, the application can attract thousands of views for advertisers. 
Therefore, they can maximize revenue without paying a single penny to players. 
Achieving the minimum requirement of $1,000 doesn't take long, and you can submit your PayPal account in no time. 
However, after pressing the "confirm" button, you will encounter the first among many other conditions. 
This first one consists of watching five extra videos while playing Merge Palace. 
Well, if the $1,000 prize existed, that would still be a significant endeavor. 

But unfortunately, watching those videos will only lead to another useless hoop where you have to watch another 30 videos in 1 day.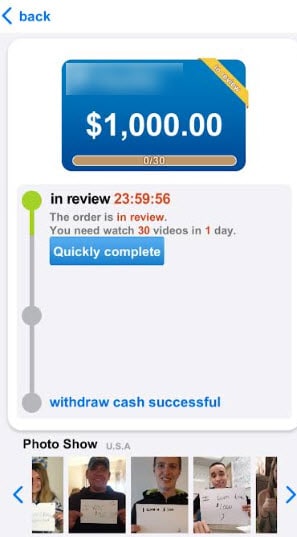 Don't be fooled by the progress line that will lead you nowhere! You won't get paid for all your time and energy invested in this game. 
Conclusion 
I enjoyed the process of merging objects in a 3D environment. 
However, the false expectation of earning money promoted by Merge Palace is atrocious! 
It's a shame that thousands of people are dedicating their time to this game in hopes of winning the fake $1,000 prize. 
Unless they search for reviews like this, they will be stuck in the loop for hours and even days before finding the truth. 
Earn a Full-Time Income Online
Earning over $1,000 every month is possible if you focus on the proper strategies. 
One practical and long-lasting method is by providing content in a specific niche.
The reason is that it allows you to tap into affiliate marketing and advertising revenue. 
I have created a profitable online business by writing helpful articles like this and ranking them on Google. 
If you want to learn how to set up this business and attract enough visitors to make a decent income online, check out my #1 recommendation. 
Success doesn't happen overnight, but by sticking to the process, you can eventually reap the benefits of a fulfilling laptop lifestyle.
Final Words
Thanks for reading my Merge palace review. I hope it was helpful! 
 Have you played this game? If so, we'd love to hear your opinions in the comment box below. 
Peace!