Welcome to my Lucky Cube app review!
Thousands of people are playing this Lucky Cube in hopes to win money, but they don't know if it's a real or a fake application.
The app developer advertises this game as if you could make hundreds of dollars. Well, he knows the world is a mess and people are doing everything to make ends meet!
Maybe you already tried to cash out and realized that it's not as easy as they make it seem.
So, is Lucky Cube legit? Does it pay or not?
Before you leave, discover the step-by-step program that helped me reach $1,600+ per month working remotely.
Lucky Cube App Review
Name:

Lucky Cube – Crush to Win

Company:

LuckyCube Studio

Availability:

 Worldwide

Minimum payout:

$20

Overall Rating:

1/5
What is Lucky Cube?
Lucky Cube is a match puzzle game that gives you virtual cash and claims you can redeem a $20 Amazon Gift card.
There is nothing new about it!
I have reviewed many similar games such as Fish Blast, Lucky Diamond, and Panda Cube Smash. All of them give users the expectation to win actual money, even though no one seems to earn a dime!
Lucky Cube is operated by Katherine E. Hoke, and has been downloaded over 10,000 times.
How Does Lucky Cube Work? 
After installing Lucky Cube on the Playstore, the game starts right away.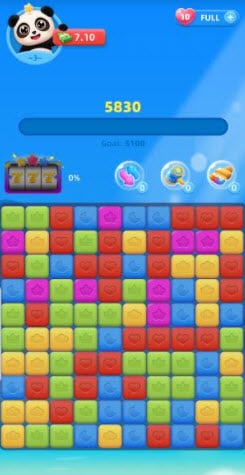 Simply tap the blocks with the same color to blast them and get points. You will complete the level once there is no other cube to destroy and you reach the goal.
If you reach the goal by the time you finish the level, you will earn virtual dollars. Otherwise, you will waste 1 life.
There are 10 lives, but you can get more by watching short videos.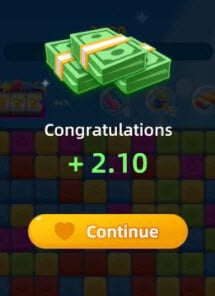 By destroying the blocks, you will eventually hit 100% and activate the slot machine. Press "Spin" and if you match 3 cash symbols or 3 numbers 7, it gives you "money".

There are 3 props to help you in this journey:
Refresh the color of all blocks.
Smash any block.
Replace any block with the specified block.
How do You Get Paid? 
If you tap on your cash balance next to the panda, it says you need to reach $20 to redeem Amazon Gift Card.
But is it real of fake money?
Is Lucky Cube Legit? Does it Pay?
I cannot accuse the company without proof, but there is no evidence of payments. There are many reasons to believe the $20 gift card is fake.
First, it's important to know that the email provided by the developer doesn't exist.
I tried to contact her, but Gmail said the address was not found. This is a big red flag for me and makes me wonder if Katherine is her actual name.
Then, I had a look at the reviews on Google Play and found many complaints. Lots of people claim that Lucky Cube is a scam and doesn't pay.
It's great in the beginning when you are making $1 – $3 at a time. However, your earnings drop to 1 or 2 cents, making it hard or even impossible to reach $20.
Now, even if you meet the requirement and cash out, the developer can simply reject your payment request.
The reason is that "Terms of Service" mentions nothing about rewards. Virtual currency has no monetary value and therefore, LuckyCube Studio has no obligation to pay anyone. 
Why not use a proven strategy that puts real money in your pocket? Click here to learn more!

Pros and Cons
Pros
There are not as many ads as other games.
 Cons
There are lots of complaints.
You may never reach $20 in your lifetime.
The game itself becomes boring fast.
Conclusion 
Lucky Cube is a nice game, but there are much better puzzle games out there!

This reward platform is going viral! Cash out via PayPal, Visa, Gift Cards, and in-game currencies - Click here to find out how to generate an extra $10+ per day! 
As for rewards, I doubt you will receive your Amazon gift card!
Many players are disappointed with this app after spending an incredible about of time to reach $20.

If you are trying to supplement your income online, don't waste your time playing Lucky Cube.
There is absolutely no guarantee that you will the voucher from this company because they can manipulate your earnings and even cancel your account.
Lucky Cube Alternative
It's possible to earn a little extra money by playing games. In my opinion, the best strategy is to join a GPT site like Prizerebel and complete app offers.
This platform connects you with advertisers so you can earn points by completing levels or making purchases.
Some members bring in an extra $150 per month by also completing online surveys and subscribing to free trials.
Final Words
Thanks for reading my Lucky Cube app review. I hope it was helpful!
Have you played this game? If so, kindly share your experience in the comment box below to help in the discussion. 
Peace!