Welcome to my Dice Tycoon app review!
You may have found Dice Tycoon while browsing Google Play or watching an advertising on your smartphone.
This is another board game that gives you virtual dollars and tries to convince players they can redeem gift cards or cash out.
Ah, and there is also the chance to win the Samsung Galaxy after collecting 10 puzzle pieces. Wow!
Hundreds of games are using the same strategy to attract more people and maximize their profits, but they never pay!
Here at My Room is My Office, I reviewed hundreds of apps that continue to cause a lot of frustration and anger.
Every day I receive at least one comment from someone accusing an application of fraud.
So, is Dice Tycoon legit or fake? Keep reading to find out!
Top recommendation: This step-by-step program helped me build a lucrative internet business and generate $1,600+ per month. Join now and start your first 10 lessons for free!
Dice Tycoon App Review
Name: Dice Tycoon
Developer: Su Xintao
Availability: Worldwide
Price: 100% free to play
Minimum payout: $50
Overall Rating: 

1/5
What is Dice Tycoon?
Dice Tycoon is primarily a classic board game where you move the pin by throwing the dice. It also features a lucky wheel, slots and scratch cards.
As you play, you will accumulate virtual cash, coins, Amazon cards and puzzle pieces. However, you can only cash out once you get up to a specified amount.
It's almost identical to Rolling Dice, Bounty Club, and many others!
How Does Dice Tycoon Work? 
Install
Dice Tycoon is available on the Playstore for Android devices. The game will start immediately, so you don't need to create an account.
Right off the bat, I noticed the lack of a Privacy Policy and Terms of Service, which is usually a negative sign.
Wanna make real Paypal money by playing games? Prizerebel is the best option!
How to Play? 
As soon as you start Dice Tycoon, it will give you a generous bonus of $11.91! Just tap "get" to save the cash in your wallet.
Press the roll button to throw the dice and move your pin across the board. Depending on where you land, you will get the following:

Virtual dollars
Coins
Amazon cards
Scratch cards
Slots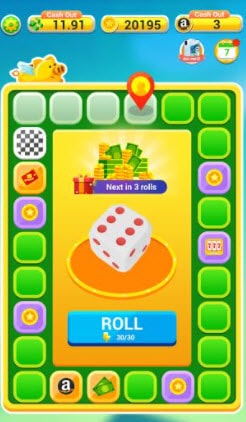 Every time you collect rewards, you have the chance to increase the amount by 1.5, 2, 3 and even 5 times. All you have to do is press "spin".
Dice Tycoon also gives you a gift occasionally or after you complete a full turn. But first, you must watch a sponsored video which is not always available when you try to collect the reward.
That's everything you need to know about the board game.
You can also play the scratcher, lucky wheel, and slots to collect more cash, coins and other items.
In the slot machine, you have the chance to get Gems, Fruits, 777, and Amazon cards.
Lucky Spin
You may have noticed a small icon at the top that says Big Prize. This is where you can play the lucky spin to collect phone puzzles.
Just tap the yellow button, watch a commercial and collect the reward.
You need 10 fragments to exchange for a Samsung Galaxy S20!
How Do You Get Paid?
Every digital currency received from Dice Tycoon can supposedly be traded in for cash rewards.
As I already mentioned, you need to reach the payout threshold before you can redeem.
Here is the complete list with all the requirements:

5 Million Gems = $50 PayPal
100 Dollars = $100 PayPal
100 Card = $500 worth of Amazon gift cards.
150 Lucky 777 = Earn $1000 Amazon vouchers.
200 Fruits = $10,000 Gift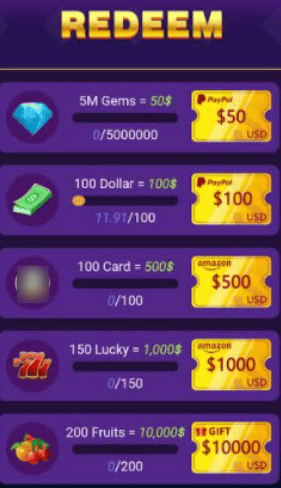 As you can see, Dice Tycoon entice players with cash prizes that just seem too good to be true!
They give you the impression that you will eventually collect enough items and virtual dollars as long as you keep playing. But is true?
Is Dice Tycoon Legit? Does it Pay? 
I cannot accuse this developer of fraud, but you have little to no chance of making money with this app.

This reward platform is going viral! Cash out via PayPal, Visa, Gift Cards, and in-game currencies - Click here to find out how to generate an extra $10+ per day! 
He doesn't even provide the Terms of Service so people can find their rights as a user.
Well, the truth is that Dice Tycoon has no obligation to reward anyone who plays the game and meets the requirements.

Not only that, but if you check the reviews on the Google Play store, you may not find a single person who cashed out.
There are a lot of 4 – 5 star ratings, but those are people who just hope they can redeem real money.
In first few rounds, they are very generous by dishing out lots of cash, gems and other tokens. But as you get close to cash out, your earnings drop drastically and you cannot make any meaningful progress.
Some people report getting stuck at $90 and 90 Amazon gift cards. So, apparently, they won't let players reach the target.
Also, forget about collecting 200 animals and making 10 grand. That will never happen!
Conclusion 
Dice Tycoon is just another boring game that will force you to watch an absurd amount of advertising in exchange for virtual dollars.
However, there is no evidence that the company transfers actual money to PayPal or Amazon Gift cards.
Users are disappointed because the game conveniently stops awarding cash, so they get stuck before they meet the requirements.
It's a very frustrating situation, especially for those who are not aware of how these mobile games work.
Earn a Full-Time Income Online
In a world full of uncertainties, lots of people wish they could work remotely and make money on the own terms.
One of the best strategies is to set up a website and publish content based on solid SEO strategies. It takes time and commitment, but it's worth it!
I started by digital marketing business back in 2015 with the help of this excellent step-by-step program.
The first 10 lessons are totally free!
Today, my site attracts tens of thousands of visitors per month, and brings in a decent income.
I cannot guarantee this will change your life as it changed mine, but with proper training and mindset, there is nothing in this world you cannot achieve!
Final Words
I hope this review answers all your questions about the Dice Tycoon app. So, did you cash out or got stuck? How was your experience? Let us know in the comment box below.
Thank you for reading!
Peace!