Welcome to my Kiki Time app review!
Google Play is jam-packed with apps that allow users to earn cash from their phones.
The problem is that most of these money-making apps fall short of their bold claims.
That's why you need to do your research and explore whether these platforms are trusted and worthwhile.
I have recently found Kiki Time, a new social media app where users can supposedly earn money in return for sharing content.
That includes creative photos and written content about travel, news, food, and more!
The app works on iOS and Android devices and has been downloaded more than 100,000 times on Google Play.
You may be eager to know how Kiki Time works and how much money you can make.
As importantly, you want to make sure you are using a legit app that won't waste your precious time.
In this review, I am going to cover everything you need to know about Kiki Time app and give you my honest opinion about it.
While you are still here, don't forget to check out my top recommendation, which is the same program that helped me reach $1,600/mo from my laptop. No special skills required!

This reward platform is going viral! Cash out via PayPal, Visa, Gift Cards, and in-game currencies - Click here to find out how to generate an extra $10+ per day! 
Kiki Time App Review
---
Name: Kiki Time
Website: kikiers.com
Company: Kiki Inc.
Price: Free
Similar apps: Balacam, Daily Status, Lymbuzz
Overall Rating: 3/5
What is Kiki Time?
---
Kiki Time is a blogging app where members get paid to post unique and creative content.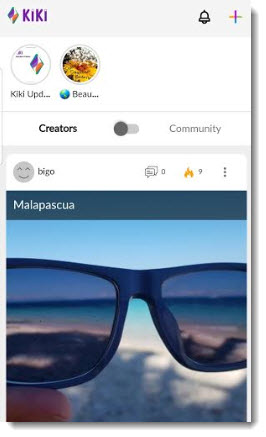 As an active member (Kikier), you will earn money based on the number of posts that you publish.
The platform encourages you to write about your stories and thoughts on different topics such as travel, friends, family, news, food, etc.
You can also post selfies, and creative pictures pretty much like you do on Instagram!
How Does Kiki Time Work?
---
It's important to know that Kiki Time app is funded by advertisers just like any other social media platform.
So, while you are browsing, you will see advertising in the form of banner ads as well as videos.
That's how the company could afford to pay users for sharing content.

I said "Could" because as you will see later, the company is struggling to generate enough revenue.
Creating your account
The first step after installing the Kiki time is to create your free account.
Simply provide your email address and then enter the activation code sent to your email.
You will get $3 just for signing up.
How to Use Kiki Time App  
You can only start sharing content on Kiki Time once you create your own page.
To create a page, visit your profile and tap on the "Create Page" button.
Then, enter the page name, description, category, and upload a picture.
You can post immediately once you create your page.
Kiki Post rules
It's very important that you read the Kiki's rules before sharing content on the platform.
The reason is that Kiki will delete posts that do not meet specific guidelines.
One of the rules is regarding plagiarism.

You should not copy and paste photos or text that you find on the internet. Always upload pictures that you own and write your own words.
How can You Earn Money on Kiki Time App?
Unlike the Balacam app, Kiki time won't pay you based on the number of likes (fires) that you get.
Instead, you will earn a fixed amount of money per post.
You can expect to earn $0.25 – $1 per picture and $1 – $2 per 400 words depending on your country.
Unfortunately, Kiki Time will not let you post unless you have a specific number of points.
Read the next section to understand how the point system works.
Kiki Points
Points cannot be converted to cash rewards.
However, you must have a minimum number of points in order to share more content.
If you don't have enough points, you won't be allowed to share content and hence, you won't make money.

The downside is that, as you publish more content, the point requirement increases.
In other words, it gets more and more difficult to make money!
So, how do you earn points?
Kiki Time will award you points every time someone views your content.
You can collect more points by liking (giving fire) other people's posts, completing surveys, and referring friends.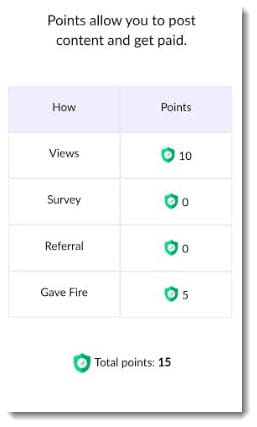 Completing surveys is probably the most effective strategy to collect points.
But depending on your location, you won't receive any survey invitations due to a lack of marketing studies in your country.
As for the referral program, Kiki will give you 50 points for every person that signs up through your invitation.
How do You Get Paid?
---
The main downside of Kiki Time is that the minimum payout is $75, which is very high.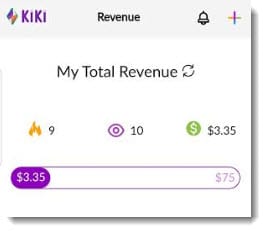 Once you reach $75, you can choose to withdraw via Paypal, Payoneer, Western Union, Google Play, Paytm, Easy Paisa, and even Bitcoin.
After you request the payment, the Kiki team will review your account to make sure you have followed the rules.
If your account gets approved, you will receive the payment on the 5th of the next month.
Will You Get Paid?
---
In a recent post, the admin said that Kiki Time stopped making enough profits to pay for its servers back in 2019.
So, they had to make an important decision.
Either pay the server to keep the app running or pay the users.
Well, they decided to pay the servers until they can afford to make full payments.
So, for now, the payments are getting delayed, and there is no guarantee that you will cash out $75.
Conclusion
---
Kiki Time is a legit app, but the company is struggling to make profits.
As a result, there is no guarantee that you will receive the payment.
I like the possibility of making money by sharing content, but the point system is a big obstacle.

The demand for points gets higher and higher, which can be very discouraging in the long term.
Verdict: Legit
How to Earn a Full-Time Income From Home
---
In 2015, I decided to cut all the distractions and focus on a proven business model called affiliate marketing.
Since then, I have built a profitable affiliate site that covers all my living expenses.
My affiliate revenue has helped work 100% remotely, quit my job, travel the world, and now…
It's saving me from the current financial crisis!
I am so glad I made the decision to put in the time and energy into my online business!
So, how does it work?
In a nutshell, the business consists of providing helpful content and promoting other people's products.
If you wish to create an affiliate site and make money on your own terms, check out my #1 recommendation.
This is the same training program that I used to set up a WordPress site, get traffic, and finally reach a full-time income online.
Final Worlds
Thanks for taking the time to read my Kiki Time app review. I hope it was helpful!
If you have any questions or thoughts about Kiki, feel free to ask or share your experience in the comment section below.
Stay safe and peace out!