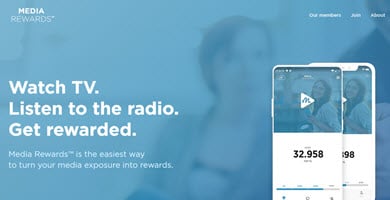 Welcome to my Media Rewards App Review!
Are you searching for an easy way to make money from your phone?
If so, you may have discovered Media Rewards, a mobile app that claims you can turn your ad exposure into cash rewards
According to the official website, you can get paid just by watching TV, listening to the radio, and answering surveys.
There are lots of apps on Google Play and the App store that make the same promises.
Unfortunately, most of them just waste people's time and patience!
Well, maybe Media Rewards can help you earn a bit of extra cash without much effort.
But can you really trust this company? Is Media Rewards a scam or legit app?
In this review, I am going to cover everything you need to know about this app and give you my frank opinion.
While you are still here, don't forget to check out my top recommendation, which is the same program that helped me reach $1,600/mo from my laptop. No special skills required!
Media Rewards App Review
---
What is Media Rewards?
---
Media Rewards is an app developed by a measurement and technology company called Beatgrid Media B.V.
Founded in 2013, the company provides media measurement for big brands like Google, McDonald's, P&G, just to name a few.
The way people consume media has been changing drastically, so Beatgrid Media came up with an innovative solution.
The Media Rewards app is designed to monitor your advertising exposure while you are watching videos and listening to music.
Is Media Rewards App a Scam?
---
No. The company is reputable, and the app is 100% legit.
Before I explain in more detail how the Media Rewards App operates on your phone, let's have a look at the pros and cons.
Pros and Cons
---
Pros
It doesn't require any work.
Data is collected anonymously.
Earn up to $10 per survey.
Excellent cash prizes (up to $1,000).
Your privacy is safe.
It's available on both Android and iOS operating systems.
Cons
Unless you complete a survey, there is no guarantee that you will earn money.
It drains your battery.
How Does Media Rewards Work?
---
Media Rewards app is available on Android and iOS devices.
As a member, you will become part of the Media Research Panel and earn points just for running the app in the background.
It's an ingenious system that will detect ads that you watch or hear while respecting your privacy.
So, here is how it works…

When you activate the Media Rewards app, it will constantly monitor specific audio frequencies close to your phone.
It will capture the sounds emitted from every source such as TV, radio, and your phone itself.
Next, the app will convert the frequencies into a string of numbers and match with ads and content that the company is familiar with.
This process allows Media Rewards to anonymously identify the advertisements that you are exposed to.
Then, Media Rewards will ask you to complete related surveys in exchange for gift cards.
In addition, the app will track your location in order to identify which restaurants and stores you have visited.
The company assures the Media Rewards app cannot record audio, so they will not spy on your conversation.
How Much Money Can You Earn with Media Rewards?
---
It's important to understand that Media Rewards will give you points based on the amount of time you leave the app running.
Unfortunately, you cannot convert points to cash rewards, which is a bummer!
Points allow you to enter the monthly prize draw and have the chance to win up to $1,000.
Also, the more points you have, the more survey invitations you will get.
After you complete a survey, you will receive an Amazon gift card worth up to $10.
In the UK, you will get a £5 Amazon voucher after completing the survey.

There are very few surveys available, so the earning potential is very low.
Conclusion
---
Media Rewards is an innovative app, but in my opinion, participants should receive a higher incentive in return for sharing their precious data.
The company will be constantly monitoring your advertising exposure, which is extremely valuable for big corporations.
However, you won't get paid proportionally to the amount of time you run the app.
Instead, you will just get entries to participate in the monthly prize draw, with a low probability of winning.

This reward platform is going viral! Cash out via PayPal, Visa, Gift Cards, and in-game currencies - Click here to find out how to generate an extra $10+ per day! 
The company doesn't tell members what are the odds of winning the $1,000 prize, but I suppose they are very low.
You only earn money guaranteed when you complete occasional surveys.

Verdict: Legit
How to Make a Full-time Income Online
---
I used to fill up paid surveys back in 2015, but I was very frustrated with the low pay and frequent disqualifications.
In the same year, I discovered affiliate marketing and the opportunity to earn a full-time income online.
Many bloggers have been using this business model to generate $1000s and even $10,000s per month.
So, decided to follow the same path in search of time and location freedom! 
As I look back, I can tell you without any doubt that it was worth it!
So, how does it actually work?
In a nutshell, the business consists of creating content, building an audience, and promoting other people's products.
If you want to learn and create a successful online business based on affiliate marketing, check out my #1 recommendation.
This is the same step by step program that I used to grow a profitable affiliate site over the years. They have a free starter membership with no strings attached.
So, you can start your first 10 lessons and take your first steps today 100% risk-free!
Final Worlds
Thanks for taking the time to read my Media Rewards app review. I hope it was helpful!
If you have any questions or thoughts about this reward app, feel free to ask or share your experience in the comment box below.
Stay safe and peace out!