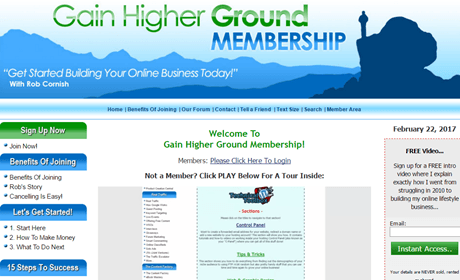 In this review, I am going to show you what Gain Higher Ground is and give you my honest opinion about it.
As you will see, Rob Cornish has developed an incredible training for those who are highly motivated and committed to running a profitable online business.
Gain Higher Ground Review
---
Product Name: Gain Higher Ground
Website: www.gainhigherground.com/membership/
Price: Only $5 for the first 7 days, and $37/month afterward
Owner: Rob Cornish
Overall Rating:

 9.2/10

Recommended?

YES 
What is Gain Higher Ground? 
---
Gain Higher Ground (GHG) is a learning platform on how to build a reliable online business and work from home. It offers an incredible amount of video training, an active forum, and one-on-one support from Rob.
In his 15 steps to success, Rob Cornish will show you the fundamental techniques (building blocks) that successful online marketers use to make money in different niche markets.
I got access to the membership, and I can assure you it's way superior to 99% of junk training you see out there.
It's important to keep in mind that, as with any real business, there is a lot of work involved and it takes time. However, it's worth every drop of sweat when you think about the freedom that an online business can provide to you and your family.
Needless to say, this is not a get rich quick scheme! 
If you are willing to take action and give it time to grow, then the knowledge and skillset you will gain from this training will get you there!
Pros and Cons
---
Pros
Excellent step by step training program
Very easy to follow – Designed with the complete newbie in mind.
It has an incredible amount of videos and resources.
Q&A Webinars
Great one-on-one support from the owner
Active forum
Very affordable to give it a try
You can download all the videos and materials to your PC or Mobile and follow the training on the go
98.1% customer satisfaction 
No upsells
60-Day money back guarantee
Cons
No free trial. But it's only $5 to try for the first 7 days
No hosting and website builder included. However, $37/month is a fair price for all the knowledge and support.
Who is It For?
---
It's designed for those who want to make a job replacing income online.
If you are sick and tired of your current financial situation, and can't stand your regular 9-5 job, this might be the best strategy for you.
How Does it Work? 
---
Gain Higher Ground will walk you through the most powerful strategy to make money online, which is internet marketing.
It will guide you step by step to build a solid foundation for your business and help you focus on what really matters.
I've been through most of the video lessons, and I impressed by the amount of information you will get. The platform is not very fancy, but what matters is that the content is rich and very well laid out.
The Training
The core training is composed of 15 lessons that people usually complete in 15 days. But no pressure! You can follow at your own pace.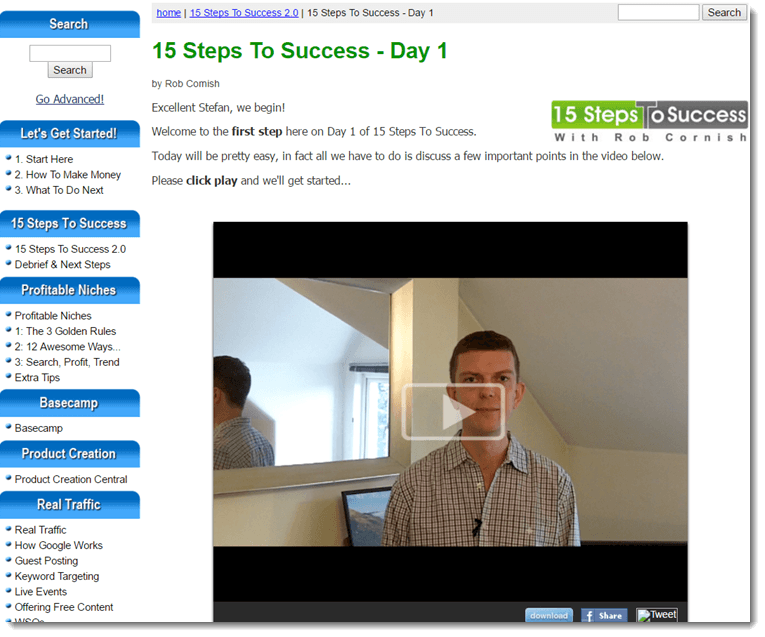 What I do recommend is that you don't try to absorb everything in one go. Take your time to watch the videos carefully and, as most importantly, take action on what you learn after the end of each lesson.
In the 15 Steps to Success, you will learn how to:
Choose a profitable niche market.
Get a domain name and hosting for your blog.
Install WordPress, choose a theme and create your first pages.
Create content and find images.
Get crafty with WordPress and publish your article.
Create a lead magnets and build a list of email subscribers
Add video content
Promote products and make money as an affiliate marketer.
This particular training gives emphasis on email marketing, which is vital for your online success.
Before trying to promote your affiliate offers, you want to provide value to the people who visit your site and build trust with them. An efficient way to do that is by giving a free report, a free ebook or a short course.
When you finish the 15 steps to success, you still have a lot to learn from other sections.

There are entire courses on niche market, traffic, content creation, product creation, and so many tips and tricks to grow your online business.
Furthermore, Gary is always uploading relevant video tutorials, seminars, expert interviews, and case studies inside the Basecamp section. Great stuff there! 
Community and Support
---
Gain Higher Ground has a great forum where members can interact with each other and ask for help.
The forum is not massive but is very active, and you will notice that Rob is always around answering questions and offering valuable insights.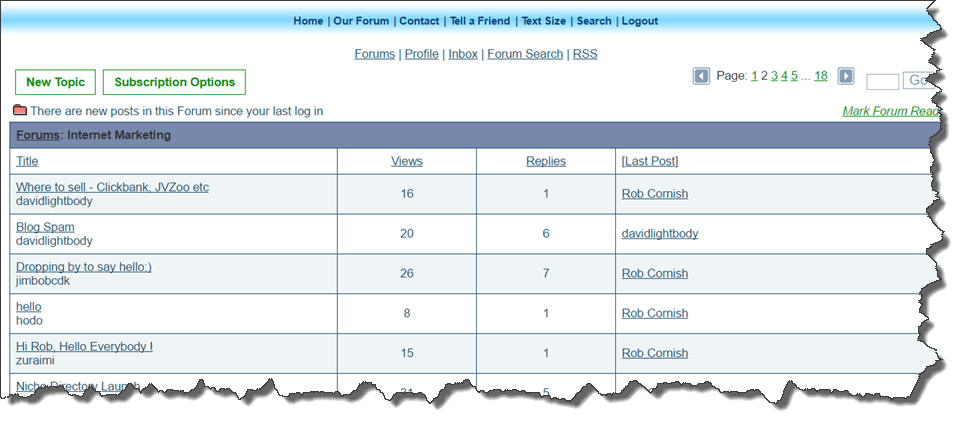 You can also get one-on-one support from Gary by sending him an email, but I if it's not something personal, there is no need for it. If he sees your question on the forum, he will certainly get in touch with you.
Final Thoughts
---
I can't stress enough the importance of a structured and in-depth training that will remove confusion and speed up your learning curve.
Sure you can find everything for free on Google, but the information is usually not well structured and easy to grasp.
You may also come across a lot of misinformation and bad advice that can make you waste time and patience. So, in my opinion, the best thing is to avoid trial and error by following an experienced marketer like Rob.
All in all, Gain Higher Ground is a superb online marketing training and will definitely help you achieve the freedom you are after.
Thanks for reading. I hope this post was helpful and enjoyable to you. If you have any questions, please me let know in the comment section below.

See you next time!
Your friend
Stefan