Welcome to my Five by Five review!
Today, I saw an overhyped advert for a crazy money game called Five by Five.
The commercial tries to persuade thousands of people that the developers will pay directly to your PayPal account.
Besides, you can get a $100 new player bonus if you install the Android application.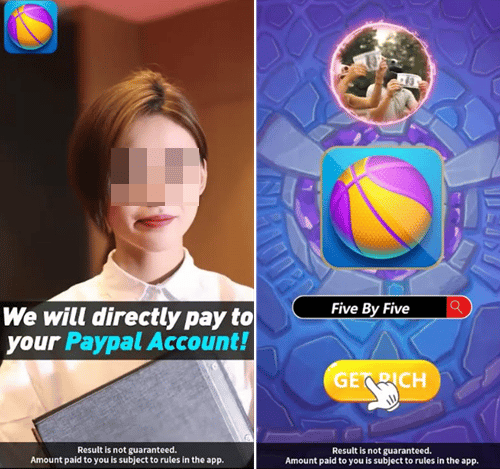 In the end, there is a big "Get Rich" button in the middle as if the game could turn you into a millionaire.
You're reading this post not because you think you'll strike gold but because maybe you can earn a little extra cash.
So, is Five by Five legit or fake? Does it pay as advertised? Let's find out!
Before leaving this page, check out the step-by-step system that helped me generate $2,000+ per month and quit my job in 2019.
Five by Five Review
Name:  Five by Five
Developer: Lauren34S
Availability: Worldwide
Price: Free
Payout threshold: $1000
Overall Rating:

No Stars! 
What is Five by Five? 
Five By Five is another combination game that claims to transfer real money via PayPal or Amazon.
You must group at least three identical balls to merge them into a new ball and collect virtual dollars.
Of course, they will also entice you to watch a video to add the cash to your wallet.
The commercials are primarily about other games where you can win an unrealistic amount of money or in-game currency.
Five By Five has been installed over 50k times on the Play Store and rated 4.2 stars by over 2k users.
Later in this review, I'll explain why this app is overrated and why I didn't give it a single star.
How Does Five by Five Work? 
Five by Five is available for download from the Google Play Store. The app is free to download and has no in-app purchases.
You must swipe and place three identical balls (same number) side by side.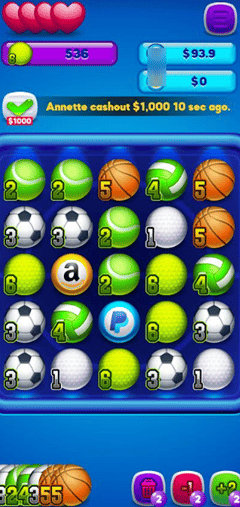 As a result, they will merge into a ball of a higher number, opening space for additional balls to combine and achieve combos.
I've already tested dozens of similar games with various themes like chips, animals, and Emojis. The list is endless!

From time to time, you will get a universal ball with either the PayPal or the Amazon logo.
They can connect with any two equal balls and trigger a cash reward. However, you must always watch the video until the end to receive the money into your wallet.
You will also receive virtual dollars when you combine multiple balls at once. They call it "combos."
Bear in mind that you will lose a heart if you wipe the ball and fail to merge.
The game is over if you consume all four hearts, but you won't lose any virtual cash in your wallet.
How Do You Get Paid? 
By opening your PayPal wallet in the game, it claims this is a real cashout game. 
All the money you collect during the event will supposedly be redeemed to your PayPal. The event takes 24 hours!
Alternatively, you can withdraw the money immediately if you collect $1,000!
These cashout rules are the same as those found in the countless fake money games I've reviewed on this blog. For example, Maya Hero uses identical tactics! 
You will also earn thousands of dollars in your Amazon wallet, but you can only cash out once you reach $10,000.
Is Five by Five Legit? Does it Pay? 
No, it doesn't! There is no chance of earning real money from Five by Five, so I advise you don't even try!

You will just waste lots of time and data trying to get paid from a game that cannot afford to provide such unrealistic payouts.
There is no hope for those who reach $1000 or $10,000 in both PayPal and Amazon wallets!
The only thing you will get is "watch 80 videos" to activate your order, then watch another 60 videos. That's nonsense! 
By selling the idea that you will eventually cash out, the developers get you to watch more videos and maximize their revenue.
But if you pay close attention to the advert, it says the result is not guaranteed in small print!
So, don't fall for it!

This reward platform is going viral! Cash out via PayPal, Visa, Gift Cards, and in-game currencies - Click here to find out how to generate an extra $10+ per day! 
Conclusion 

Five by Five is not a real money-making app, so you should not play with the expectation to cash out. This is nothing but a pipe dream!
I know how tempting these games can be, but unfortunately, only the developer is making real money.
They get paid by advertisers because you are the one watching the commercials and installing sponsored applications!
But you? You get nothing for all the time you spent combining balls and streaming videos on your phone!
In the next section, I will show you how to use your time better and earn a real online income.
Verdict: Not recommended
Earn Real Money Online
If you want to get paid for simple online tasks, Prizerebel is simply the best reward platform!
Users make over $100 by giving their opinions to marketing research companies and completing app offers.
After collecting 5,000 points ($5), you can cash out via PayPal and several gift cards.
Now, if you dream higher and want to dive into online entrepreneurship, check out my top recommendation!
By following the training and putting in the effort, you can build a successful online business and make a decent living.
That's the same program I joined back in 2015 to create this lucrative site you are reading.
Final Words
Thanks for reading my Five by Five review! If you have any questions or thoughts on this pedometer app, please leave us a comment below.
Peace!