Welcome to my Firey Habanero Reels review!
Like many of you, I came across this slot machine simulation game through an enticing advertisement.
The commercial promised the moon and the stars, boasting unlimited withdrawals and the potential to pocket hundreds of dollars.
And the best part is that there's no need for any initial deposits!
It's a compelling offer that piques curiosity, but as the age-old adage goes, "If it sounds too good to be true, it probably is."
In a world where time is a valuable commodity, nobody wants to waste hours chasing virtual treasures that may never see the light of day.
That's why I'm here, your trusted guide, to peel back the curtain on this game and reveal the truth.
Will they transfer those enticing winnings into your account, or are you in danger of getting caught in an elaborate scheme?
Is Firey Habanero Reels legit or fake? Let's find out!
Before leaving, check out the strategy that turned my laptop into a $2,000/month income machine. Click here for the blueprint to success!
Firey Habanero Reels Review
Name: Firey Habanero Reels
Developer: Len Fox Game
Eligibility: Worldwide – Android
Price: Free
Payout Threshold: £800
Overall Rating: 0 
Stay Ahead of the Game! Get Your Free Guide on Spotting Fake Cash Games Now!
What is Firey Habanero Reels? 
 How Does Habanero Reels Work? 
Firey Habanero Reels is a slot machine game that is accessible worldwide and requires no registration.
Therefore, the developer makes it very easy for anyone to jump right in.
However, a big red flag with "Firey Habanero Reels" needs attention – it doesn't use data encryption.
Now, in the world of mobile apps, especially those dealing with real money, encryption is like a security guard for your data.
Without it, your personal and financial info is just out there, easy pickings for hackers.
Imagine someone getting their hands on your PayPal details. Not a pretty thought, right?
Indeed, the absence of basic online security seriously threatens your privacy and finances.
Just something to think about before diving in.
Gameplay and Mechanics
Developed using the popular Unity platform, "Firey Habanero Reels" offers a visually appealing and smooth gaming experience.
You will receive a generous bonus of 300,000 coins to play the slot machine.

Each spin consumes 20,000 coins, and you can activate the virtual machine by simply tapping the spin button.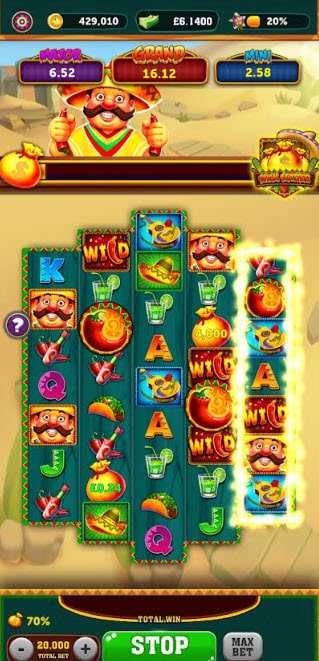 The primary objective of "Firey Habanero Reels" is to match three money bags on the reels.
These bags contain either cash or coins, which are then added to your respective balances.
Additionally, landing a money bag helps progress a bar at the top of the screen.
Once this bar is complete, it triggers the scatter wheel feature, allowing players to win more cash, coins, and boosters.

This reward platform is going viral! Cash out via PayPal, Visa, Gift Cards, and in-game currencies - Click here to find out how to generate an extra $10+ per day! 
However, it's worth noting that most spins on this scatter wheel result in coin winnings rather than cash.

Withdrawing Funds
You need to open your cash wallet to withdraw funds from Firey Habanero Reels.
The game claims that all money accumulated can be transferred to your PayPal account after 24 hours.
An instant withdrawal option becomes available for those who accumulate at least £800.
Naturally, many players aim for this instant payout, driven by the allure of quick and substantial cash rewards.
But are these prizes even real? That's what we will find out in the next section.
Is Firey Habanero Reels Legit? Does it Pay? 
Firey Habanero Reels is another game enticing players with fake cash rewards.
Don't be fooled by the flashy ads and the big numbers; the truth is, you won't receive any money from this game.
Here's how it plays out for those who persist and meet the initial requirement of reaching £800: Suddenly, you're hit with hidden conditions.
The game demands that you spin an additional 150 times. This isn't just a hurdle; it's basically cheating, moving the goalposts just as you're about to score.
Why do they do this? It's simple – to keep you playing longer and watching more advertisements.
Every time you watch a commercial, the developer makes money from advertisers.
But the deception doesn't end there. After those 150 spins, you must watch 20 videos to approve your order.
Let me be clear: This is nonsense!
Each video you watch pads the developer's pockets with a few cents. So, think about it: how can they afford to pay out £800?
And those who keep pushing forward find themselves in a never-ending queue with over 4000 people waiting for their payout.
Your position in this queue refreshes every minute, giving a false sense of progress, but in reality, the payout never comes.
It's a clever scheme designed to exploit hopeful players, but in the end, the only winner is the game developer, not the players.
Find out which gaming apps reward your playtime!
Conclusion 
Firey Habanero Reels might seem like a spicy adventure to earn a substantial cash reward, but it leaves a bitter aftertaste.
When it comes to cashing out, let's just say your chances are as slim as finding an actual habanero in a snowstorm.
Dreams of easy money? It's more like chasing a mirage in the desert!

But hey, if you're serious about making real money online, there's a better way than spinning virtual reels.
Building an online business is a robust strategy to earn a decent income.
Forget about the flashy gimmicks of quick cash; the real deal is creating something valuable and sustainable.
If you are ready to turn the page and start a genuine money-making journey, check out my number one recommendation.
Trust me, it's a game-changer that can transform your laptop into a thriving income machine.
Final Words
Thank you for reading my Firey Habanero Reels review!
I genuinely hope it provided valuable insights and, more importantly, saved you precious time and potential frustration.
Your opinions matter, and I'd love to hear them. If you have any thoughts or experiences about this game, please share them in the comments section below.
Peace!