Welcome to my Disco Ball App Review!
Perhaps you saw an advert with a woman dishing out money in the shower area. It's remarkable! 🤣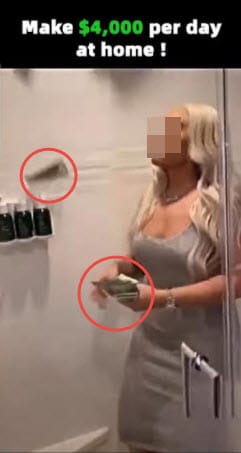 Heck, note what they say at the top: "Make $4,000 per day at home"! 
How I wish it was true!
Next, the advertiser shows a virtual PayPal balance growing quickly while the balls hit the obstacles.
What's the purpose of this peculiar advertising other than imply you can get rich?
In this review, I will show you everything you need to know about Disco Ball so you can make a wise decision. Is it too good to be true? Does it pay or not?
Tired of fake money apps? This step-by-step program helped me grow a successful online business and generate $1,600+ per month. Join now and start your first 10 lessons for free! 
Disco Ball App Review
Name: Disco Ball
Developer: Nigel Fowler
Eligibility: Worldwide
Payout Threshold: $150
Overall Rating:

1/5
What is Disco Ball?
Developed by Nigel Fowler, Disco Ball is a Plinko-style game that claims users can win rewards simply by dropping the balls.
Once you accumulate enough virtual cash or tokens, you can supposedly cash out via PayPal.
I have already reviewed a few other similar games, but none of them provide compelling evidence of payment.
How Does Disco Ball Work?
Installation
Disco Ball is available for free on Google Play. Once you launch the game, you don't need to sign in with any account before you can start playing.
How to Play Disco Ball?  
Simply tap to drop the ball and get rewards when they hit the obstacles. Green pins give you cash whereas yellow pins award tokens. You will get more rewards when the balls fall to the bottom.
Besides, you will have the chance to play the lucky wheel if you light up all the 9 bulbs.
The wheel allows you to win extra balls, Amazon cards, and cup icons.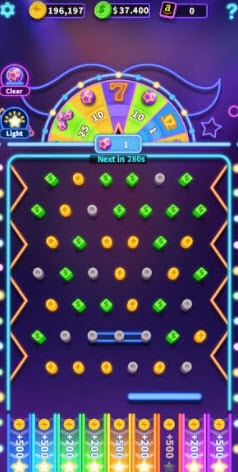 Tips
A new ball is granted every 5 minutes. If you don't want to wait, you can watch a video or spend $2 in order to collect 50 balls.
A wise use of "Light" and "Obstacle" is the key to big wins.
If balls get stuck, try the "Obstacle" tool.
How Do You Get Paid?
Disco Ball provides lots of payment options for players who reach the payout threshold. Here is the complete list of rewards:

$150 PayPal: Collect 150 virtual dollars.
$100 PayPal: Get 100,000,000 tokens.
$100 Amazon Gift Cards: Find 100 cards.
$1000 PayPal: match the 777.
$1000: collect 26 cups.
According to the developer, your reward will be sent to you within 3 – 15 business days.
Is Disco Ball Legit? Does it Pay?
Disco Ball behaves just like most games that are supposed to pay you once you reach a specific amount.
It starts great, but as you get closer to $150, it becomes practically impossible to make any progress.
Some people claim they got stuck because they stopped earning free balls and the videos were not working.

At this point, there is nothing you can do to reach the cash out requirement!
Lots of people are frustrated with Disco Ball and regret wasting their time playing for so long!
If you check the Terms of Service, you will find the company has no obligation to pay you.
It says they will select the winner at random, so it's only about reaching the target amount.
Therefore, Disco Ball operates like a sweepstakes app. The problem is that it does not mention how many giveaways players are winning in a given period.
The lack of transparency and evidence of payments is a big red flag for me. However, I cannot call it a scam because the developer doesn't make any promises.
Conclusion
Most people are playing Disco Ball with the expectation to cash out after collecting enough digital currency.
The problems is that winners are selected at random, so you will probably get stuck just like other players do.

I do not recommend Disco Ball, especially for those who are struggling to pay the bills. It's a complete waste of time because even if they pay, the chances of winning are very slim!
Verdict: Not Recommended
Earn a Full-Time Income Online
If you are searching for a serious opportunity to make money from home, I suggest you build an online business.
I started mine in 2015, and I am so glad I did! During the last few years, I was able to go from $0 to over $2,000/mo in affiliate commissions.
Keep in mind this is not a quick method. You need to put in a lot of time and effort in the beginning so you can reap the reward in the future.

This reward platform is going viral! Cash out via PayPal, Visa, Gift Cards, and in-game currencies - Click here to find out how to generate an extra $10+ per day! 
If you would like to try, click here and follow this excellent step-by-step program.
It's definitely the best platform to learn the ropes and become a successful internet marketer.

Final Words
Thank you for reading my Dico Ball app review. Feel free to share your opinions about this game or ask questions in the comment box below!
Peace!