Welcome to my Crazy Tile review! 
So there I was, casually browsing the Play Store, when I stumbled upon a recommendation for this app called Crazy Tile.
It didn't take long to see why it's called "Crazy." The marketing materials lure you in with the chance to win real money – and not just a few pennies – we're talking thousands of dollars!
And the best part? The game is 100% free, meaning you can rake in all that cash without breaking a sweat or taking any risks. It sounds like a fairy tale to me!
But here's the thing: many people are still in the dark about how these apps work and whether they're too good to be true.
That's why it's important to shed some light on the truth behind the magic of Crazy Tile. Is it legit or fake? Does it transfer over $500 to your Paypal account? 
Let's find out! 
Recommendation: Join the step-by-step program that helped me to generate $2,000+ per month and become a digital nomad in 2019.
Crazy Tile Review
Name:

 Crazy Tile

Developer:

 Felix Teixeira

Price:

 Free – no financial risk 

Payout threshold:

 $500

Overall Rating: 0 stars
What is Crazy Tile? 
Crazg Tile is an Android game that brings the classic puzzle experience to your fingertips.
And the best part? You supposedly get paid large sums of money while having fun! 
All you have to do is match 3 tiles with the same images, and voila. You're on your way to earning virtual dollars and coins!
Cash rewards accumulate in your balance, and you can withdraw your earnings through PayPal or Amazon gift cards! 
Oddly enough, the developer doesn't mention this money-making opportunity in the app's description. Why so secretive, you might wonder?
Well, this is not the only red flag here. The game is still in Early Access, meaning you won't find any reviews on the Play Store. Hmm, interesting…
It seems that some developers prefer to keep things behind closed doors. After all, they wouldn't want people complaining about not receiving their cash rewards, would they? 
How Does Crazy Tile Work? 
First and foremost, the game is funded by advertisements – that's how the developer rakes in the profits.
So, it's crucial to remember that the longer you play and the more sponsored content you watch, the more money they make. 
The game can be installed for free on the Play Store, and you don't even need to register.
As a warm welcome, Crazy Tile gives you a $100 bonus and claims that once you hit $500, you can withdraw your earnings immediately. 

How to Play
Simply click to transfer the tiles (squares) to the display bar. When you place three identical tiles, they'll be eliminated.
Remember to be strategic when choosing tiles, as your display bar can only fit seven at a time.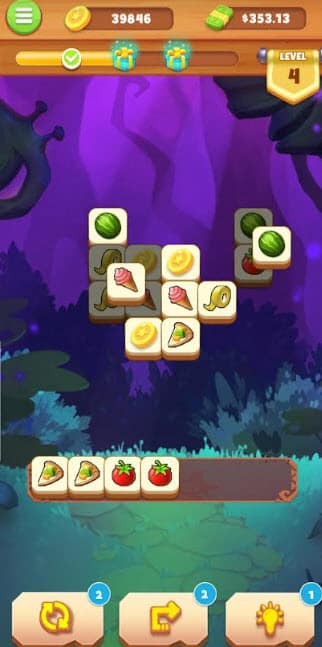 No need to fret, though! Crazy Tile has got your back with handy tools to help you solve the puzzle more efficiently.
Keep an eye on that progress bar at the top. As you create matches, it moves forward and hits the gift icon, which unlocks the chance to win cash and coins. 
All you have to do is tap "Open" to reveal the prize, and then you can tap the "Random 1- 5x" button to multiply your earnings by up to 5 times. 
And guess what happens next? You got it – a commercial starts playing on your phone, and you must watch it until the end to collect those precious dollars.
But be warned: most of these adverts are about fake money games that sell the illusion of easy money. So, tread carefully!
By now, you're starting to see the bigger picture. The game will give you lots of virtual dollars, but it can only be cashed out if you reach $500. 
As for coins, your balance must hit 300,000 to redeem $300 via PayPal and Amazon. 
All this keeps you glued to your screen, matching tiles, and watching adverts – ultimately lining the developer's pockets. 
The question is: will the developer transfer the money after helping him generate revenue? 
Is Crazy Tile Legit? Does it Pay? 

No, it doesn't! The cash rewards are completely fake! 
It's pretty disheartening to see developers profiting from adverts while dangling fake "carrots" in front of people's faces. 
It will take ages to accumulate $500 because the game gets challenging after each level. And if you fail? Boom! Another advert to watch! 
To make matters worse, they start doling out coins instead of dollars, and reaching 300,000 coins feels like an eternity.
Not only that, but they also decrease your earnings as you approach the payout threshold. How clever! 
In the end, the developer may come up with an excuse to avoid paying you. For example, they might insist you watch more videos to activate the order or devise another trick to keep you waiting even longer.

This reward platform is going viral! Cash out via PayPal, Visa, Gift Cards, and in-game currencies - Click here to find out how to generate an extra $10+ per day! 
Don't fall for it! Not a single word!
Behind this app lies a well-thought-out psychological strategy: by appealing to the universal desire for easy money, the developer hooks players into a never-ending loop of ad-watching and false hope.

So, before you fall prey to the allure of Crazy Tile, remember that the game is designed to profit the developer, not you.
Read this post to excel in spotting fake cash games! 
Earn a Full-Time Income Online
If you want to enjoy time and location freedom with monthly earnings in the thousands, here is my suggestion. 
Build your online business and draw in an audience you can monetize! 
You can earn fantastic commissions by setting up a website and promoting products as an affiliate, just like I do.
The best part? You can enjoy passive income while living your best life! 
Ready to dive in? Click here and follow the ultimate step-by-step program to create profitable niche sites!
Final Words
Thanks for taking the time to read my Crazy Tile review. I hope it was enlightening!
If you have any questions or thoughts on this app, please drop them in the comments section below.
Peace!