Welcome to my Royal Flush Gems review!
I stumbled upon this merge game that tempted me to try its supposed money-making gameplay!
The commercials were persuasive, promising everyone who plays the game will receive cash rewards!
But you know what they say about things that seem too good to be true, right?
I noticed in the small print that the results weren't guaranteed, making me think there was something fishy in the air.
And that's not all! The game claims to pay via PayPal and even uses their logo, almost making it seem like the app has PayPal's official stamp of approval.
I wondered, "Is Royal Flush Gems legit or just a clever marketing ploy?"
In this review, we'll investigate and uncover the truth behind the glamour. So, let's dive in!
Recommendation: Join the step-by-step program that helped me to generate $2,000+ per month and become a digital nomad in 2019.
Royal Flush Gems Review
Name:

 Royal Flush Gems 

Developer:

 Bizi Gamehot

Price:

 Free – no financial risk 

Payout threshold:

 $1000

Overall Rating: 0 stars
What is Royal Flush Gems?
Royal Flush Gems is an Android game created by Bizi Gamehot, and it's got all the addictive elements that keep gamers hooked.
It's very similar to other popular 2048 games, such as Merge Jewels, that you just can't put down.
But here's the kicker: while merging those shiny gems, you're also racking up an insane amount of virtual dollars.
And the craziest part? You can cash out any amount you've earned after just 24 hours.
I am talking about hundreds of dollars that have the potential to change your life in a blink of an eye!
Unsurprisingly, so many players are up all night, trying to collect as much cash as possible.
How Does Royal Flush Gems Work? 
You can get this app for free on the Play Store and start playing without registration. There are also VIP subscription options, but I will cover that later.
It's as simple as sliding right or left or tapping where you want those shiny gems to drop.
Your mission is to merge two identical diamonds, turning them into an even larger gem of a different shape.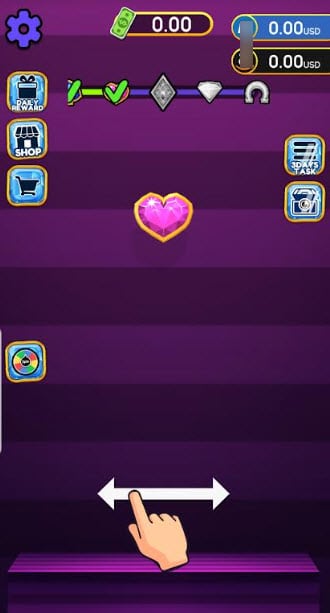 And guess what? The first merge triggers a jaw-dropping cash reward of $110.51!

Just tap "collect," and it's all yours. But it doesn't stop there – further cash rewards can be triggered by dropping a gem in the shape of the PayPal logo.
However, you'll have to tap the button and watch sponsored videos to collect your following rewards. Of course, the developer generates revenue with each video view on your phone!
These virtual dollars come in two forms: PayPal or Amazon virtual coupons, accumulating in individual balances.
Want more easy cash? You can spin the wheel and collect more coupons or other enticing perks.
So, how do I cash out all this sweet, sweet virtual money?
For PayPal, the game says that all the money you collect will be redeemed after just 24 hours.
But there's a shortcut: if you collect a whopping $1,000, you can redeem it immediately without waiting!
All you have to do is fill in your PayPal account info and cross your fingers.
As for the Amazon balance, you'll need to reach a staggering $10,000 before you can cash out.
I know it sounds like a tall order, but Royal Flush Gems will help you with unreal coupons to grow it fast. The first one is over $1000, which is insane!
Royal Flush Gems Work Legit? Does it Pay? 
Well, my friends, I'm sorry to say that it doesn't! The beginning is so good with all those generous cash rewards pouring in.
But unfortunately, the closer you get to the payout threshold, the less you'll earn.

Royal Flush Gems is designed to hook you in for a long time while the developer profits from your views.
So, you will spend a couple of hours trying to reach the payout threshold, only to discover the harsh truth: you're not getting paid!
They might even throw extra hurdles your way, like requesting you to watch a certain number of videos to "activate" the order or some other sneaky tactic.
At the end of the day, your payment request will certainly be ignored!
But there is an aggravation to all of this, and I am talking about those ridiculous VIP memberships.
Royal Flush Gems sells five subscriptions with 1x, 3x, 7x, and 18x gifts, which I suppose will increase your earning potential.

This reward platform is going viral! Cash out via PayPal, Visa, Gift Cards, and in-game currencies - Click here to find out how to generate an extra $10+ per day! 
However, they don't even bother to tell you what you're getting for your hard-earned cash! I mean, seriously, how absurd is that?
And there is another membership, which supposedly removes the annoying adverts from your game for £3.38.

But trust me, you'll want to keep your wallet shut tight, or you'll lose your money – and don't expect Google to come to your rescue with a refund.
The sad reality is that the developer only makes real profits from your playtime. It's the same old story with money games: they win, you lose!
Earn a Full-Time Income Online
Rather than spending your precious time on fake money games, I highly recommend using a time-tested strategy to earn significant earnings.
You can make thousands of dollars per month by setting up an affiliate website and optimizing articles for Google searches.
Success doesn't happen overnight, but it's worth the ride!
Despite the recent health and financial crisis, my online business has allowed me to quit my job and travel long-term.
To succeed in this industry, check out my #1 training program here! 
Final Words
Thanks for reading my Royal Flush Gems review. 
If you have any questions or thoughts about this game, feel free to drop them in the comment section below!
Peace!