Welcome to my Cash Bubble review!
I stumbled upon the Cash Bubble through a tempting advertisement offering real cash rewards.
In this game, players aim and shoot bubbles to eliminate clusters of three or more same-colored bubbles.
Of course, the allure of winning real money is the primary draw for players.
And we're not talking pocket change here, but the chance to win thousands of dollars!
But that's not all – there's also the potential of winning coveted items like a MacBook by collecting puzzle pieces in the lucky wheel.
That's why many people are left wondering: Is Cash Bubble legit or fake?
Will they transfer the money to your PayPal account or leave you frustrated and empty-handed?
Your valuable time could be at stake, so read on to uncover the truth behind this unrealistic game.
Tired of fake cash games? Learn about the straightforward method that helped me generate $2,000 monthly and say goodbye to my job in 2019!
Cash Bubble is a "free" bubble-shooting game where you aim to shoot bubbles of the same color to clear levels.
The app is developed with the Unity platform and boasts over 100k downloads on the Play Store.
After clearing all the bubbles from the screen, you'll complete the level and earn a few dollars.
They claim you should save a squirrel, but I can only see a duck.
Well, it seems the developers might need an English lesson or two.
While the app boasts a 4.0-star rating, it's always a good idea to approach that number with a grain of salt.
The reason is that developers often inflate their reputation by purchasing fake reviews.
This tactic can make fake games appear legitimate, so tread carefully.
How Does Cash Bubble Work?
Cash Bubble is available worldwide for players over 18 years old.
The good news is that it's completely free, so there's no risk of losing your hard-earned money.

While the app claims to encrypt user data, given its nature, it's wise to exercise caution regarding data privacy.
Besides, the strength of encryption varies.
If it's weak, it can be easier for unauthorized individuals to decipher the data and steal your personal information.
This can lead to identity theft, financial loss, and various frauds.
For instance, identity theft can have extensive repercussions, including damage to your credit rating and unauthorized transactions in your name.
Earn Real Cash with Gaming! Unveil the Best Apps That Pay You to Play!
Gameplay
When you launch the game, expect an immediate advertisement.
By the way, this is how the developer generates income!
Once you've navigated past that, tap the orange button to select your first level.
Next, you are told to save all the baby squirrels, even though the image suggests it's a duck.
Whatever! Hit the "Play" button, and you're ready to roll.
The game mechanics are straightforward: tap and aim to shoot bubbles of the same color.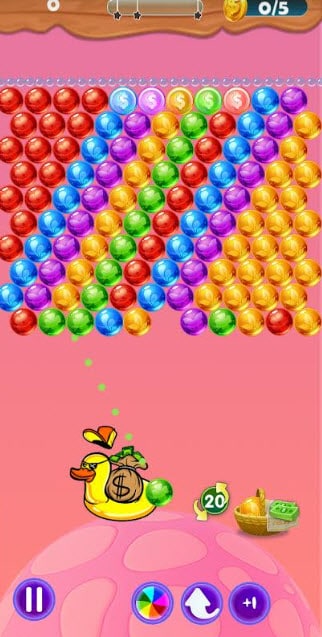 The goal is to eliminate all the bubbles to complete the level successfully.
Upon completing a level, you'll receive a cash prize, typically around $3, though it can vary.
However, you must first watch the advert to claim your reward.
It's essential to understand players are motivated to watch adverts in exchange for in-game rewards.
As a result,  this leads to more profits for the developer.
You start with 20 bubbles to shoot; if you run out of moves, you can watch an advertisement to gain 10 more bubbles.

This reward platform is going viral! Cash out via PayPal, Visa, Gift Cards, and in-game currencies - Click here to find out how to generate an extra $10+ per day! 
If you choose not to, it's game over, but you won't lose your cash balance.
Now, let's move on to the burning question:

How do you cash out?
You must accumulate a minimum of $150 before withdrawing your earnings.
This threshold is meticulously designed to prolong the time players stick with the game, increasing exposure to more advertisements.
So, be prepared for the long haul to reach that elusive payout threshold.
And worse, with no guarantees that the developer will transfer the money.
But do you have any chance? That's what I will cover in the next section.
Is Cash Bubble Legit? Does it Pay?
No, it doesn't! There is no chance of receiving money in your PayPal account as the cash rewards are fake. 
Cash Bubble is another fake game game designed to exploit your time.
There's virtually no way you can collect the $150 they offer as a payout threshold.
Advertisements in these games simply don't generate enough revenue to pay out such hefty sums.
And even if they did, I doubt whether the developer would honor those payments!
The Google Play Store is rife with complaints from frustrated players who feel cheated by Cash Bubble claims.
As you inch closer to the $150 threshold, you'll notice that the rewards decrease significantly, often reaching just a few cents.
This cunning strategy is a classic ploy designed to make players watch even more advertisements.
Moreover, the game only consists of 100 levels, meaning you'll have to replay levels to keep earning cash.
I played through numerous levels only to accumulate a mere $0.01. It's insane!
It's unlikely that you'll be able to earn $150.
But let's say you persist for days and eventually succeed.
Well, the grim reality of these fake cash games is that you won't receive a single penny in your PayPal account.
Conclusion 
Cash Bubble is ultimately a time-drain with no payoff for players.
This app, developed by Virtual Bingo Live Games, offers people insane cash prizes.

However, it's a one-sided gain, with the developer reaping all the benefits.
They exploit hopes and dreams for big profits, leaving thousands of players empty-handed.
Red Flags in Cash Reward Games
To safeguard your time and expectations, we've compiled a list of red flags that are telltale signs of deceptive cash games.
Unrealistic Payouts: advertising large sums of money like Cash Bubble does is a significant red flag.
Misuse of PayPal Logo: The unauthorized use of PayPal or other trusted payment system logos is a tactic to convey false trustworthiness and legitimacy.
Thriving on Advertisements: Be skeptical if the game's primary revenue source is adverts. That's precisely the business model behind Cash Bubble.
Diminishing Rewards: Does your earnings decrease as you get closer to cashing out? This tactic keeps you engaged longer to expose you to even more adverts.
Hidden Cash-out Requirements: Look out for additional requirements to "approve the order." These might include watching a certain number of videos, reaching levels, or other hidden conditions, making cashing out nearly impossible.
Fake Reviews: A flood of positive reviews that are vague or poorly written can be a sign of manipulated ratings.
Aggressive Ad Prompts: Games that push adverts as a condition for receiving rewards are very suspecious.
Learn more about fake cash games in this post. 
Earn a Full-Time Income Online
If you want to create a life of freedom, consider launching your online business!
You can earn hefty commissions by crafting content that tops Google's rankings.
It's been my income source since 2016, allowing me to ditch my 9-5 and live flexibly.
Are you interested in replicating my success?
The program I used to build my profitable site from scratch is at your fingertips.
It's a straightforward start, and with this proven roadmap, you, too, can establish a lucrative online presence.
There's no better time than now to begin. Click here to start! 
Final Words
Thanks for reading my Cash Bubble review!'
I hope it has shed light on the pitfalls of this game.
If you found this information helpful, please share it with others to help them aware of fake cash games.
Peace!