Welcome to my Candy Pop Star review!
Welcome to my captivating Candy Pop Star review!
So, I've stumbled upon Candy Pop Star, yet another elimination game claiming to offer real money-making opportunities.
But how, you might wonder? Well, it's as easy as tapping blocks of the same color and breezing through levels!
Sounds simpler than taking candy from a baby, right? However, withdrawing that sweet cash comes with a catch.
You must hit specific milestones before you can cash out, meaning you'll need to invest some serious time into this game.
With the Play Store swarming with fake cash games, you're questioning whether this is another digital trap ready to gobble up your time.
Fear not! In this review, we'll uncover the truth, saving you from potentially wasting precious time.
Recommendation: Join the step-by-step program that helped me to generate $2,000+ per month and become a digital nomad in 2019.
Candy Pop Star Review
Name:

 Candy Pop Star

Developer:

 Alfred CAN

Price:

 Free – no financial risk 

Payout threshold:

£200

Overall Rating: 0 stars
What is Candy Pop Star? 
Candy Pop Star, folks, is an Android game developed by Alferd CAN. It's a classic, addictive casual game that'll have you tapping away like there's no tomorrow!
It reminds me of the infamous Dreamlike Candy! 
Just pop those cubes of the same color, and watch them vanish into thin air. Your mission is to eliminate all the blocks and hit the minimum score to complete each level.
Now, brace yourselves because here comes the exciting part. Every time you pass a level, you're enticed to watch a video to win diamonds worth £1 or $1.
Sometimes, they will even give you a chance to win a whopping $20 to $30! 
I mean, who wouldn't want that kind of easy money, right?
But here comes the bad news! You see, the app is still in early access, which means that reviews on Google Play are locked up tight.
Therefore, users are left in the dark rewarding the legitimacy of the reward program.
How Does Candy Pop Star Work? 
Candy Pop Star is free to download on the Play Store, with no in-app purchases.
And guess what? No registration is needed to start racking up rewards. Just dive straight into the game, and let the fun begin!
You'll be prompted to tap on the diamond balance as soon as the game starts. This will direct you to the currency mall, where you'll find the conversion rate of diamonds to cash rewards.

For our friends in the UK, one diamond equals £1, which is pretty straightforward.
This page also reveals that you must reach level 200 to withdraw between £200 and a mind-blowing £1k.
Now, let's get started with the actual gameplay. You'll be greeted by a grid filled with candies of various colors, just waiting to be eliminated.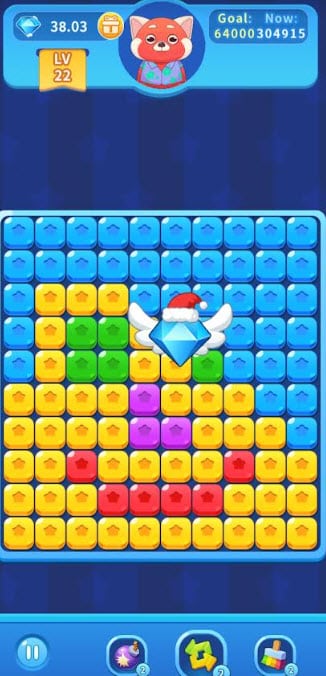 All you need to do is click on a group of at least two candies of the same color and watch them disappear.
But don't forget you'll have handy tools like bombs, rearrange, and brushes to help you destroy many candies simultaneously.
Remember, the fewer coins you leave behind, the higher your score! And you need to reach a goal score to complete the level.
Once you do, a shiny, big diamond icon will appear on your screen. Tap that beauty and watch a sponsored video to collect between 1 and 2 diamonds.
Sometimes, Candy Pop Star will offer even more substantial cash rewards!
Is Candy Pop Star Legit? Does it Pay? 
No, it doesn't! You might think accumulating £200 would be a breeze when they offer around £1.30 each time you watch a video.
At first glance, it seems like a decent cash reward. However, there are no guarantees that the money will ever land in your account.
So, imagine spending 2 or 3 hours tapping on candies and watching videos only to discover the money is fake!

Yes, folks… You won't receive a dime from this application! 
They may come up with another requirement or simply ghost your payment request.
Having reviewed hundreds of money games, Candy Pop Star ticks all the boxes of a fake one:
Unrealistic rewards

Made with Unity

Excessive adverts

High minimum cash out

Early Access
The developer is leveraging your time and hopes to make profits while you watch all those commercials. 
Regrettably, it's time to discourage you from using the app! 
The sad truth is that Candy Pop Star is just another too-good-to-be-true application.

This reward platform is going viral! Cash out via PayPal, Visa, Gift Cards, and in-game currencies - Click here to find out how to generate an extra $10+ per day! 
Earn a Full-Time Income Online

Have you ever dreamed of working remotely and being your own boss? 
The internet allows you to operate a simple online business that can generate thousands of dollars per month. 
Take this website, for example. It's where I post articles that rank on Google and generate a decent income month after month.
It's been working like a charm for nearly 8 years! You, too, can grow this lucrative online business by taking small steps today! 
When I started my business in 2015, I was completely new to Internet marketing.
However, thanks to this incredible step-by-step program, I was able to achieve success beyond my wildest dreams!
Final Words
Thanks for reading my Candy Pop Star review. I hope it was eye-opening! 
If you have any questions or thoughts about this game, feel free to drop them in the comment section below!
Peace!