Welcome to Wild Cash review!
Are you trying to find a legit application where you can earn easy crypto with no financial risk? 
Today we dive into Wild Cash, a popular Android app claiming you can earn cryptocurrency simply by answering quiz questions.
With over 5 million installations on the Play Store, this app has gone viral among crypto enthusiasts! 
Answering 10 questions correctly on the app earns you gold tokens, which you can exchange for BUSD (Binance USD) and uHGT (Hooked Gold Token).
But the question is: Does the company really transfer the crypto to your wallet? Is it legit or fake? Let's find out!
Recommendation: Join the step-by-step program that helped me to generate $2,000+ per month and become a digital nomad in 2019.
Wild Cash Review 
Name:

 Wild Cash – Quiz to Earn

Developer:

 Hooked Technology

Price:

 Free (no financial risk)

Payout threshold: 

800,000 

Overall Rating: 1.5 stars
What is Wild Cash?
Wild Cash is an Android game that offers users a chance to earn cryptocurrency by answering quiz questions related to the crypto world.
This app combines the entertainment of trivia games with the opportunity to acquire the digital asset uHGT (Hooked Gold Token).
If you prefer, you can also swap these tokens for BUSD and withdraw them via the Binance chain.
You can also use the minimum section, refer friends and participate in live quizzes to collect more tokens.
Wild Cash is strikingly similar to another trivia app called Witcoin, which we recently reviewed in this blog. 
How Does Wild Cash Work? 
Wild CAsh is free to download on the Play Store and is available worldwide.
To get started, you must register using your Google or Facebook account. Then, after entering a nickname, you'll choose your language and preferred withdrawal currency.
So, how exactly do you start earning Gold tokens?
Head to the "Quiz to Earn" section and select a Gold Mining Training Camp, each with varying difficulty levels and rewards.
Then, you'll need to answer a series of questions about cryptocurrencies, and if you get ten correct, the tokens are yours.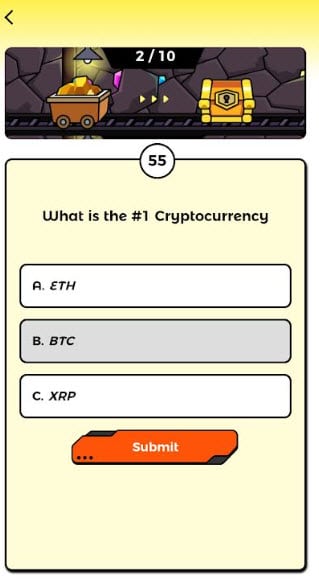 Easy? Not really… I found it quite challenging for those unfamiliar with the subject. 

The gold is awarded immediately after the trivia, with no need to watch any commercials like other money games. 
Another way to earn tokens is by referring friends. For each friend who joins Wild Cash using your referral link, you'll receive 5000 tokens and an 8% commission on the tokens they earn.
To invite friends, head to the referral section, select "Invite Partners," and share your referral link on social media.
In the mining section, you can collect Gold tokens simply by tapping a button.
Additionally, you can participate in live quizzes, where winners share a prize pool. 
Since the game is 100% free, you might wonder how the developer generates revenue to run the business and reward players.
The primary source is the Life Recovery Potion, which allows users to resurrect and continue answering questions. Bear in mind you can only use one potion per quiz.
How to Exchange Gold for Real Crypto? 
To exchange your gold for cryptocurrency in Wild Cash, enter the wallet section and tap the exchange button at the top.
You'll need a minimum of 800,000 gold tokens to exchange for 800,000 uHGT (Hooked Gold Token).
Once you've exchanged your gold for uHGT, you can swap it for BUSD (Binance USD) if you prefer.
BUSD is a stablecoin pegged to the US Dollar, which means its value is designed to remain consistent with the value of USD.
Stablecoins like BUSD are typically used as a reliable store of value, protecting users from the volatility of crypto. 
Afterward, you can withdraw your funds via Binance, the world's largest and most popular cryptocurrency exchange. 

Is Wild Cash Legit? Does it Pay? 
After scouring countless reviews on the Play Store, I noticed the payout is as rare as a colorful unicorn. 
The overwhelming majority of users are lamenting the Herculean task of reaching the 800,000-coin, only to face all sorts of issues. 
A brave soul claimed to have conquered the minimum number of tokens, but he couldn't exchange them! 
Many users have complained about glitches preventing them from receiving the crypto, completing the verification, and referring friends. 

This reward platform is going viral! Cash out via PayPal, Visa, Gift Cards, and in-game currencies - Click here to find out how to generate an extra $10+ per day! 
One user spent an eternity reaching the target, only to be informed that the app isn't supported in their region. 
With such a myriad of issues plaguing Wild Cash, one must ask: is it even worth the trouble?

Conclusion 
In light of these findings, we cannot recommend Wild Cash. The risk of wasting precious time for a meager payout is too high! 
While the concept behind Wild Cash is interesting, the company falls short in its commitment to rewarding users.
It's a shame, but most reward apps are designed to put their own profits first at the expense of the user's gullibility. 
The sheer number of negative reviews speaks for itself! So, it's best to steer clear of this particular app to avoid unnecessary frustration. 
Instead of using unreliable mobile apps, consider using your time more wisely by building your own online business.
This website is a prime example of how that can work for you – I publish articles that rank on Google, generating a steady income month after month! 
You, too, can cultivate a thriving online business by taking small, actionable steps today.
My journey to online entrepreneurship began in 2015 with no prior knowledge of internet marketing.
Nevertheless, this excellent step-by-step program enabled me to exceed all expectations and achieve unprecedented success.
It has a free membership to test the waters. So, why not take the leap and learn a proven strategy that works in your best interest? 
Click here and start building your online empire today!
Final Words
I appreciate your interest in my Wild Cash review, and I hope it was enlightening for you.
Your input is valuable to us! So, feel free to drop your questions or thoughts about this game in the comment section below.
Peace!