Product: Affilorama
Website: www.affilorama.com
Price : Basic

 – $0 (7 days trial) ,

 Premium – $67 

Upsells costs: $97, $197, $997
Owner: Mark Ling
Overall Rating:

4.2
Check out my #1 recommended affiliate training program
What is Affilorama?
---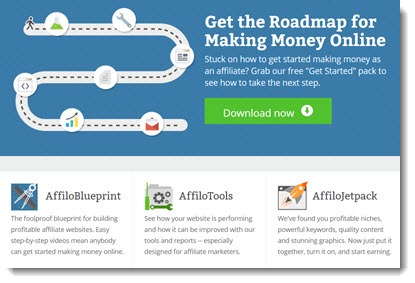 Affilorama is an online training program which offers education in affiliate marketing, tools, and support from a community of members.
The program was founded by Mark Ling in 2005 and was designed both for beginners and more experienced marketers who want to succeed online.
Is Affilorama a Scam?
---
No, it isn't. Comparing to other programs out there, Affilorama is quite impressive.
It is a legit program where you can acquire valuable knowledge, even with the free membership. However, it has negative aspects that can slow down your learning process and even lead you in the wrong direction.
So, are you confused with so many products to buy inside Affilorama?
My intention with this review is to walk you through each one of them so you can make an informed decision. If you go for everything on offer, that means a total of $1184 plus a monthly fee of $67! But is it all worth it?
Let's see!
Pros and Cons of Affilorama
---
Pros
Lots of free lessons!
Affiloblueprint offers an excellent step by step program and awesome perks.
Valuable interview with successful entrepreneurs.
The staff is very helpful.
60-Day money back guarantee.
Cons
Too many upsell – difficult to know which one offers the best value for money.
No support from the owner.
No free website builder.
There is some outdated information – Check below what to avoid, and you will be fine!
The Free Membership  
---
The Free Lessons 
The free membership provides access to a thorough start guide to affiliate marketing, more than 100 video tutorials with plenty of written materials.
The lessons cover an introduction to affiliate marketing and relevant topics such as niche market research, content creation, site building, search engine optimization (SEO), pay-per-click and affiliate outsourcing.
I have never seen so much free content in an online training program!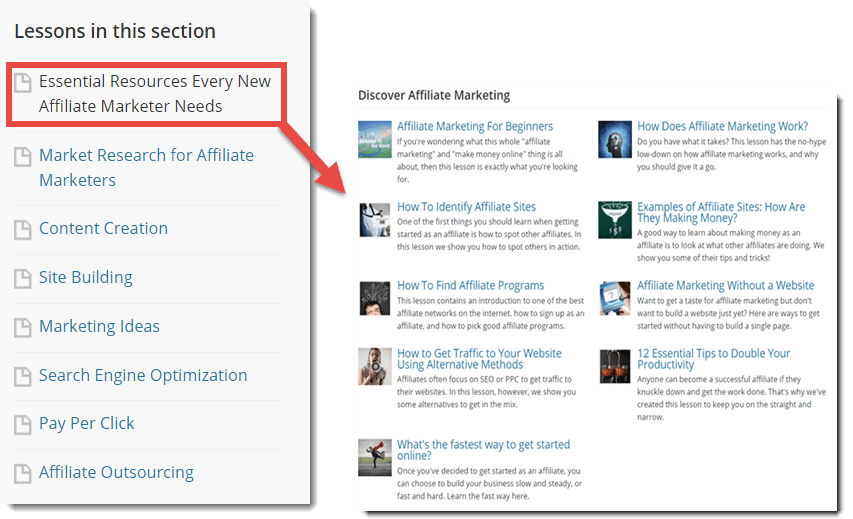 Although you can learn a lot from the free lessons, it lacks structure, which could be considered a bit overwhelming for a beginner.
Also, I found the site building section a bit complicated for a newbie as they teach you how to build a website using Adobe Dreamweaver. Honestly, I don't think you need this software at least in the early stages of your business.
Honestly, you don't need an HTML editor to run a successful online business. I've always used WordPress, and I think it makes web publishing much easier, even for non-technical users.
In the "Content Creation" lesson, Mark teaches you about PLR (Private Labels Rights) articles.
PLRs are articles that you can modify and publish as your own. They are considered duplicate content as they already exist in other domain or other sources.
Duplicate content is detrimental to your online business and will prevent your pages from being indexed by Google, causing a significant drop in website visitors.

Here is a screenshot where Affilorama warns about PLR's in one lesson.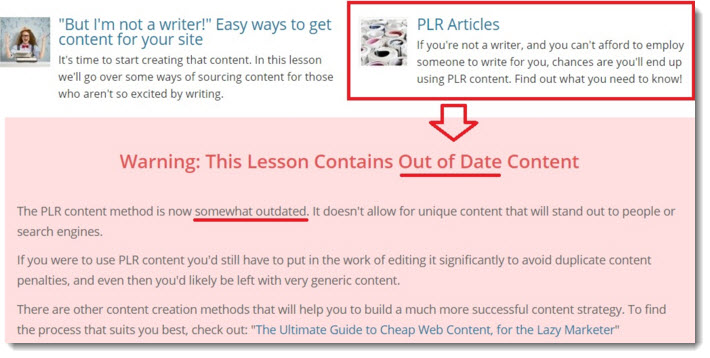 I think they should remove PLR Articles from the training completely. It could destroy any possibility for those who use this method to rank well in the search engines.
The Community – Not very active
As a community-based platform, Affilorama provides a forum and a blog. 
One of the best ways to learn affiliate marketing is by learning from experienced marketers and getting fast information and support.

I was disappointed with Affilorama's community because of the lack of engagement from its members. Also, there is no live chat nor a way to send private messages.
However, the support team is very helpful and will help you at any stage!
Premium Membership 
---
Advanced Training 
After getting a taste of the free lessons, I tried the premium membership for $1 (30-day trial). To be honest, I was expecting much more for $69/mo training.
There were 19 new videos in the Vault section that included many videos about product creation.
Creating your own info products can be lucrative, but I was expecting to learn more about Affiliate Marketing. There is so much more so learn when it comes to SEO, content marketing, email marketing and social media marketing.
Affiliate Blog Boo

t Camp Training 
This training is a four webinar totaling 442 hours of video where you can see Mark building a profitable niche blog from scratch. Most of the information he provides is valuable, but I have to give you a warning sign. 

On the third boot camp video, Mark dedicates the whole lesson to Link Building (backlinks) strategies, which is very risky for your business! Since 2012, Google has been penalizing websites that use artificial strategies to boost its rankings in Google.

Many pages and entire websites have been removed from the search engines (deindexed), causing a massive drop in traffic and revenue.
So, I decided to ignore completely any strategy of building links and focus 100% on content creation. I think it makes me much more productive. In fact, I have had incredible results even without chasing backlinks. Yes, backlinks are still considered relevant for Google, but they are not essential to your success as an affiliate marketer.

This reward platform is going viral! Cash out via PayPal, Visa, Gift Cards, and in-game currencies - Click here to find out how to generate an extra $10+ per day! 
AffiloTools
Affilotools is a cloud-based software that can be used to research the market (keyword tools), keep track of your website rankings, analyze the traffic, Clickbank's sales and website's health among other things that you can check trough the screenshots below.
There is a lot of useful features in there, but a lot of things you already have access to Google Analytics, which is free.

The Upsell Zones – Should You Pay More For Additional Training?
---
Affilorama has three upsells called AffiloBlueprint, AffiloTheme, and AffiloJetpack.
AffiloBlueprint – Awesome Step by Step  Training and BONUSES
Affiloblueprint is the best training inside Affilorama, and it costs $197 for a lifetime access.
Unlike the premium training, this is an in-depth and updated step by step program on how to create a profitable affiliate website.
AffiloBlueprint is going to teach you solid business principles that Mark Ling has used for 14 years to build his own money-making websites.
The upside here is that you will learn how to create a WordPress site, which as I said, is easier than Dreamweaver.
Here is what you will get:
91 downloadable video lessons (10 min average length) + course notes
A Private Forum
1-year complimentary hosting for your WordPress site.
Bonus #1: AffiloTheme – custom made website-building tool.
Bonus #2: AffiloTools (1-month free trial)
Affilorama Premium (1-month free trial)
The training has a total of 12 steps divided into three main parts:
1- Research and building: they will help you identify a profitable niche, decide on the best products to promote, build a stunning WordPress site, and create content that people will love.
2- Marketing: Here the focus is on the many strategies to get traffic (visitor) such as SEO, social media, and pay-per-click.
3 – Monetization: they will explain how to optimize your website to make more sales by building a list, adding tracking to your site and other relevant methods.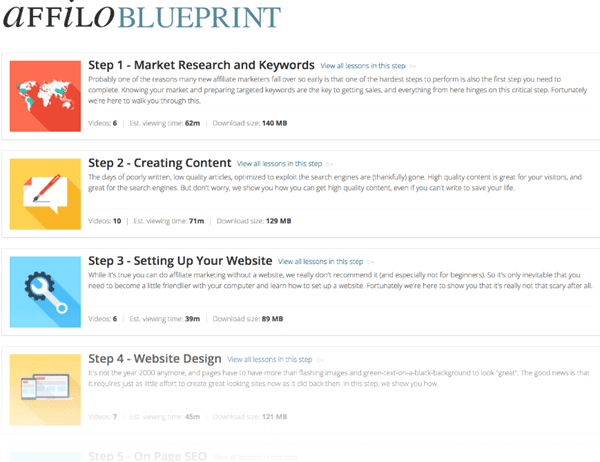 In my honest opinion, Afilloblueprint is worth the price!
Just keep in mind that, if you want to keep the hosting for your websites, the tools (Affilotools) and support, you will have to keep the $67 premium membership.
AffiloTheme
---
The Affilotheme is a WordPress theme which comes with some additional functions to improve the layout of your website.
With AffiloTheme, you will be able to create more beautiful and functional websites with customized links and headers, slideshows, squeeze pages, pop overs, among other cool features. It comes with training and support as well.
This product costs $97 and is included as a bonus in the Affiloblueprint and Affilojetpack package.
AffiloJetpack – Only $997 for 5 Money-Making Machines? 
---
AffiloJetpack is the most expensive package of Affilorama! Before I say anything about it, just take a look at this screenshot below: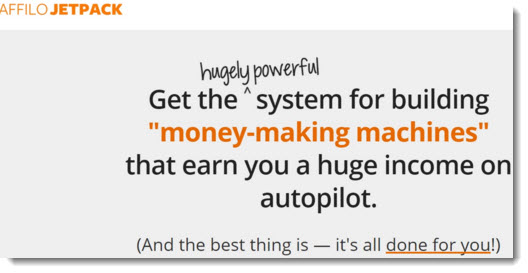 If you have been trying to earn money online for some time, you may find this marketing call quite familiar. Analyze the words carefully and realize that what they are trying to do is to sell the expectation of money with no effort.
This is a flawed concept that makes people believe success doesn't require hard work.
Yes, Affilojetpack offers a great value for money, there is no dought about it. If you can afford it, that's great!
However, keep in mind that success won't come automatically after you buy this product. It will save you lots of time, but it won't replace the hard work you need to put into your business to succeed.
Affilojetpack will give you 5 money-making websites, which means you will pay $200 per site.

Here is what you will get for each site:
An excellent guide on how to pick a profitable niche – Choose from 18 profitable niches!
90 email newsletters (crafted by experts) per niche
3x eBook per niche that you can give away as a bonus.
Affilotheme (Premium WordPress theme)
12- months web hosting
20 cheat sheets – done for you research
Training in traffic generation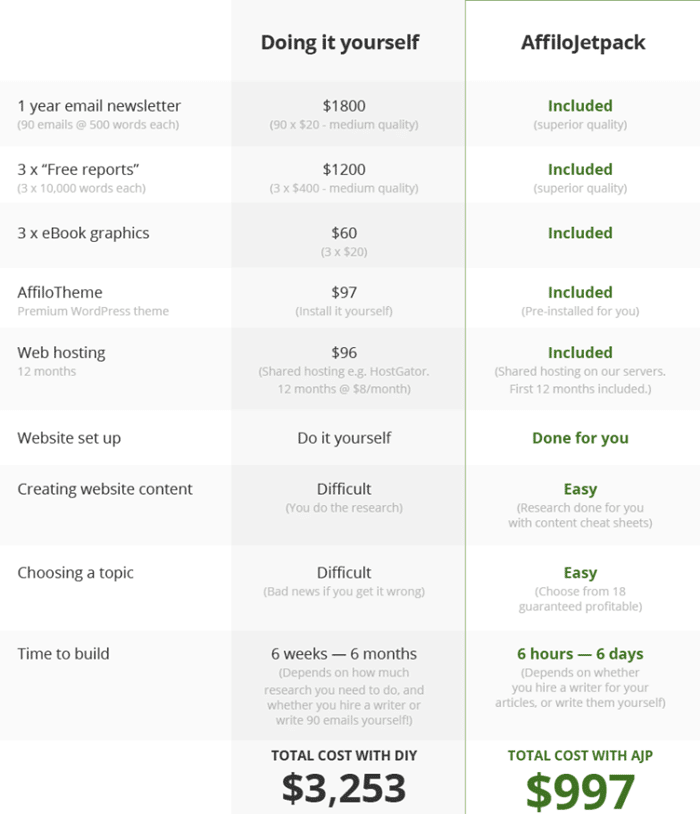 In Mark Ling's own words:
I'll give you over $3,000 worth of content for each one. That's $15,000 worth of content for $997. You'll save a whopping 93% of the startup cost of your day-job-killing online business.
My Final Opinion 
---
Overall, Affilorama is an excellent learning platform! It is not a scam.
The free training offers lots of free lessons, but they are not very easy to follow. Not to mention that it comes with outdated training that can be harmful to your business.
Affiloblueprint is the icing on the cake within Affilorama. This package is definitely the best you can get for your money as it's full of actionable steps to build a WordPress site and take your business to the next level.
The community is no very active, but on the other hand, the staff goes the extra mile to provide valuable feedback and answer all your questions.
Finally, be careful with Affilojetpack! It's a great package, but it's been promoted as a done-for-you system, so many people think they won't have to do the heavy lifting themselves.
This is a wrong mindset that can put you in trouble in the long term.
As with everything in life, you have to work hard to reap the sweet rewards.
Verdict:
Legit
Affilorama Vs Wealthy Affiliate
---
I highly recommend Wealthy Affiliate, a community where I get my affiliate marketing training.
As soon as I joined Wealthy Affiliate, I got many messages from members that greeted me to the community and offered their support. It was an entirely different experience!
The owner (Kyle) also personally introduced himself and offered his support. I felt like people really cared about my success. Believe me. It makes a huge difference!
With Wealthy Affiliate, I get:
Awesome step by step training
Website builder plus high-quality hosting for up to 25 WordPress sites.
Handy keyword research tool.
Private support and valuable feedback from the owners Kyle and Carson.
Weekly live classes
Live chat
Helpful and very engaging community
and much more!
Wealthy Affiliate also has an impressive free starter membership that allows you to
start building your WordPress site for free!
For a monthly price of $47, you have everything you need to build a thriving online business with no small, medium or giant Upsells! 
If you have any doubts or comments about Affilorama, feel free to leave me a comment below. 🙂
Thanks for reading!
Your friend
Stefan